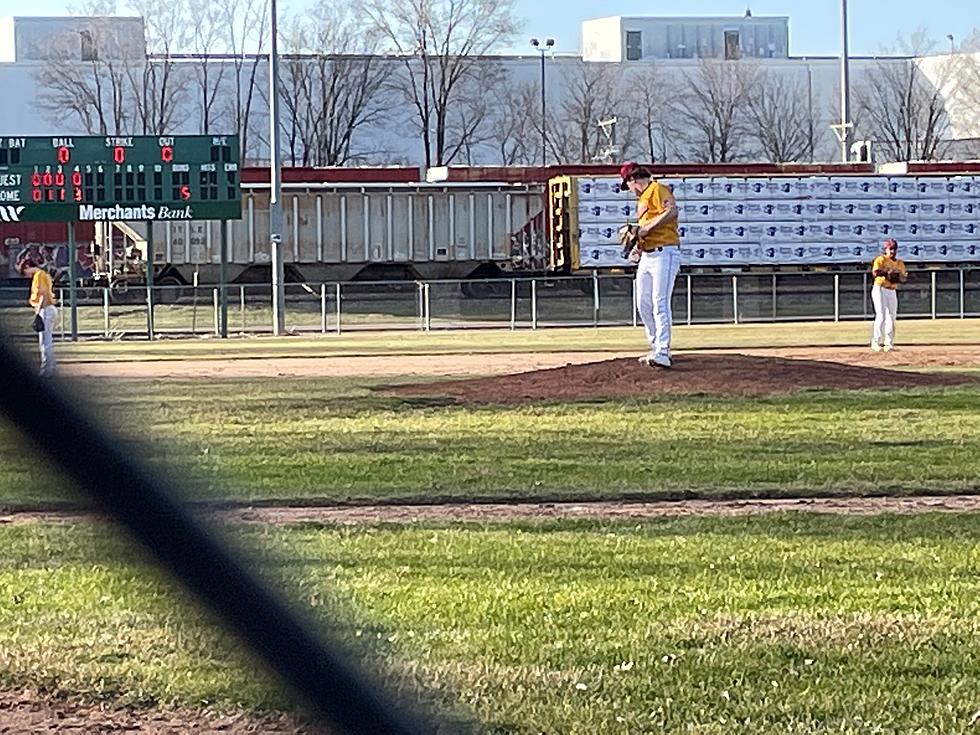 Northfield Baseball Blanks Faribault for First Win
Nolan Stepka on Mound for Northfield. Photo by Gordy Kosfeld
The Northfield Raiders scored in nearly every inning for a 6-0 win over the Faribault Falcons at Sechler Park in Northfield Thursday.
Nolan Stepka went the distance on the hill for the Raiders, throwing 99 pitches, 73 of his pitches were for strikes.
Junior Ayden Qualey started pitching for the Falcons going the first 3/1/3 innings while throwing 53 pitches, 31 for strikes.  Qualey struck out 3 and walked 2 while allowing 6 hits. Hunter Nelson, Michael Crone and Preston Almendinger worked from the mound the rest of the game.
Faribault pitchers combined for 6 strikeouts, 6 walks,
Northfield got some clutch two out hitting in the second inning to score their first run.  With one out Tyler Hughes was safe on a error.  Hughes stole second base, was safe at third when one out later number nine hitter Spenser Mellgren stroked a RBI single.
The Raiders #2 and #3 hitters in their lineup were retired to start the third inning before catcher Joey Malecha clubbed a single.  Stepka then hit a RBI single to make the score 2-0 in favor of Northfield.
Top of the 4th inning Faribault started with back-to-back-to-back singles by Brad Sartor, Michael Crone and Ayden Qualey to load the bases.
Stepka struck out the next three batters to end the only threat the Falcons would mount.
Qualey started the 4th inning with Tyler Hughes stroking a single, Jake Balvin added a single in the #8 spot in the batting order. Mellgren was safe on a fieler's choice.
Tate Journell singled with one out placing runners at the corners.
Falcons Head Coach Charlie Lechtenberg brought lefty Hunter Nelson in who got the count to 1-2 against Jordi Vazquez before he connected on a weak grounder that glanced off the glove of Nelson was gloved by shortstop Aiden Tobin to retire him at first but Mellgren scored from third base,
Nelson struck out the next batter to end the bottom of the 4th with the score 4-0 Northfield.
Faribault would have only two more base runners the rest of the game.  Nelson had a one out single in the top of the 5th inning and Hudson Dillon cracked a two out single in the top of the 7th.
Stepka had strikeouts for 7 of the 9 outs recorded the rest of the way.
The Raiders got their final two runs in the bottom of the 5th inning when they faced two pitchers.  Michael Crone came in to start the bottom of the fifth and started the inning with a walk of Malecha.
Holden Peterson was the courtesy runner for the catcher and stole second base for the second time.  He would score on a one out single by first baseman Jacob Eschen.
Eschen went to second when the Falcons tried to throw out Peterson at home.  He then advanced to third on a balk by the pitcher.  Crone coaxed a strike out before back to back walks ended his day on the mound.
Lefty Tegan Almendinger threw 4 balls to Journell for a RBI single to finish the scoring for Northfield.
Hunter Nelson was the Malecha's Auto Body of Faribault Crunch Time Faribault player of the game.  Nelson made an outstanding that ended the bottom of the sixth inning in addition to stroking two hits and retiring the two batters he faced.  One by a strikeout.
Stepka's pitching performance earned him the Cashwise Foods and Pharmacy of Faribault Delivery of the Game.
He had 12 strikeouts, no walks while allowing 6 hits in the game.  The Raiders committed two errors, Faribault had one.
The Falcons 0-3, are scheduled to travel to Mankato East Friday and have their home opener Noon Saturday against Red Wing.
Northfield (1-3) hosts Rochester John Marshall at 5:00 p.m. Saturday.
Other Thursday baseball scores include:
Rochester Mayo 10 Winona 0  6 innings
Rochester John Marshall 6  Albert Lea 4
Red Wing 15  Owatonna 9
Cannon Falls 5  Pine Island 1
Byron 5  Kasson-Mantorville 2
Zumbrota-Mazeppa 13  Goodhue 1
Lake City 13  St. Charles 4
Hayfield 3  Maple River 2  Easton Fritcher winning pitcher 10 strikeouts, no hits allowed also had 2 run home run.
Randolph 12 United South Central 1  Nathan Weckop throws 1-hitter with 16 K's
Stewartville  9  Rochester Lourdes 8
LaCrescent 22 GMLOK 2
Lakeville North 6  Farmington 5
Eastview 1  Lakeville South 0
Prior Lake 7  Eagan 0
Burnsville 8  Apple Valley 1
Rosemount 5  Shakopee 4
New Ulm 11 Belle Plaine 1
LeSueur-Henderson 10 Lester Prairie 2
Norwood-Young America 1  Tri-City United 0
Jordan 7  Hutchinson 6
Cleveland 2  Martin Luther/GHEC/Truman 1
Sibley East 6  Mayer Lutheran 2
Please check this out.
HAVE YOU SEEN ME? 28 Kids Missing From Minnesota
As of April 7, 2021, there are 28 children missing from across Minnesota and have still not been found, according to the
National Center for Missing and Exploited Children
. If you have seen any of them, or have any information on their whereabouts, please don't hesitate to call 911 or you can call the National Center at 1-800-843-5678 (1-800-THE-LOST).