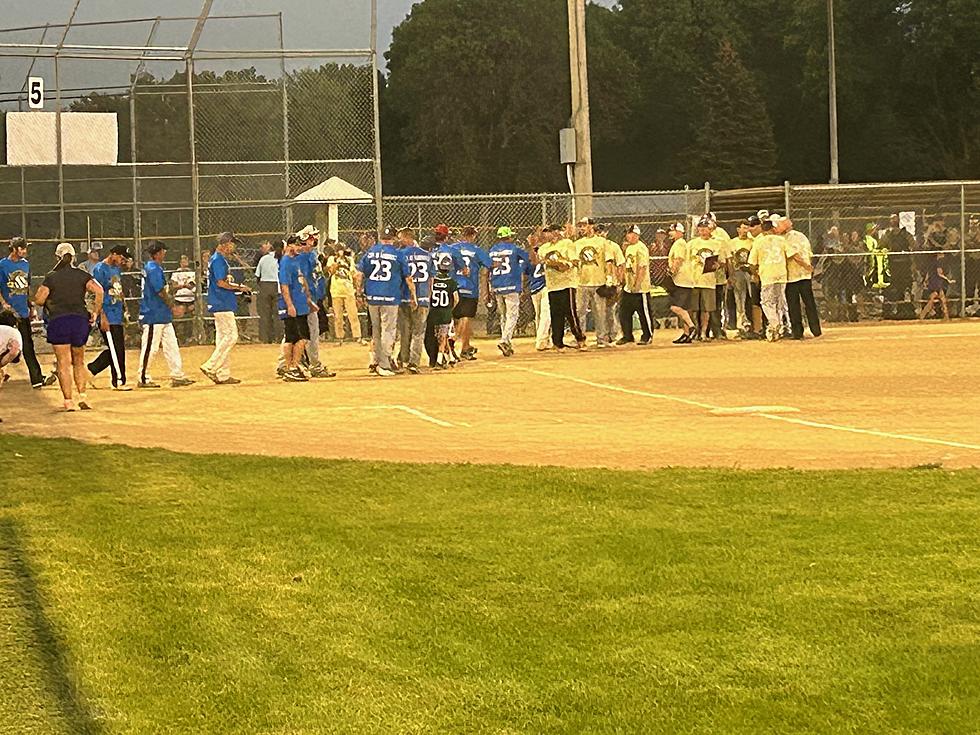 Rice County vs City of Faribault Charity Game Big Success
Sportsmanship Line After Game in Faribault. Photo by Gordy Kosfeld
A crowd estimated at 300 attended a softball game at Alexander Park Wednesday night featuring some public servants from the City of Faribault and Rice County.
Before the game the county defeated the city in a home run derby by a 10 to 8 score.
Rice County Sheriff's Department and County Attorney's Office employees jumped out to an early 5-0 lead in the softball game before Faribault Police and Fire cut the deficit to 6-4.
The final was Rice County 9, City of Faribault 4.
Faribault Police Chief John Sherwin told KDHL following the game it was a lot of fun and the turnout was larger than he expected.
The weather was perfect with the temperature in the mid 70's and calm winds.
Proceeds from the game will benefit the Hope Center and other local non-profits.
Erica, Hope Center Executive Director did the honors of throwing out the first pitch.
I suggested it could become a yearly event to raise funds and could be a way to get money for a new Canine Officer for example.  Sherwin said the idea was to benefit a community organization not themselves.
The Rice County team had a mistake on the back of their shirt.  Rice Country not County.  County Attorney Brian Mortenson told me they were going to start a new country radio station.
Sherwin suggested the possibility of a boot hockey game next.
Word is the City of Northfield wants to play Rice County because they were victorious over the City of Faribault.
Chiefs Sherwin and Dienst and Sheriff Thomas wanted to thank all the people who showed up and hoped a lot of donations were made to benefit Hope Center and other non-profits.
Here's The Best Pop Culture Halloween Costumes For 2023
This Halloween why not dress up as some of the biggest moments in pop culture for 2023.