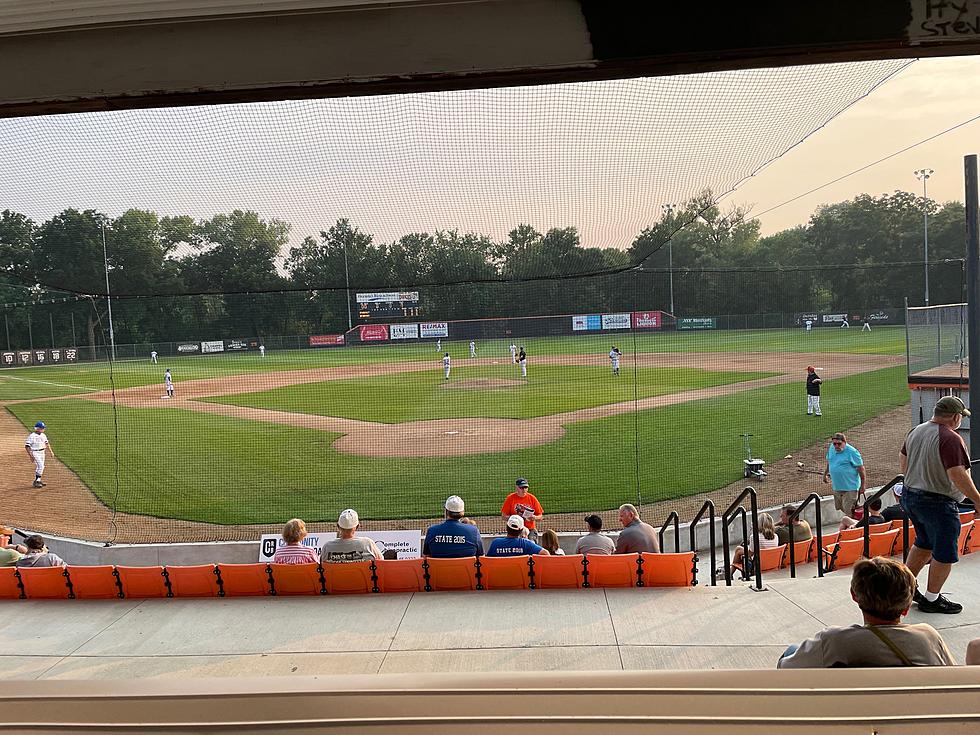 Minnesota Baseball Association Area Region Tournaments Nearly Set
My View from Extended Announcer Box at Memorial Field Dundas. Photo by Gordy Kosfeld
The Minnesota Baseball Association Amateur Region Tournaments are nearly set in the Faribault area.
In Region 3C New Prague and Webster won their DRS League Playoff series by sweeping two games in the best of three series.
The Orioles flew from Shakopee in New Prague Friday, July 29, 2022 10-0 in 8 innings and won 6-2 Sunday, July 31, 2022.
New Prague will be the #6 seed in the 8-Team Modified Double Elimination Region Bracket which begins this weekend.  They go to #3 seed Union Hill Friday, August 5, 2022 at 8:00 p.m.
Webster beat Lonsdale 7-4 in Webster Saturday, July 30, 2022 then the Sox traveled to Lonsdale Sunday and won 4-2 to end the Aces season.
The other series victor will be determined Tuesday, August 2, 2022 when Prior Lake hosts Veseli after a weekend split for the teams.  Friday, July 29, 2022 The Mudcats won 6-4 over the Warriors while Veseli captured the second game 2-0 to force the deciding game.
Each team won in the other team's ballpark in the first two games.  The highest remaining seed will play at Montgomery Friday, August 5, 2022 at 8:00 p.m.
Top seed St. Patrick will play the lowest remaining seed Friday at 8:00 p.m.
The Faribault Lakers are the #5 seed and go to #4 seed St. Benedict Saturday, August 6, 2022 at 2:00 p.m.
Four teams will advance to the State Tournament out of Region 3C.
The Preliminary Region 5C Tournament concluded with the final three teams determined for the Finals which open this weekend in Cannon Falls.
The final weekend games will be in Red Wing.
Top seed Stewartville/Racine opens Saturday, August 6, 2022 against Dodge Center at 10:00 a.m.
#4 seed Austin goes up against #5 seed Cannon Falls at 1:00 p.m.
At 4:00 p.m. Saturday #2 seed Red Wing plays #7 seed Lake City.
At 7:00 p.m. #3 seed Wanamingo will tangle with #6 Hastings.
Wanamingo continues to make improvements in hopes of someday being able to be a host site for their Region playoffs.
The winners and losers will play Sunday, August 7, 2022 to set up the final weekend with 3 teams out of Region 5C going to the State Amateur Baseball Tournament in Faribault, Dundas and Miesville.
Loser's Bracket games at 10:00 a.m. and 7:00 p.m. Sunday, August 7, 2022 in Cannon Falls.
Winner's brackets are also at John Burch Park on Sunday at 1:00 p.m. and 4:00 p.m.
The team that survives the loser's bracket will be the #3 seed from Region 5C.  The Winner's Bracket Champion is top seed with the team that does not win that game going to State as the #2 seed.
In Section 1B Playoffs the Hampton Cardinals traveled to Northfield and defeated the Knights Sunday 13-5 to advance to a best of three games series with top seed Miesville.
Northfield had their season come to a close.
The Mudhens host the Cardinals 8:00 p.m. Friday, August 5, 2022 then go to Hampton Sunday, Augusts 7, 2022 at 2:00 p.m.  If another game is necessary it will be played Tuesday, August 9, 2022 in Miesville at 8:00 p.m.
#5 seed Elko goes to #2 Rochester at Hudson Field Friday, August 5, 2022 at 8:00 p.m.  Elko hosts 2:00 p.m. Sunday  and if necessary a Tuesday game would be played at 8:00 p.m. in Rochester.
#3 seed New Market is at #4 Dundas Friday, August 5, 2022 at 8:00 p.m. because the Dukes have lights and the Muskies do not.  That series shifts to New Market Sunday at 2:00 p.m.  If a third game is necessary Tuesday, August 9, 2022 at 8:00 p.m. with the field to be determined.
The three teams that do not win their series will go to the single elimination Redemption Round to determine the fourth seed from the Section to go to State.
Games would be played Friday, August 12, 2022 8:00 p.m.  and Sunday, August 14, 2022 at 2:00 p.m.
There are a total of 31 teams in Class B with 16 advancing to the MBA State Tournament.
Class C has 218 total teams with 48 participating in the MBA State Tournament the final two weekends in August before champions are determined on Labor Day.
If you are a beer lover check this out.
LOOK: Best Beers From Every State
To find the best beer in each state and Washington D.C., Stacker
analyzed January 2020 data from BeerAdvocate
, a website that gathers user scores for beer in real-time. BeerAdvocate makes its determinations by compiling consumer ratings for all 50 states and Washington D.C. and applying a weighted rank to each. The weighted rank pulls the beer toward the list's average based on the number of ratings it has and aims to allow lesser-known beers to increase in rank. Only beers with at least 10 rankings to be considered; we took it a step further to only include beers with at least 100 user rankings in our gallery. Keep reading to find out what the best beer is in each of the 50 states and Washington D.C.