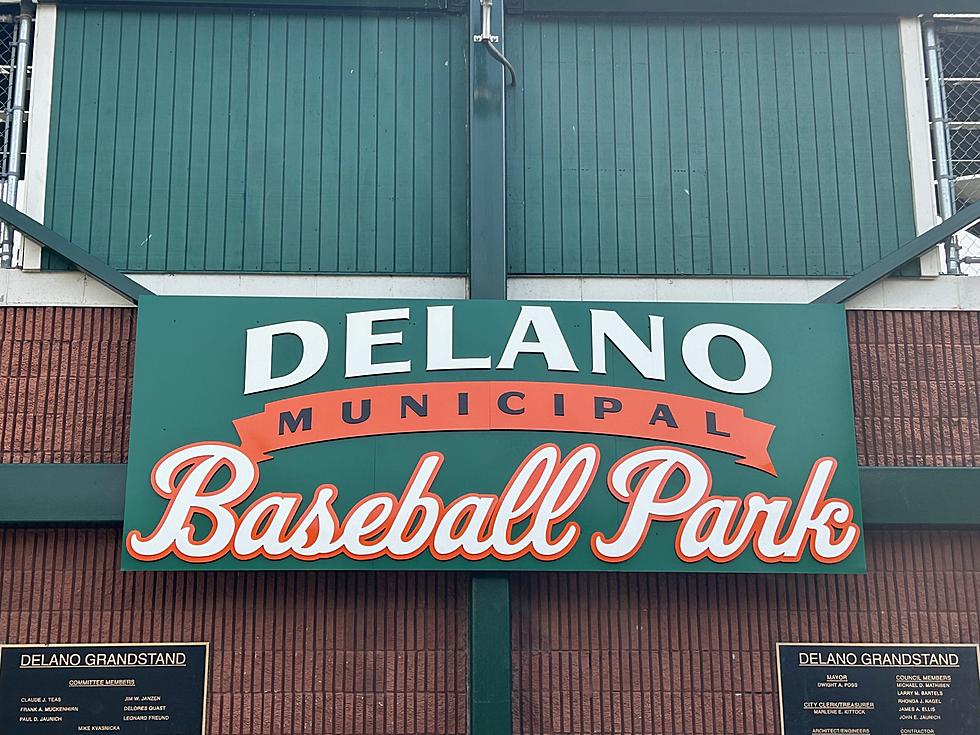 Section 1B Has Two Teams in Class B Elite Eight
Delano Sign Behind Grandstand. Photo by Gordy Kosfeld
Section 1B had four teams advance to the Class B 2023 Minnesota State Amateur Baseball Tournament.  Three won opening games to carry on to the Sweet Sixteen.
Miesville and St. Patrick picked up victories today.  Dundas plays against the Minneapolis Cobras 1:30 p.m. Sunday in Delano.
The St. Patrick Irish were bumped up to Class B this season and have more than held their own.
St. Patrick went 10-5 against Class B competition during the regular season and are riding a six game winning streak. The Irish (20-10) defeated Class A perennial power Baseball 365 by a 5-3 score in Delano today.
Ryan Friedges will be a redshirt senior at Minnesota State Mankato next season.  The right-handed pitcher for St. Patrick has not pitched in college.  He held Baseball 365 to 4 hits over 7 innings with one walk and six strikeouts.
Friedges is from Jordan, Minnesota.
Zac Endres, North Dakota State product from Lakeville South High school pitched an inning with 3 unearned runs allowed.  The right-handed Endres walked a batter.
Another North Dakota State player, Alec Holcomb, right-handed Owatonna High School graduate finished the game by striking out 2 in the ninth inning.
North Dakota State is coached by Tyler Oakes of Jordan and University of Minnesota fame.  Oakes was named Summit League Coach of the Year in 2022 when his Bison won the League.
The first baseball Summit League title in North Dakota State history.  The Bison finished second this year..
Nearly the entire St. Patrick roster is filled with Division 1 and Division 2 college players which is one of the reasons the were moved to Class B.
At the plate Jack Friedges (Ryan's brother) smacked a home run and a double while stroking 3 hits, scoring 3 runs and a RBI.  Jack is also a MSU Mankato former player.
Ben Taxdahl, University of St. Thomas freshman this past season had 3 hits including 2 doubles and a home run for 4 RBI.
Taxdahl was primarily a designated hitter last spring for the Tommies.  The 6'2, 225 pound Prior Lake native and St. Thomas Academy high school graduate was on the mound for 2.2 innings of relief work.
The Irish will go up against Minnetonka on Saturday, September 2, 2023 at 11:00 a.m. in Litchfield.  The Millers are another Class A perennial power.
The Miesville Mudhens cruised by the Anoka Bucs in Dassel by a 13-1 score in 8 innings.
The Mudhens cracked 11 hits to the Bucs 4.  Anoka had 3 errors, Miesville 1.
Quinn Kruger, graduate of Woodbury High School, will be a senior University of St. Thomas player, started the game on the mound going 5 innings.
The right-handed thrower scattered 3 hits, gave up a run, walked 5, struck out 6 with two wild pitches.
JD Dobis of Eagan, St. Thomas Academy graduate, right-handed pitcher went 2 innings with no hits allowed, 2 walks, 3 strikeouts, a hit batter.
Cooper Smith pitched in the 8th allowing a hit, a walk, struck out 2 with no runs scored.  The Woodbury native went to Cretin-Derham Hall High School and is attending St. Thomas University.
The right-handed thrower was a freshman this past season on the baseball team but did not appear in any games for the Tommies.
Offensively lead-off hitter Max Gamm of Woodbury had a pair of hits, scored two runs.  Gamm is a St. Cloud State 2022 graduate who spent his first three college baseball seasons at Division I University of Nebraska-Omaha and transferred his senior year.  In 2021 he helped UNO win the Summit League while starting at second base and led the team in stolen bases with 13 steals in 14 tries.
Gamm stole a base in today's game.  Gamm played for Mudhens veteran Brian Sprout at East Ridge High School in Woodbury. He played shortstop and his former head coach second base in the game.
Sprout of Lake City and St. Olaf fame scored a run and walked twice.
Hastings HIgh School graduate and Texas A&M baseball player Joey Werner stroked a solo home run while collecting two hits.
Austin LaDoux of Hastings and Grand Valley State College smacked a 2-run double.
Matt Van Der Bosch of Hastings and Oral Roberts University earned a pair of RBI with a hit and was hit by a pitch.
Miesville is scheduled to play the Cold Spring Springers on Saturday, September 2, 2023 in Delano at 11:00 a.m.
The Top States Searching For AI Companionship
Floridabet.com conducted a study over the past 12 months, and analyzed the number of searches for AI boyfriends and girlfriends, shedding light on the emerging trend of people seeking artificial intelligence partners for companionship.