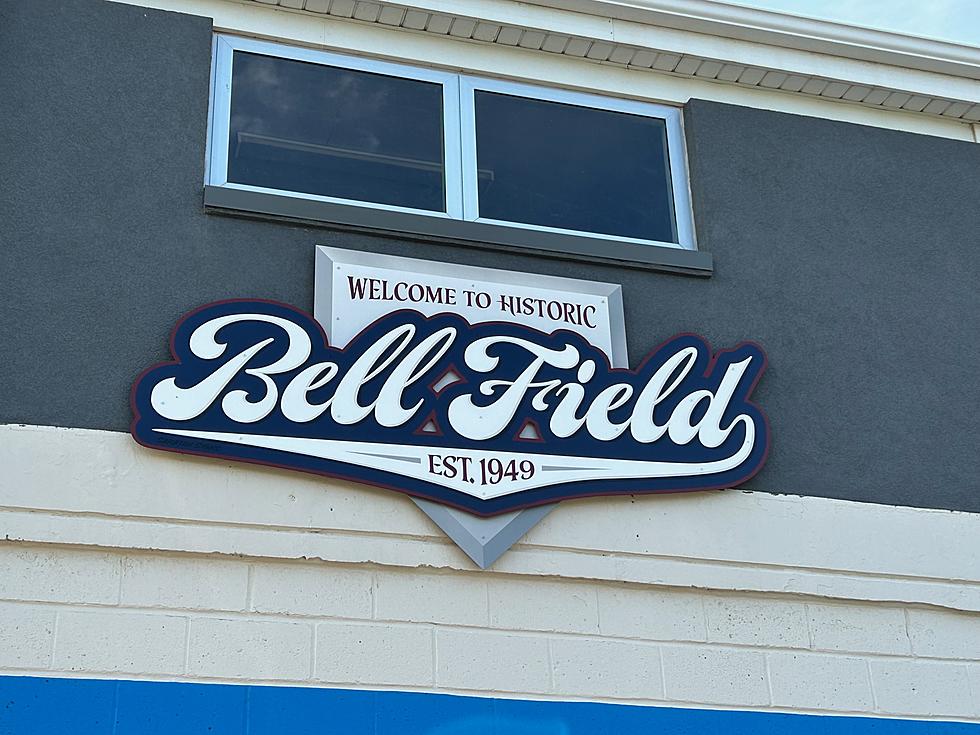 Montgomery Mallards Quacked Up in Faribault
Bell Field Sign. Photo by Gordy Kosfeld
Three Montgomery pitchers combined to hit 5 batters, walk 6 more and give up 9 hits in a 14-0  seven inning runaway for the Lakers at Bell Field Wednesday night.
Jake Petricka was a joy to watch on the mound for Faribault allowing just 2 baserunners and one hit in the game.
The former Major League pitcher threw 78 pitches with 57 strikes, did not walk a batter, struck out 9 in his 7 innings of work.  Two of them were looking.
Petricka had just one three ball count and that ended in a strikeout in the fifth inning.
The #9 hitter in the Mallards order Mike Readmond had a first pitch smash to third base that was knocked down which I thought was a hit, but was ruled an error with two outs in the third inning.
In the 6th inning #8 hitter Dylan Westermann had a solid single to center.
Petricka picked Redmond off to end the third inning.
The Lakers bats took awhile to get going.  Nate Rost began the second inning with a 0-2 count ringing double off the fence in left center.  He would advance to third base on a wild pitch by staring pitcher Max Krautkremer.
Petricka hammered a full count pitch to center scorin Rost.
Faribault got some help in the 5th inning, scoring 5 runs with just two hits.  Krautkramer started the inning by getting a batter to ground out.
Aiden Tobin singled with a full count.  The next two batters were hit by pitches.
Cleanup hitter Matt Lane cracked a solid  2-runsingle followed by a Nick Rost sacrifice fly to score another run.
Nate Rost was hit by a pitch.  Petricka hit the ball resulting in an error which was followed by another Mallards error.
Jack Jandro was hit by a pitch bringing in another run.  Eleven Lakers went to the plate in the inning with 2 hits, 4 hit batsmen, 2 errors by Montgomery.
Faribault put the game away in the 6th when they scored 8 runs on 5 hits against two pitchers. Jack Barnett and Readmond.
There was only one strikeout of a Lakers batter.
It was one of those nights for Montgomery when no pitchers were able to throw strikes.
Jack Barnett threw to 4 batters in the 6th with three walks and a hit batter.
Readmond finished the game by facing 8 batters with 5 hits allowed, 2 walks, 1 strikeout.
Lane was on base three times in four trips with a 2-RBI single.
Nick Rost had a sacrifice fly RBI and was hit by a pitch with the bases loaded.
Nate Rost clubbed two doubles for 2 RBI, was on base 3 of 4 times and scored three runs.
Jack Jandro was hit by a pitch with the bases loaded and added an RBI single.
Joe Grote was on the bases 4 of 5 trips with 2 runs scored and an RBI.
Petricka was on base three times and scored a run.
Faribault has a 15-8 record and Montgomery is now 7-7.
The Mallards play at Lonsdale Friday during Little League Night beginning 7"30 p.m.  Then they go to Shakopee at 2:00 p.m. Sunday.
The Lakers are at Webster Saturday and at Union Hill Sunday for 2:00 p.m. games.
Elsewhere Wednesday in Minnesota Amateur Baseball from around the area:
Dundas edged Rochester Royals 4-3  (Dukes scored 2 runs in bottom of 8th)
Northfield 13  Hastngs 6  (Winning pitcher Kevin Steel
This Stunning Colorado Cabin Can Only Be Accessed By a Bridge
This remote cabin is located on Engineer Pass in Southern Colorado and is totally off-grid. you will also have to cross a cable suspension bridge by foot to gain access to the cabin.