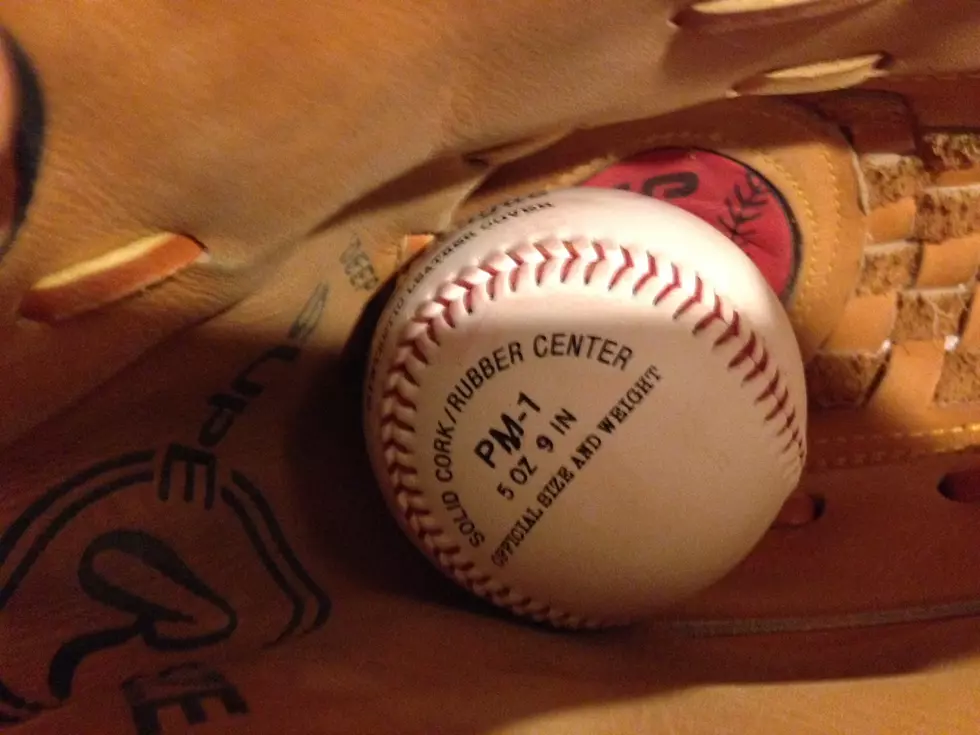 Northfield and Lonsdale Falter in Sunday Amateur Baseball
Baseball in Glove Photo by Gordy Kosfeld
The Northfield Knights fell to Rochester in a slugfest while Lonsdale was defeated in Prior Lake Sunday in amateur baseball.
The Mudcats had 9 hits while the Aces tallied 6 in the 6-2 DRS League game.
Ross Buemer hit a solo home run for Lonsdale and Marty Kalina had 2 hits.
Prior Lake was ked by Jonny Houston's 3 hits and Harry Fleek hammered a 2-run double.
Alex Wattermann was the winning pitcher going 8 1/3 innings with 5 hits allowed, 2 runs, 1 earned, 2 walks, 11 strikeouts.  Houston threw the final inning.
Daniel Turner took the loss while throwing 5 1/3 innings with 6 hits allowed, 4 runs, 3 earned, 1 walk.  Joe Sabal went 2 2/3 innings for the Aces giving up 3 hits, 2 runs, both earned with 1 strikeout.
Northfield fell 17-10 in a offensive onslaught at Mayo Field in Rochester.  The Royals had 18 hits, Knights 16 with both teams committing 1 error.
Northfield took a 6-1 lead in the third inning only to see Rochester tie the game with 5 runs in the bottom of the third.  The Royals added 3 in the 4th, 4 in the 6th and two in the 7th and 8th innings.
The Knights scored twice in the 4th and 6th innings.
Alex Miller was the winning pitcher, Thomas Peterson was tagged with the loss among the four Northfield pitchers used in the game.
Jake Mathison went the first 3 innings with 8 hits, 6 runs, all earned, 0 walks, 1 strikeout.  Thomas Peterson went the next 3 innings allowing 6 hits, 7 runs, 4 earned. 2 walks, 5 strikeouts.  Luke Johnson and Ben Voss each threw an inning.
Rochester had 4 doubles, a triple and two home runs in the game.
Northfield also had 4 doubles with Tim Maus in the zone at the plate.  The top of the order centerfielder had 5 hits including a double and home run with 3 RBI.  Aldon Severson had 3 hits, Jake Mathsion, Joey Glampe 2 hits.
Rochester was led offensively by Kyle Prindle with 4 hits, 5 runs scored and a triple.  Bo McClintock had 4 hits, 2 doubles, 4 RBI.  Mason Leimbek and Adam Marshall smacked home runs,
Alex Miller achieved the win for Rochester by throwing 4 innings of relief allowing 4 hits, 2 runs, walked 3 and struck out 6 batters.
Zack Carr and Ryan Ohm threw the first 3 innings for the Royals and Matthew Hayford took the hill the final two innings of the game.
The Faribault Lakers were scheduled to play Sunday at Noon but the game was moved to Tuesday at 7:30 p.m. at Bell Field in Faribault.
Other reported Sunday scores:
Waterville  6   Morristown 1   in Waterville
Reported scores on Saturday:
Warerville 10  Minnesota Lake 3   in Waterville
Blue Earth 10  North Mankato 4
Waseca  11  Cleveland  1
Morristown  8   Eagle Lake   7
Friday reported scores:
Veseli  8   Montgomery  6
Winona  6   Wanamingo  5    (Chiefs score walk-off win in 11th inning )
Hastings 2   Cannon Falls   1
Belle Plaine  5  Gaylord  3
Lonsdale 3   New Prague  2  in Lonsdale
St. Patrick 2  Dundas  1
The 50 Best Country Songs About Small Towns, Ranked
Love 'em or leave 'em -- small towns are the settings for some of the finest songs in country music history. Here are our 50 top songs about small towns throughout country music history.