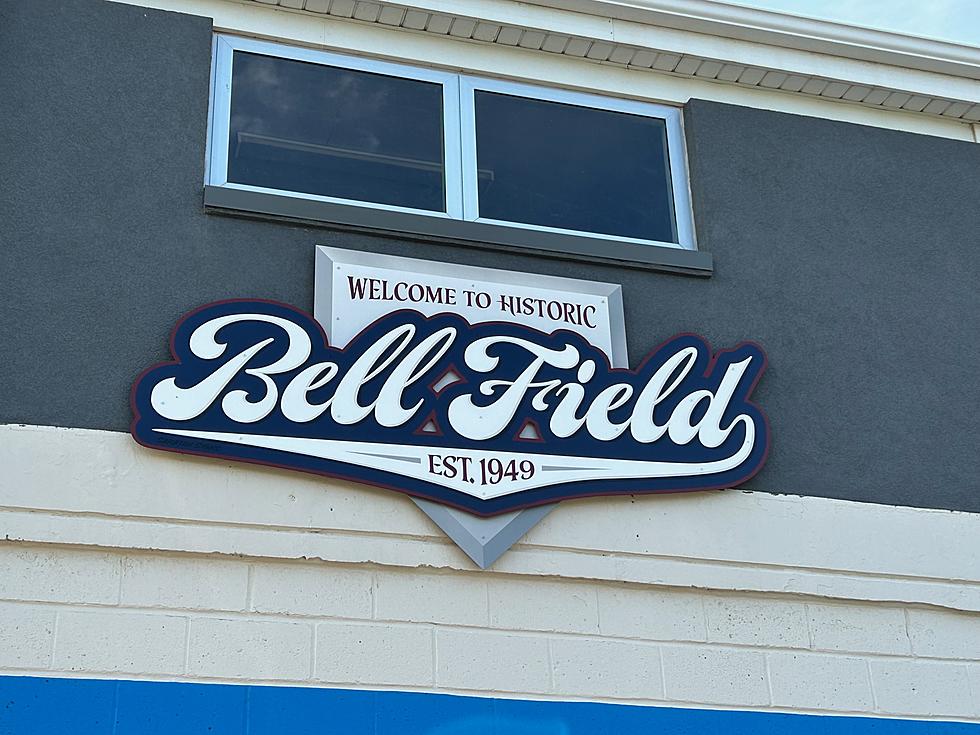 Faribault Defeats Waconia in Battle of Lakers
Bell Field Sign. Photo by Gordy Kosfeld
The Faribault Lakers had 10 hits in a 7-4 win today over the Waconia Lakers at Bell Field.
Jake Petricka started the game on the mound for Faribault throwing two perfect innings before Adam Vos took the team the rest of the way scattering 5 hits over 7 innings while allowing 3 runs, 2 earned.  He struck out 3 and walked 2 after throwing 109 pitches, 72 strikes,
Petricka had 17 pitches thrown, 16 strikes and did not allow any baserunners.
Easton Fleck started the game for Waconia going the first 5 innings with 7 hits allowed, 7 runs, 6 earned with 2 strikeouts and 5 walks.  Fleck threw 95 pitches, 51 strikes while taking the loss.
Erik Hauglund finished the game throwing the last 3 innings with 3 hits allowed, 4 walks, 1 strikeout.  Haugland threw 63 pitches, 30 strikes.
In the bottom of the opening inning Joe Grote was issued a two-out walk after battling during a 7-pitch at bat.
Nick Rost jumped on the first pitch for a single to right field and advanced on a throw to third base that was not successful in getting Grote out.
Austin Rendler clubbed a first pitch single to left scoring Grote and Rost.
Waconia scored 2 runs in the third inning to tie the game.
Faribault countered in the bottom of the inning when Aiden Tobin opened with 2-2 count single to left field.  Tobin stole second base and advanced to third on a wild pitch.
Danny Pierce was walked.  Grote hit an 0-1 pitch single to left that loaded the bases.
Nick Rost hit a grounder that scored Tobin.   Then there was an inning ending double play.
In the bottom of the 5th inning Tobin walked with one out.  Pierce was also walked.  Grote loaded the bases with an infield single.
Nick Rost grounds out scoring Tobin the other runners move up a base.
Rendler cracks a two-run double to left field.  Nate Rost is walked.
Rendler goes to third base on a passed ball with Rost moving to second on the same play.  Rendler scores on the play.
Petricka singles advancing Rost to third base.  The inning ends with a pop out.
Faribault had a chance to add more runs in the 7th when Adam Kline and Rendler opened the inning with walks.
Nick Rost singled to load the bases.
Petricka flew out to right field and Kline was thrown out at the plate,
Vos walked to re-load the bases followed by a ground out.
Waconia opened the 9th inning with a A.J. Friedrich 4-pitch walk.  Jake Hendricks hit a 1-5 count single to center.
Waconia scored two runs on an error before Voss slammed the door on the Lakers of Waconia.
Faribault is 9-7 now and goes to Elko for a 7:30 p.m. game Wednesday.
Waconia goes to Plato 7:30 p.m. Tuesday.
Other results from Sunday:
Union Hill   6   New Prague   3
New Market  4   Rochester Royals   3
Miesville  4     Hampton   0
St. Patrick at Dundas PPD
Waterville at Wells   PPD
Montgomery at Webster   PPD
North Mankato at Waseca  PPD
Saturday reported results:
Pine Island  13   Wanamingo  11
Waterville at Blue Earth PPD
Waconia at Dundas  PPD
Most common fast food chains in Minnesota
Stacker
compiled a list of the most common chain restaurants in Minnesota using data from the Friendly City Lab at Georgia Tech.