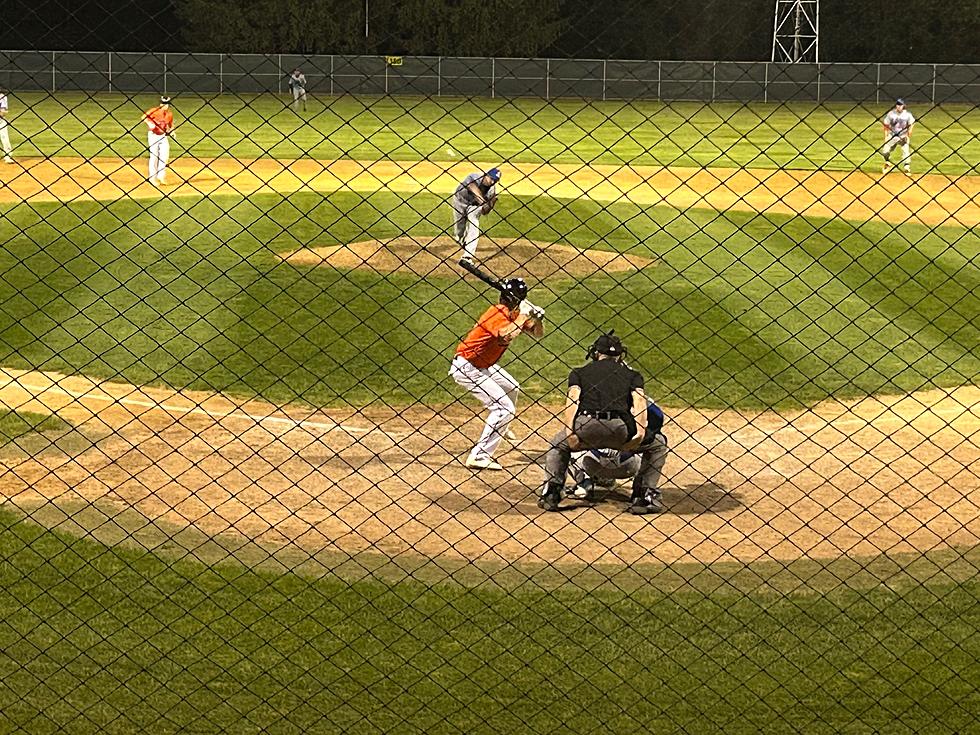 Faribault Lakers Drown New Prague in Seven Innings
Jake Petricka Delivers Last Pitch of Game vs New Prague in Faribault. Photo by Gordy Kosfeld
Jake  Petricka, Faribault Lakers pitcher, did not have as dominating a performance as last week but the result was the same.   A seven inning 11-0 shutout victory.
Petricka is now 6-0 with a save.  His ERA going into the Wednesday night shutout of the New Prague Orioles was 0.71.  Opponents were hitting .107 against him.
That number did go up as the Orioles were able to connect for 9 hits in the game (He had allowed 19 total coming into the game in 50 2/3 innings).
Petricka struck out 10 (giving him 87 in 57 2/3 innings, 26 of them looking) and walked 1 batter (6th of season).  He has allowed 4 earned runs this season in 12 appearances with 8 starts)
The Orioles started the game with back to back singles by Eric Wagner and Patrick Timmer each with two strikes.
Petricka got a strike out looking and a double play to end the inning.
The Lakers made a splash in the first inning, scoring two runs after Aiden Tobin started the game with a base hit, Danny Pierce was hit by a pitch delivered by James Fuerniss.
The right hander walked Joe Grote to load the bases.  Matt Lane stroked a 1-1 pitch for a 2 RBI single and advanced to second when Grote recorded an out after being caught in a rundown between second and third base.
Faribault had two errors in the second inning and the Orioles had a hit but all three outs were strikeouts.
In the bottom of the 3rd inning Tobin reached second base following an error on his hit ball to shortstop.  Pierce also hit a ground ball resulting in a throwing error by the third baseman that scored Tobin.
In the 4th inning with two outs to start the inning #7 hitter Nick Rost took a 0-1 count pitch back up the middle.
Jake Petricka hit an RBI single and advanced to second base when the center fielder had a tough time handling the ball.
Jack Jandro reached on a error that scored Petricka.  Jandro was thrown out trying to get his 8th stolen base of the season.  It took a perfect throw from Orioles catcher Anthony Mader.
Fuerniss went 4 innings for New Prague with 4 hits allowed, 5 runs, 2 earned.  He threw 51 pitches 33 strikes with 1-strikeout, 1-walk, 1-hit batter.
Lefty Matt Zweber came in to pitch with an up and down in order 5th inning.
The Lakers sealed the win by scoring 6 runs on 5 hits with two walks mixed in during the bottom of the 6th inning.
Lane opened the inning with a walk.  Kyle Murphy came in to run for Lane.  Austin Rendler hit a hot shot to short that was caught (he probably had the hardest hit ball of the night when he crushed a ball right to the third baseman to start the 4th inning.)
Nate Rost walked.  Nick Rost clubbed a full count 2-RBI single.
Following a ground out #9 batter Jack Jandro hit a 2-2 count pitch for an RBI single.
Tobin hit a 3-1 count single.  Pierce jumped on the first pitch for an opposite field RBI single.  Joe Grote hit a perfectly placed double down the right field line scoring two runs.
The only other threat by New Prague came in the 6th inning when the first two batters reached on a single and walk.
Fuerniss hammered a 1-2 count pitch to Grote who caught it on the fly, stepped on second to retire a runner and nearly got the out at first for what would have been a triple play.  It was very close.
Tobin scored 3 runs at the top of the order with two hits.  Pierce followed by getting on base 3 of the 4 times he was up to the plate and scoring 2 runs.
Grote had the 2-run double.  Lane had 2-RBI.
Nick Rost collected 2 hits, 2-RBI.  Petricka and Jandro also had singles resulting in runs being scored.
In the 3rd inning, Fuerniss had a marathon at bat against Petricka fouling off pitch after pitch working the count full and was rewarded with a single to left field on the 13th pitch of the at bat.
Jandro fielded the ball and delivered a perfect throw to catcher Dylan Valentyn who was able to tag Eric Wagner trying to score on the play.  Wagner was thrown a few feet from home plate to end the inning.
Petricka threw 109 pitches, 76 strikes in seven innings.
Faribault is now 18-9.  New Prague 12-9.  The Orioles started this season 9-0.
The Lakers play Noon Sunday at home against St. Benedict while New Prague is at Lonsdale Friday night at 7:30 p.m.