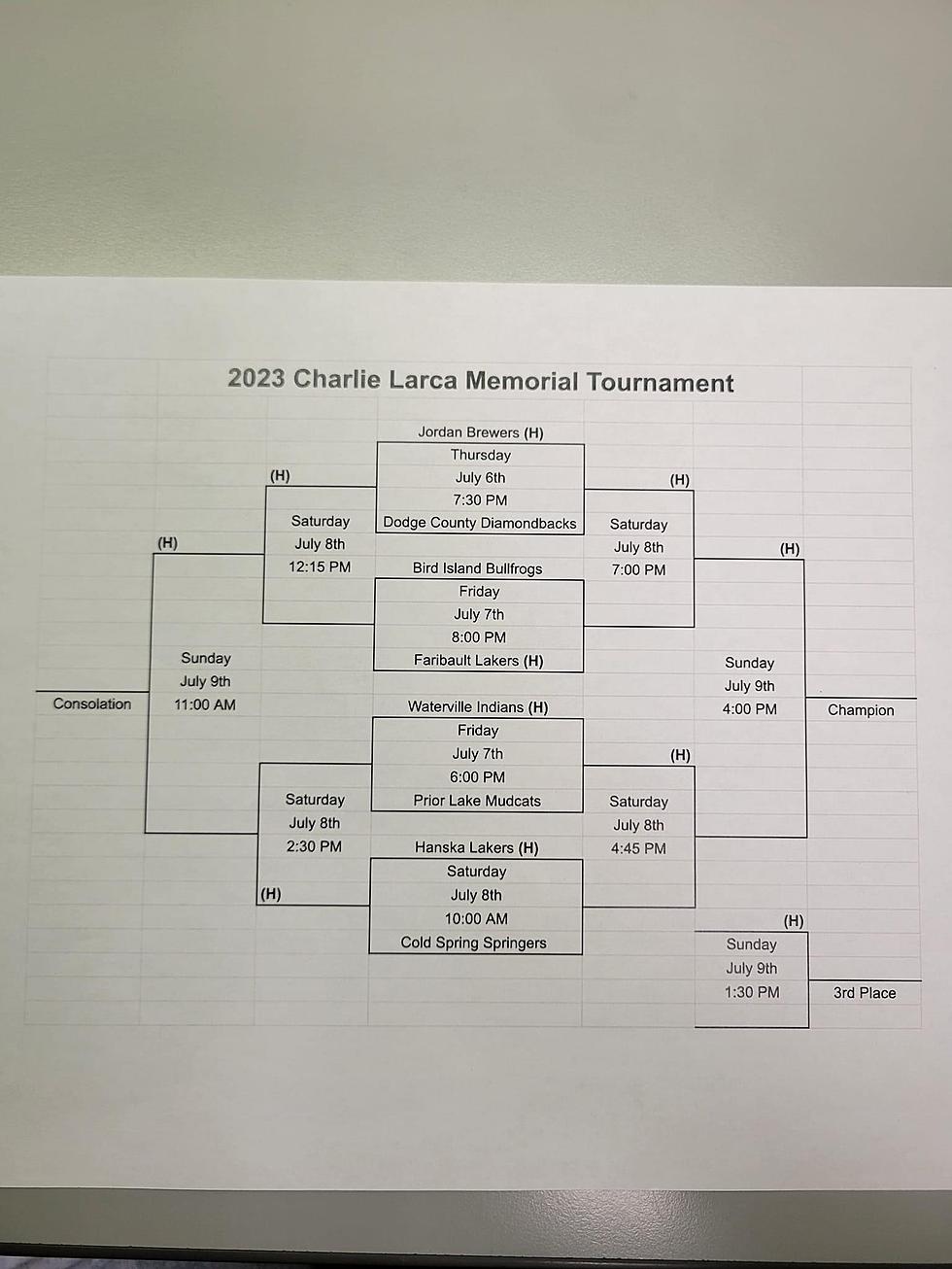 Faribault Lakers Clutch Hits Lead to Fifth Straight Win
2023 Charlie Larca Memorial Tournament Jordan. Bracket by Jordan Brewers
The Faribault Lakers scored 3-runs in the bottom of the 8th inning last night to defeat the Veseli Warriors 6-5 at Bell Field.
The Lakers took advantage of a couple of one-out walks by Joe Grote and Nick Rost when Matt Lane cracked a RBI single to score Grote who had stolen second base,
Rost then scored on a wild pitch to tie the game before Austin Rendler launched a towering fly ball to left field for a sacrifice fly RBI to secure the 6th Faribault run.
Zander Fitzsimmons came in to run for Lane, stole second base and scored the game winning run.
Veseli started the scoring with a run in the first inning due to an error.  Kyle Carlberg stroked a one-out single.
With two outs Noah Washa hit a bloop single to shallow left-center.  The throw from the outfield was wide of third base scoring Carlberg.
Lakers outfielder Austin Rendler jumped on the first pitch he saw from Veseli starter Nathan Picka for a double.
Nate Rost grounded out to the right side of the infield advancing Rendler to third base.  Rendler then scored on a wild pitch.
Jake Petricka hit a grounder resulting in an error.  Dylan Valentyn stroked a 0-2 count pitch for a single.  Jack Jandro walked to load the bases.
Aiden Tobin connected on a full count 2-run single.  Lakers had a 3-1 lead.
In the top of the fourth inning Andrew Picka hit an 0-2 count pitch to deep right center field.  I ruled a hit and an error because the right fielder had a long run to the ball but after getting the ball into his glove was unable to secure it.  The batter was able to go to third base on the play which is why I scored it a hit and error.
Samuel Friedges hit a 0-2 count pitch for a sacrifice fly to center making the score 3-2 Faribault.
The Warriors added two runs in the 5th inning to take the lead.  Eddie Sirek opened the inning with a 2-1 count single.  Carlberg hit a infield single.  Both batters stole second base.  Nick Spitt collected a sacrifice fly RBI.  Washa hammered a 1-1 count single giving his team a 4-3 lead.
Veseli added another run in the 6th inning.  Andrew Picka and Samuel Friedges had singles that ended Bonde's day on the mound.
Jake Petricka came in to pitch.  #9 hitter Jackson Jirik hit a 1-0 count single with the infield drawn up to the grass just over their heads scoring their fifth run.
Veseli would have two base runners the rest of the way against Petricka.
Faribault left the bases loaded in the 7th inning and did not score.  In fact there was not a single inning where the Lakers did not have at least one runner on base.
They finished the game with 11 runners left on base, 8 in scoring position.  Veseli stranded 8 runners, 7 in scoring position.
Bonde went the first 5 1/3 innings throwing 70 pitches, 49 strikes with 11 hits allowed, 5 runs, 2 earned, 1 strikeout, 2 walks.
Petricka threw 3 2/3 innings with 2 hits given up, 3 strikeouts, no walks.  He threw 34 total pitches, 25 strikes to earn the victory.
The Warriors used three pitchers in the game.  Nathan Picka went 5 innings throwing 109 pitches, 65 strikes with 4 strikeouts, 2 walks, 6 hits & 3 runs allowed.
Nick Spitt went the next 2 1/3 innings with 5 walks, 2 strikeouts, 1 hit, 2 runs allowed.
Benjamin Tupy ended the game with three batters faced, 1 hit, a run, no strikeouts and no walks.
Spitt had 54 pitches thrown, 23 strikes, Tupy threw 10 pitches, 7 strikes.
Faribault participates in the Charlie Larca Memorial Tournament this weekend in Jordan.
Faribault (13-7) opens with perennial power Bird Island (11-3) at 8:00 p.m. Friday night following a 6:00p.m. contest between Waterville and Prior Lake.
Bird Island has a six game winning streak.
Jordan Brewers (16-1) opens the tournament tonight at 7:30 p.m. against the Dodge County Diamondbacks at the Mini-Met.
The Brewers only loss this season has been to Belle Plaine in Jordan.
Saturday morning at 10:00 a.m. Hanska plays against Cold Spring in the other first round game of the 8-team tournament.
If the Lakers win they would play 7:00 p.m. Saturday if they don't defeat the BullFrogs then Faribault will take the field at 12:15 p.m. Saturday.
The Championship game is 4:00 p.m. Sunday.  3rd Place, 1:30 p.m.  Consolation Championship 11:00 a.m. Sunday.
Next home game for Faribault is Wednesday, July 12, 2023 at 7:30 p.m. against Montgomery.
The History of Smashing Guitars in Rock 'n' Roll
Who was the first person to smash a guitar onstage? And how did it become a trend for musicians since then? Loudwire dug deep to uncover what we know about the history of destroying instruments in rock.