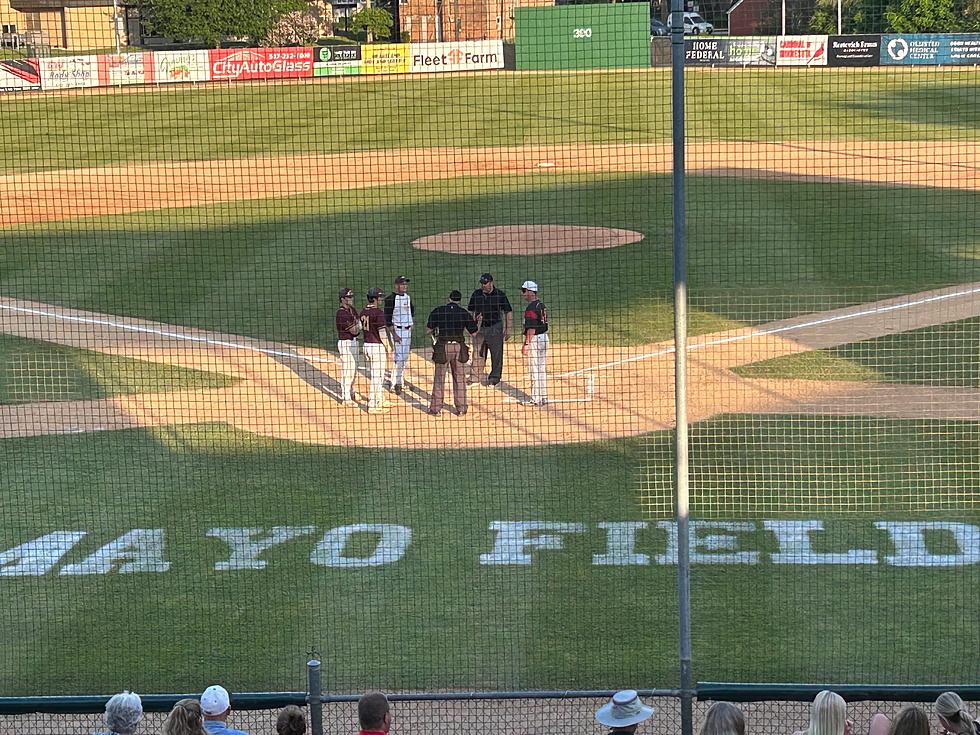 Cannon Falls Baseball Amazing Comeback on Memorial Day
Dover-Eyota & Cannon Falls Coaches join Umpires for Mayo Field ground rules discussion. Photo by Gordy Kosfeld
The Cannon Falls Bombers were behind 9-3 going into the top of the 6th inning Memorial Day in Rochester.
Dover-Eyota plated 3 runs in the bottom of that inning to put them up by 4 going into the scheduled final inning.
The Bombers plated 5 runs, 2 of them with two outs, to win 12-11 at Mayo Field and stay in the Section 1AA Winner's Bracket.
Dover-Eyota pitchers walked 14 batters, hit 4 others while allowing 6 hits.  They used 4 different arms in the game.
In the 4-run 6th inning Cannon Falls did not have a hit.  Three pitchers for the Eagles walked in all the runs with two outs.
The Bombers opened the game with some small ball plating two runs without a hit to the outfield.  Elliott Nelson started the game by walking.  Ari Wells bunted for a hit.  Jaden Winchell executed a sacrifice bunt to advance runners to second and third bases.
Jack Meyers got an infield single that scored two runs.  He would be stranded at third base.
Dover-Eyota scored 3 runs in the bottom of the first inning.  Lead hitter Brodie Kellen jumped on the first pitch from Jack Meyers and hammered a double.
Eagles starting pitcher Bolton Thesing achieved a 1-2 count single.  Following a walk to load the bases, Karsen Behnken jumped on the first pitch for a 2-run single.  Gavin Gust hit a sacrifice fly for an RBI.
Nolan Thompson had a 0-1 count single before Meyers got the last two outs.  3 runs, 4 hits in the inning.  Meyers threw 28 pitches, 17 strikes.
Gavin Gray, left-handed pitched followed the righty Meyers in the second inning.  At the time I thought good move maybe the hitters won't be as comfortable but the Eagles scored 6 runs in the inning.
The big blow was a no-doubt grand slam off the bat of Gust.  There were 4 more hits in that inning.
Gray stayed in the game until he ran into the pitch limit and did very well with shutout innings third through the 5th.
Meanwhile Cannon Falls scored their third run in the third inning without the benefit of a hit.  Jackson Ekstrom was hit by a 1-1 count pitch with the bases loaded.  They were loaded thanks to two walks and an error.
The wild top of the 6th inning started with the 6th walk allowed by Thesing.  Following a fly out and Thesing's 7th strikeout the gift parade began.
Thesing hit Nelson and Wells to load the bases.  He came out of the game.  I had 118 pitches, 66 strikes in my book.
Brodie Kellen issued three walks plating 3 runs.  He exited the mound and handed the ball over to Landon Lehnertz who walked the first batter he saw to bring in a run before a ground out ended the rally.
Gray got the first two outs of the bottom of the 6th before a Bombers error and a walk extended the inning.  #9 hitter Levi Williams hit a 1-2 count single.
Gray came out of the game with 116 pitches thrown, 70 for strikes with 9 strikeouts, 4 walks, 1 hit batter, 7 hits.
Tyler Johnston entered the game to pitch.  Kellen hit a 2-0 count RBI single to greet him.  Thesing hit a 2-2 count single before Johnson got a strikeout to end the inning.
Score 11-7 entering the final inning for the Bombers.
Top of the seventh began with a ground out.  #9 hitter John Banks hit a 2-1 count single off Lehnertz.  Bases were loaded following back-to-back full count walks to Nelson and Wells.
Winchell got a full count bases loaded walk for a RBI.  Meyers hit a sacrifice fly to score a run but it was the second out.
Johnston was down in the count 0-2 when he was hit by a pitch to reload the bases.
Aaron Melhouse hit a 1-2 count pitch for a RBI single.  Eckstrom then delivered a full count single to score two runs and give Cannon Falls the lead.
Wells came in to pitch the seventh inning.  Following a fly out, Gust cracked a single to right field placing the tying run on base.
Wells got a strike out and a pop out to end the game.
Cannon Falls scored 12 Runs on 6 hits with 3 errors, 8 runners left, 5 in scoring position
Dover-Eyota had 11 runs on 13 hits with 1 error, 10 runners left, 5 in scoring position.
The #2 seed Eagles (18-4) will play Chatfield (15-6) at 5:00 p.m. today at Mayo Field.
#3 seed Cannon Falls (18-4) will play #4 seed LaCrescent (17-6), 10:00 a.m. Saturday, June 3, 2023 at Mayo Field.  That game will be broadcast on POWER 96 Radio, 95.9 FM and FREE POWER 96 app.
The other Winner's Bracket game Saturday resulted in a 9-4 victory for LaCrescent over top seed Zumbrota-Mazeppa snapping their 5 game winning streak.
The Cougars (15-4) have a 7:30 p.m. game today against Pine Island (13-7) at Mayo Field in Rochester.
Other baseball outcomes Memorial Day:
Section 1A
Lyle-Pacelli  5-3 over United South Central
Southland  9-8 over Hayfield
Hayfield 10-8 over Spring Grove
Fillmore Central/Lanesboro 12-8 over United South Central
Action resumes Saturday, June 3, 2023 at Noon with Hayfield and Fillmore Central/Lanesboro and L-P vs Southland playing.  Loser of Winner's Bracket plays winner of Elimination Bracket to determine foe for Winner's Bracket victor.
Section 1AAAA
Lakeville South 2  Rochester Century 1
Farmington 5  Owatonna 2
Rochester  Mayo 12  John Marshall 8
Section 3AAAA
Rosemount 6  Apple Valley  1
Lakeville North 5  Burnsville  2
LN at Rosemount 5/31/23  4:30 p.m.
Eagan  7   Eastview   3
Hastings 10  Park of Cottage Grove  4
Eagan at Hastings 5/31/23  4:30 p.m.
Apple Valley at Burnsville and Park at Eastview
40 Artists Praise Joni Mitchell: 'She Saved My Life'
Examining the wide-ranging influence of the legendary Canadian singer-songwriter.