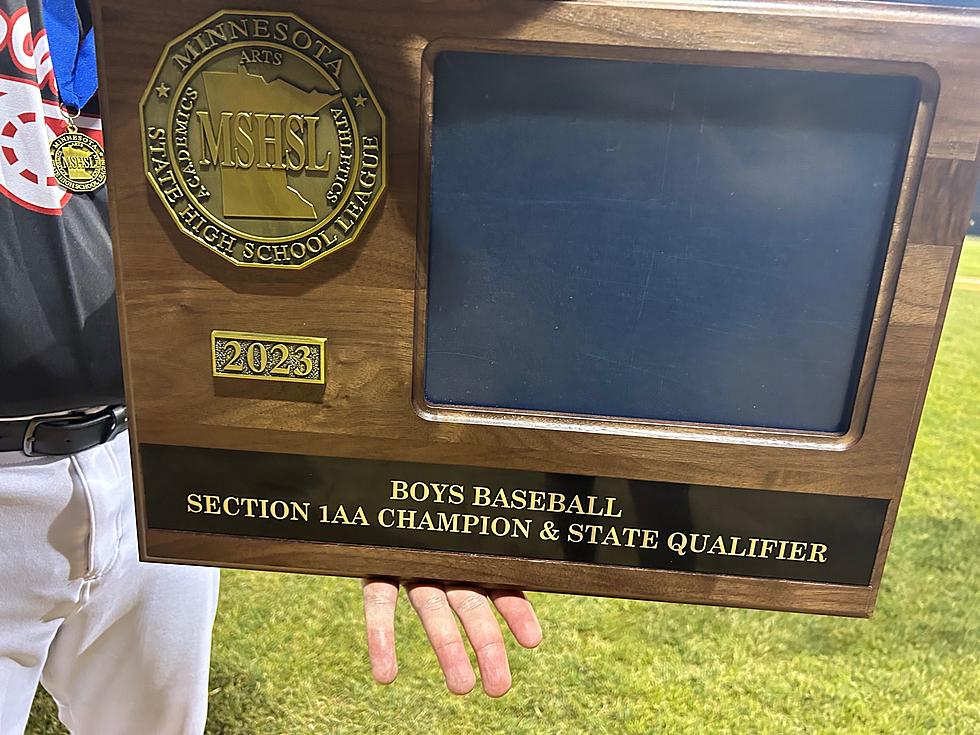 Area All-State Baseball Players Chosen
Cannon Falls Section 1AA Championship Trophy. Photo by Gordy Kosfeld
The Minnesota High School Baseball Coaches Association (MHSBCA) recently announced All-State baseball performers and All-Academic individuals and teams for the 2023 season.
Kenyon-Wanamingo senior Will Van Epps was named to the Class A All-State team while classmates Alex Lee and Cal Luebke were Class A All-Academic selections.
Other area Class A All-State players include underclassmen from Lyle/Pacelli.
Hunter VaDeer, sophomore, Isaac Nelson, junior, were named All-State performers.
Nick Bushlack, senior, United South Central was the other Gopher Conference selection in Class A.
Other Class A All-Academic baseball players include Caleb Griffin of Spring Grove, Blake Passe of Wabasha-Kellogg and Mabel-Canton players Fred Williams and Jordan Larson.
Class 2A State Tournament teams Cannon Falls, Fairmont & Esko also had players chosen for the All-State and Academic All-State teams.
Jack Meyers, sophomore, Elliott Nelson, senior, were chosen for the Class 2A All-State team.
Bombers senior Tyler Johnston was named Academic All-State for his work in the classroom.
Other area Class 2A All-State selections include Andrew Phillips, senior of New Richland-Hartland, Ellendale and Geneva, Preston Ohm, junior, from Zumbrota-Mazeppa, Eli McCool, senior, of LaCrescent.
Academic All-State Class 2A 2023 baseball selections include Sam Pirkl of Blooming Prairie and Tristan Augedahl of Caledonia.
Class 3A MSHSBCA All-State honorees are Nolan Thompson and Austin Koep from Northfield.  Koep was a junior, Thompson a senior.
Jake Lundquist. senior with State Champion New Prague was honored.  Others included:  Owen Sikkink of Stewartville, Riston Wojcik and Dylan Kopesky of Mankato East.
Class 3A Academic All-State performers include Nick Giesen and Andy Jackson of New Prague. Reid Bielen of Byron.  Brady Pickett and Owen Sikkink of Stewartville, Easton Stangl, Cael Willaert, and Alexander Hennis all of Mankato East.
Isaac Stromlund of Austin.
Class 4A All-state selections included Tanner Recchio of Lakeville North, Ian Segna of Lakeville South, Carter Theisen and Jack Thompson, both seniors from Rosemount.
Ian Regal of Rochester Mayo is also a 2023 All-State baseball honoree.
Class 3A Academic All- State selections included Ryan Ohm of Rochester Century, Nichola Meuser, Burnsville.
Class A team state academic baseball champions are Parkers Prairie.  Spring Grove also achieved the Gold Standard.
Mabel-Canton was a Class A Silver Standard academic choice.
Class 2A Team Academic State Champion was also the baseball State Champion Esko. Gold Standard Academic teams included Blooming Prairie.
Silver Standard teams were Cannon Falls, Zumbrota-Mazeppa and Tri-City United.
Class 3A State Academic Champions are St. Anthony Village.  Kasson-Mantorville achieved Gold Standard status.
Silver Standard Class 3A teams are Austin, Mankato East, Stewartville and New Prague.
Class 4A Team Academic Champions are Minneapolis Southwest with Eastview, Lakeville North, Lakeville South, Owatonna and Shakopee making Gold Standard status.
Silver Standard teams include Burnsville.
These Ten Players Played for Both New York Baseball Teams
It's rare to see an athlete play for two teams in the same city, but when it comes to the New York Yankees and Mets, these ten players suited up for them both.