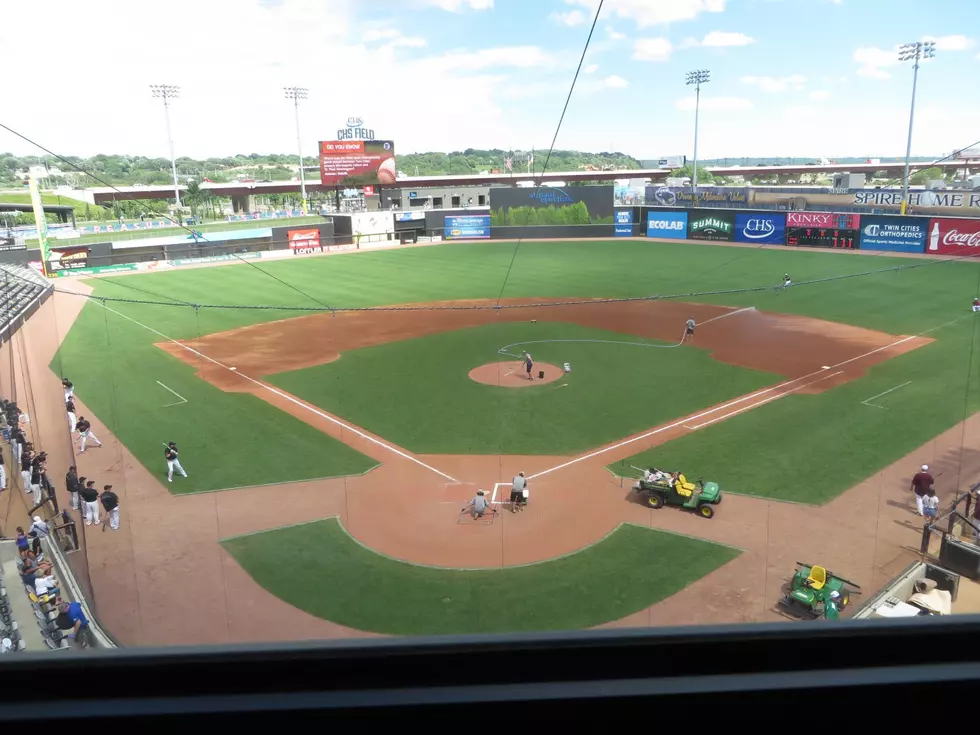 New Prague and East Ridge State Baseball Champions
CHS Field St. Paul. File Photo by Gordy Kosfeld
The New Prague Trojans are the Class 3A MSHSL State High School Baseball Champions.
East Ridge won a 1-0 thriller over Rosemount for the Class 4A title at CHS Field in St. Paul.
New Prague defeated Mahtomedi 5-3 despite 3 errors and fewer hits in the game.
The Trojans scored in the bottom of the first inning .  With one out Kyle Carlberg, senior, walked then stole second.  Nolan Eischens, senior, hit an RBI double to left field.
The Zephyrs tied the game in the top of the second inning when Joshua Donna, junior, opened the inning with a 3-2 count single.  Nicholas Rollinger, senior, was the pitcher's courtesy runner and went to second base on a wild pitch.
With two outs Rollinger went to third base on a wild pitch.  Carter Schmidtz, junior, spanked a 3-2 count single scoring Rollinger.  Charles Barre, senior, hit a 0-1 count single to right field advancing Schmidtz to third base.  Barre stole second before a 3-2 count fly out ended the threat.
The Trojans broke the 1-1 tie in the bottom of the 4th inning when Jake Lundquist, senior, hit a 1-2 count pitch for an infield single.  He stole second base.  Henry Novak walked.  They both stole a base.  Noah Washa, senior, walked to load the bases.
Mahtomedi made a pitching change.  Nick Giesen, senior, collected an RBI with a walk.
New Prague put a crooked number on the board in the fifth when Jake Hemann walked to open the frame.  Eric Berg, junior, was hit by a pitch.
The Zephyrs made a pitching change.  Kyle Carlberg reached base on a fielder's choice which was followed by an error.  Eischens smacked a 0-1 count two-run single to left followed by a Lundquuist first pitch single plating the thirdr run of the inning.
Mahtomedi scored two runs in the top of the sixth inning.  Austin Felling, junior, hit a one out, 1-1 count single to right.  With two outs, Schmidtz was hit by the first pitch.  Jacob Johnson, seniior, clubbed a 1-1 count double to right center scoring two runs.
New Prague brought in Eischens to pitch and he got a ground out to end the threat.
In the top of the seventh inning Seth Nelson, senior, reached baase with one out when a 1-0 count pop fly was dropped in the infield.  With two outs Max Strecker reached on a fielder's choice that ended the game when interference was called on the Zephyrs player going into second base.
Giesen wen the first 5 2/3 innings for the New Prague victory.  Eischens earned a save with his 1 1/3 innings of work.
Giesen threw 91 pitches, 54 strikes with 8 hits allowed, 5 strikeouts, 1 walk, 3 earned runs.  Eischens had 15 pitches, 11 strikes with no hits, walks or strikeouts.
Donna started for Mahtomedi going the first 3 1/3 innings with 80 pitches thrown, 41 strikes. He struck out 2, walked 3, gave up 3 hits and 2 earned runs.
Max Strecker, junior, walked two batters in the fifth inning with 16 pitches thrown, 4 strikes.  Thomas Muetzel, senior, threw 14 pitches, 9 strikes one inning with no walks or strikeouts, two hits and a run scored.
Miles Morris, senior, finished the game with 19 pitches, 11 strikes.  Two strijkeouts, a walk and hit allowed.
The Trojans were 4 for 4 in stolen bases with Lundquist swiping two of them.  The Zephyrs were 1 for 2.
New Prague left 7 runners on base, 6 in scoring position.  Mahtomedi had 9 runners left on base, 8 in scoring position.
The Class 3A State Champions New Prague finished their season 24-3 with their first state baseball title.  The Trojans ended 1980 in third place and were second in 2019 to East Ridge in the Class 4A tournament.
It was the 8th trip to state in the past 9 years for the Zephyrs.  They were second in 2016, champions in 2018 and 2021, 4th in 2022.
Tanner Oakes, is the Head Coach for New Prague and former Faribault Falcon Don Plaisance is their long time assistant.
The Raptors of East Ridge got a monster pitching performance from Maxwell Arlich, junior, allowing two hits while going the distance.  He threw 88 pitches, 58 strikes, with 7 strikeouts, 2 walks and faced 2 batters over the minimum.
Rosemount pitcher Liam Bystol, 12, had goose eggs on the scoreboard for East Ridge until the 7th inning.  Bystol threw 93 pitches, 64 strikes with 7 hits allowed, 3 strikeouts, 1 walk.
In the top of the 7th East Ridge scored on a two-out double off the bat of Riley Schwellenbach, senior, scoring Griffin Johnston, senior.  Johnston was pinch running for designated hitter Joseph Merchlewitz, senior, who opened the inning with a first pitch single.
Aiden Makovica, senior, bunted Johnston to second base.  Benjamin Rudser, junior, executed a bunt advancing Johnston to third base setting up the Scwellenbach 2-1 count double for the game winner.
The Raptors were the #2 seed and Rosemount #1 seed in the tournament.  East Ridge had a #10 QRF, Rosemount #4.
The Irish ended their season 19-7.  It was their 10th trip to state, first since 2008.  Rosemount went six consecutive years in the 1990's ('93-'98) but has not won a title.  They were second in 1995 to Brainerd, 4th in 1996, '97 and '98.
It was the second state trip for the Raptors who were champions in 2019 in a 7-2 win over New Prague in the biggest schools class.  They end 2023 with a 20-8 mark.
East Ridge of Woodbury Head Coach Brian Sprout was a standout in baseball and football at St. Olaf College in Northfield, Mn and grew up in Lake City, Mn.
Chris Swanson is the head Coach of Rosemount who was not ranked in the top 10 final Minnesota High School Baseball Coaches Association rankings.
The Raptors were #2 behind Cretin-Derham Hall.
Amazing Photos from the 2022 Baseball Hall of Fame Inductions in Cooperstown, NY
Don Laible takes his camera around Cooperstown, NY during the National Baseball Hall of Fame Induction weekend on July 24, 2022.