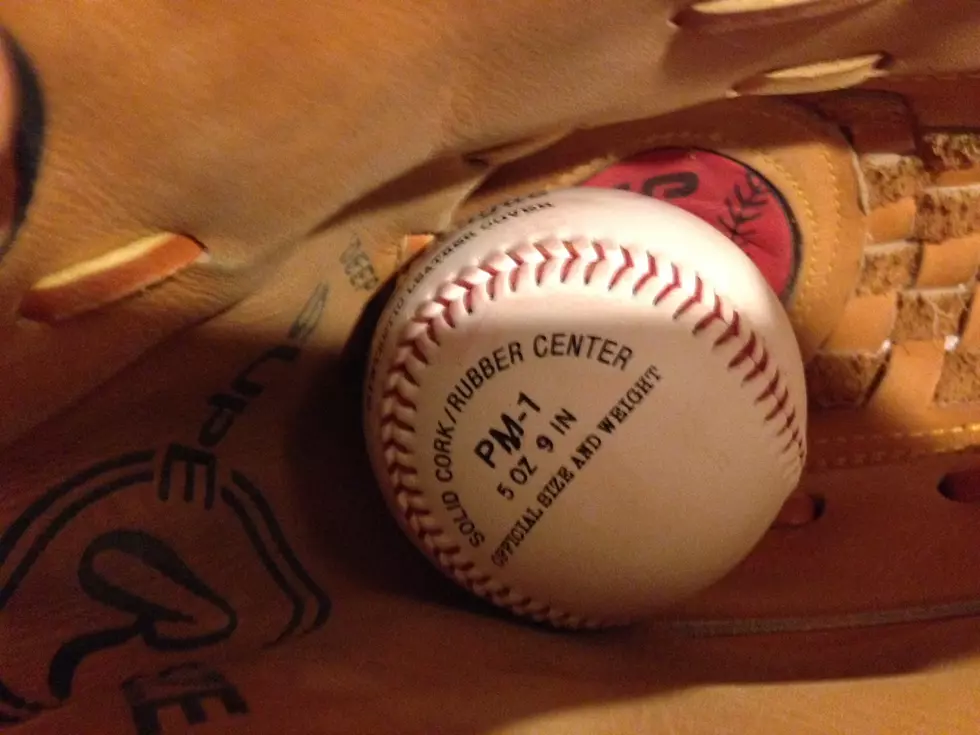 Zumbrota-Mazeppa Baseball Defeats Cannon Falls H-V-L Title Game
Baseball in Glove. Photo by Gordy Kosfeld
Preston Ohm, freshman, pitched a 2-0 shutout for the Cougars in Zumbrota Tuesday in a game against Cannon Falls that gave them the Hiawatha Valley League title.
The two teams play again Thursday in Cannon Falls and that game could be a factor in determining which team is the top seed in the Section 1AA playoffs.
Ohm scattered 5 hits while striking out 13 Bombers hitters.  He walked 2 batters, hit a batter and threw 107 total pitches, 77 for strikes.
Jack Meyers, sophomore, pitched well also for Cannon Falls, allowing 7 hits with no walks, 8 strikeouts, 2 hit batters.  Meyers had 88 pitches through six innings with 59 strikes.
Zumbrota-Mazeppa collected two runs in the bottom of the third inning.
Hunter Streit, junior, had a 2 RBI hit scoring Jack Krier, junior and Frank Flicek, sophomore,.
Krier, Ohm and Streit had 2 hits each in the thrilling game.
Cannon Falls lead-off hitter Elliott Nelson, senior, tallied 2 hits including a double and was hit by a pitch.
Meyers, Tyler Johnston, senior, Jackson Ekstrom, junior had the other Bombers hits.
KDHL is scheduled to bring you the Thursday game at John Burch Park in Cannon Falls.  First pitch is 5:00 p.m.  Coverage will start 4:50 p.m.
Z-M is now 12-3, Cannon Falls 14-3 on the season.
In another game with Gopher Conference title possibilities, United South Central defeated New Richland-Hartland-Ellendale-Geneva 2-1 meaning the Rebels are tied for first place with Kenyon-Wanamingo.
The Knights play NRHEG Friday in Wanamingo.  If K-W wins Friday their game against USC on Saturday morning at 11 will determine the Gopher Conference Champion.
Northfield defeated Red Wing 4-0 to take over first place in the Big Nine Conference where they use a point system to determine the Conference Champion,
Every game played in the Big Nine counts.  If teams play once it's a two point game.  Twice, each game win is a point.
The Raiders have 15 points with a 11-2 conference mark.  The Wingers 14 points, 10-3.  Rochester Mayo has 14 points with a 9-2 record.
Northfield entertains Century Thursday, Mayo Monday with 3 total points on the line.
Red Wing has Owatonna in a two point affair Wednesday in Red Wing and needs to play Austin.  Four points are possible there.
Mayo has a possible 5 points left according to the Big Nine Conference website.
Here are other Tuesday baseball scores:
John Marshall   7   Faribault   2
Winona  5   Mankato East   4
Winona  7   Mankato West   5
Pine Island  3   Kasson-Mantorville   1
Chatfield   5   Rochester Lourdes    4
United South Central   5   NRHEG   4
Mabel-Canton   7   GMLOK    3
P-E-M    8   Randolph    0
Caledonia   17   Mabel-Canton   7
Jordan   11   Mound Westonka   6
Southland   14   Houston   0
Tri-City United   10   Blooming Prairie   0
Austin   8   Rochester Century    5
LaCrescent   2  Fillmore Central/Lanesboro   0
LaCrescent   7   Fillmore Central/Lanesboro   4
St. Peter   3   LeSueur-Henderson   1
Lewiston-Altura   13  Rushford-Peterson   5
Rochester Mayo   2   Mankato East   0
Northfield    9    Red Wing  0
St, Charles   8   Wabasha-Kellogg   5
Caledonia   17    Cotter    7
Kenyon-Wanamingo   2   Spring Grove   1
Waseca   6   Sibley East    4
Stewartville   7   Rochester Lourdes   5
Mount Rushmore of Baseball Players
Our favorite baseball players from back in the day.