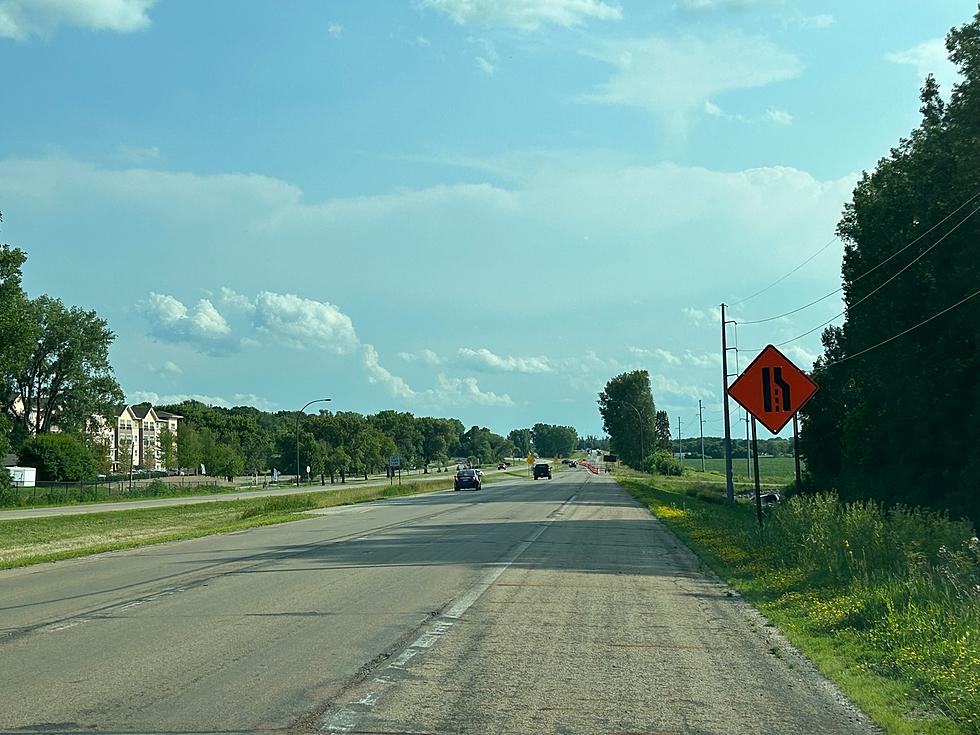 I-35 Faribault Construction Zone Has Multiple Accidents
CR 48, MN HWY 21 Going West to Southbound I-35 Ramp in Faribault. Photo by Gordy Kosfeld
Dustin Dienst, Faribault Fire Chief, is encouraging people in the Faribault area to avoid the I-35 corridor if possible due to construction work this year and next year.
The Faribault Fire Department has been at multiple crashes along the area including a tragic semi-tractor fire Wednesday, July 12, 2023.
Chief Dienst issued a News Release about the crash.
"At 11:654 a.m. on July 12, 2023, the Faribault Fire Department, Rice County Sheriffs Office, North Ambulance and MN State Patrol were dispatched to an accident involving two tractor-trailers.  One tractor-trailer ran into the back of another tractor-trailer near mile marker 62 in the southbound lanes of Interstate 35.  The caller reported it as, "looking really bad".
"Shortly after the initial call we were informed that there was smoke coming from the vehicles and that someone was using a fire extinguisher.  Upon our arrival a Rice County Sheriff's Deputy and a passerby had pulled the driver of the second tractor-trailer out of the cab and to a safe location.  He was responsive and had suffered burns to part of his body.  He was attended to by North Ambulance personnel and airlifted from the scene with life threatening injuries.  The driver of the tractor-trailor that was rear ended was uninjured."
"The Faribault Fire Department did an initial knock down of the fire.  Morristown Fire Department was later requested for mutual aid for water supply.  Once the fire was knocked down, we conducted a coordinated operation with Dean's Towing to fully extinguish the fire.  We cleared the scene at 4:24 p.m."
"One firefighter was transported by fire personnel to Allina Hospital (Faribault) to be treated for an injury sustained while fighting the fire."
The News Release concludes with this quote from Fire Chief Dienst, "This was a tragic event and we hope and pray that the driver is OK.  While on scene, we were also witnesses to many other close calls as traffic raced by,  Please slow down and pay attention to the road, especially around accidents and construction areas."
The Minnesota State Patrol description of the fiery crash states, "Both semi truck/trailers southbound I-35, vehicles collided near milepost 62."
A 2000 Volvo Semi truck/trailer operated by Dennis Earl Brown, age 79 of Sioux Falls, South Dakota was one of the vehicles.
Brown was airlifted to the Hennepin County Medical Center with life threatening injuries according to the Minnesota State Patrol.  He was wearing a seat belt.  "Airbag deployed Unknown" the report says.
The 2015 Peterbilt Semi truck/trailer driver was identified as Melvin Eugene White          age 65, of Topeka, Kansas.  He was also wearing a seat belt with the state patrol reporting, "Airbag deployed, Unknown."   He was "uninjured" according to the report.
MnDOT construction work began  this week.  Kevin Voracek, Faribault Mayor, told KDHL he got caught this week trying to go south on I-35 with the ramp closed and no signage.
Voracek said a couple of semi tractor-trailers were attempting to turn around also.  He phoned Faribault City Hall and asked them to contact MnDOT and request signage identifying the ramp closure.
MnDOT description of the work to be conducted in 2023 and 2024 along I-35 in the Faribault area says Faribault could experience multiple ramp closures at the same time.
There are 3 exits northbound into Faribault off I-35 and 2 ramps southbound.
Mile marker 62 area has had a few injury accidents this week.
Wednesday, July 12, 2023 at 1:58 p.m. at the same approximate location I-35 Northbound at mile post 62 two vehicles collided.
A 2021 Subaru Crosstrek operated by Peter Thomas Eckstrom, age 64 of Little Falls, MN  He was not injured, was wearing a seat belt, no airbag deployed.
2015 Nissan Altima operated by Emily Ann Weirup, age 25 of Fridley, MN suffered a non-life threatening injury according to the state patrol report.  She was wearing a seat belt and the airbag did deploy.
Weirup was taken to Allina Hospital Faribault for treatment.
Thursday, July 13, 2023, I-35 Southbound at Steele County Road 2, Owatonna, a semi and motor vehicle collided resulting in an injury at 12:19 p.m.
2019 Freightliner Tractor/Truck driver identified as Ahmed Abdulqadir Abdi, age 41 of Hopkins, MN was not injured with seat belt on.
2011 Nissan Altima driver, Lillian Rose Weegman, age 21 of Medford, MN suffered a "Non-life threatening injury" according to he state patrol report was wearing a seat belt, airbag did deploy.
Thursday, July 13, 2023 another injury accident was reported 11:38 a.m. at MN Highway 60 at 30th Ave. NW in Faribault.  That's the intersection where an I-35 ramp is located across from Dairy Queen.
Minnesota State Patrol description, "The Hyundai Palisade was westbound on MN Hwy 60, the Peterbilt semi with trailer was eastbound on MN Hwy 60, and the Jeep Cherokee was exiting southbound Interstate 35 when they collided in the intersection.
Cherokee was operated by Deanna Michelle Collins, 25, Waseca, MN was wearing a seat belt, no airbag deployed.  She was not injured nor was a passenger in the vehicle, Danielle Antoinette Ulsaker, 26, Oronoco, MN also wearing a seat belt.
Hyundai operated by Suzie Ostermoor Peterson, 45, Blaine, MN. not injured, belted, airbag did deploy.  There were three passengers in the vehicle.  Two suffered "Non-life Threatening" injuries according to the state patrol report.
Erika Helga Andrade, 72, and Marcelo Henrique Andrade, 70, both of Plymouth, MN were wearing seat belts and taken to Allina Hospital in Faribault.
2010 Peterbilt Tractor Truck driver was Thomas Lloyd Gruis, 56, of Waldorf, MN.  He was belted, no airbag deployed, was not injured.
There are some other City of Faribault construction projects going on also. MN Hwy 3 Roundabout construction on north end of the city is scheduled for completion October 13, 2023.
Construction continues along 2nd Avenue NW all the way into the downtown area.
More barricades block off an area east of 2nd Avenue NW in the area of ACE Hardware and Wells Fargo Bank.
See July 2023 New Music Releases