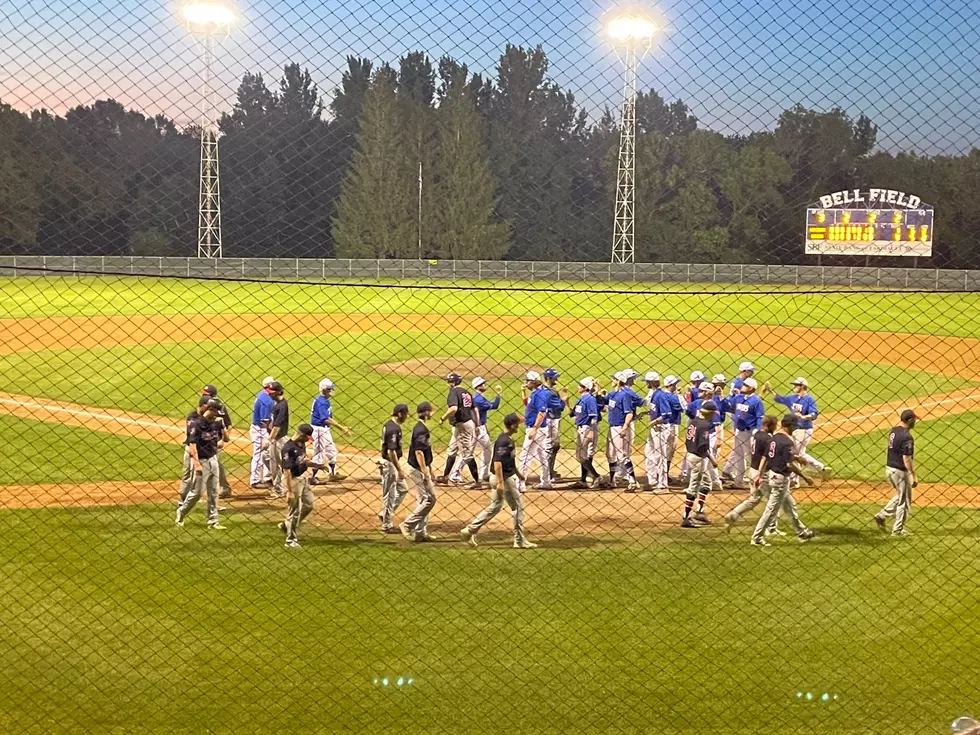 Faribault Scores Victory Over Veseli
Faribault Lakers Win Over Veseli Warriors. Photo by Gordy Kosfeld
The Faribault Lakers and Veseli Warriors hooked up in a pitcher's duel Friday night with the Lakers coming out on top 3-1 at Bell Field, one of the sites for this year's State Amateur Baseball Tournament.
Nathan Picka was on the mound for the Warriors.  Through 8 innings he struck out 9, walked no batters while giving up 5 hits.  Picka threw 108 pitches, 81 strikes.
Danny Bomsta went the distance for the Lakers.  He fanned 12 batters, walked 1, scattered 6 hits with 137 pitches thrown, 90 strikes.  The only run scored was not earned.
Bomsta had a perfect game with two outs in the 4th inning before #3 Warriors hitter Nathan Simon smacked a solid single to left field.  Simon would steal second and on the errant throw go to third base.
Bomsta got his 6th strikeout to end the threat.
Picka did not allow a hit until Adam Kline hit a 1-2 pitch for a single to right field in the bottom of the third inning.
He had allowed just that hit going into the bottom of the 5th inning when Jack Jandro jumped on the first pitch for a double.  Picka struck out the next two batters before #9 batter Brad Sartor hit a 0-2 pitch toward second base.  It appeared to be a routine ground out but an error on the play allowed Jandro to score.
The Warriors got their second hit of the game to open the top of the 6th inning when shortstop Beau Brantner clubbed a single to right field.  #9 batter Blake Woodson executed a sacrifice bunt.
Brantner went to third base on a wild pitch.  Cory Friedges walked to put runners on the corners with one out.  Bomsta got a weak pop-up and a ground out to end the inning.
In the bottom of the 6th Danny Pierce opened with a 12 pitch at bat that ended in a single.  Joe Grote laid down a sacrifice bunt to advance Pierce to second base.  Matt Lane hit a RBI single and went to second base on the throw home.
Nate Rost hit a grounder that produced the second out of the inning when Lane was thrown out in a rundown beween second and third base but Lane extended the out allowing Rost to advance to second base.
It proved to be a great move for the Lakers because Rost would hustle home to score on a Jandro RBI single.
Picka would not allow a runner in the final two innings retiring 7 straight batters and throwing only 13 pitches in those innings with 11 strikes.
Veseli achieved their only run in the 7th when Nathan Mayer had a one out single.  He was forced out at second base but a errant throw on the attempt to turn a double play allowed Bryce Simon to be safe at first.
Back to back infield singles by Jackson Jirik and Brantner loaded the bases.  Simon scored on a wild pitch during a Woodson at bat that ended with Bomsta's 8th strikeout.
The Warriors had two base runners the rest of the game.
In the 8th inning a one out error got a runner on base but Bomsta got out of the inning with Matt Parkinson stranded at second.
In the 9th inning Bryce Simon hit a one out single to left field but Bomsta ended the game with his 11th and 12th strikeouts.
Bomsta's bender was working exceptionally well.  After the game he told KDHL when things are going that well you certainly don't change them.  He said feeling fresh after the holiday break was a big plus.
The Lakers are now 9-9 on the season and host Montgomery at 2:00 p.m. Sunday.
Bell Field continues to undergo some improvements in preparation for the State Tournament in late August and Labor Day weekend.
After a new concrete pad was poured down the first baseline on Thursday,  preparations have been made for another pad to be placed behind the third base dugout and down that baseline. .
An elevated pad will have some round tables with bar stools and below will be more stadium-type seating which will be a great asset for the field long after the State Tournament is completed.
Once all the Bell Field improvements are complete the game watching experience will even be better.
NEXT UP: Which is Your Favorite MN Sports Venue?