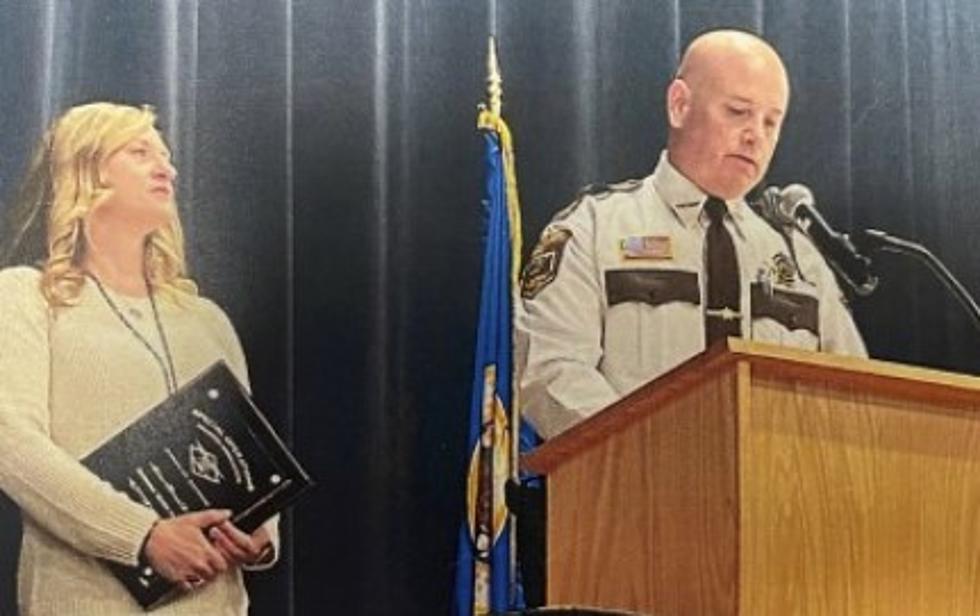 Rice County Deputy Honored Posthumously
Sheriff Jesse Thomas & Maggie Hunt. Photo provided by Rice County
Sgt. Justin Hunt, former Rice County Sheriff's Deputy was honored posthumously this week for his work with Special Operations.
The Special Operations Training Association gave Hunt's widow, Maggie, the Meritorious Serve Award which recognizes, "An individual who distinguishes themselves by providing exceptional service in the performance of his/her duties.  This honor may be awarded for either sustained, long-term, noteworthy achievement or a single significant event."
Hunt died unexpectedly last June while off duty and was nominated by members of the South Metro SWAT team.  During his two-decade long career in law enforcement Hunt served on both the South Central Drug Investigation Unit SWAT and South Metro SWAT team.
Hunt was graduated from Faribault High School in 1999.  Sheriff Jesse Thomas says Hunt began his career as a jailer in Douglas County before returning to Rice County as a part-time officer for the Lonsdale Police Department and a jailer at the Rice County Jail.
He served 13 years as a Faribault Police officer before becoming a Deputy in 2017.
Hunt's wife, Maggie and Sheriff Thomas accepted the award during SOTA annual training conference.
Both thanked the association for the award and the South Metro SWAT team for it's nomination.  Each expressed how important training and mentoring his teammates was to Sgt. Hunt during his many years on SWAT.
Sgt. Paul LaRoche was Commander of the South Central Drug Investigation Unit SWAT and says, "Sgt. Hunt was well deserving of this award and he is a dearly missed member of our team."
Please help.
15 Ways You Can Help People in Ukraine Right Now
As Americans watch events unfold in Ukraine, many wonder how they can help. Below is a list of organizations responding to the crisis in Ukraine along with information on how you can support their various missions.