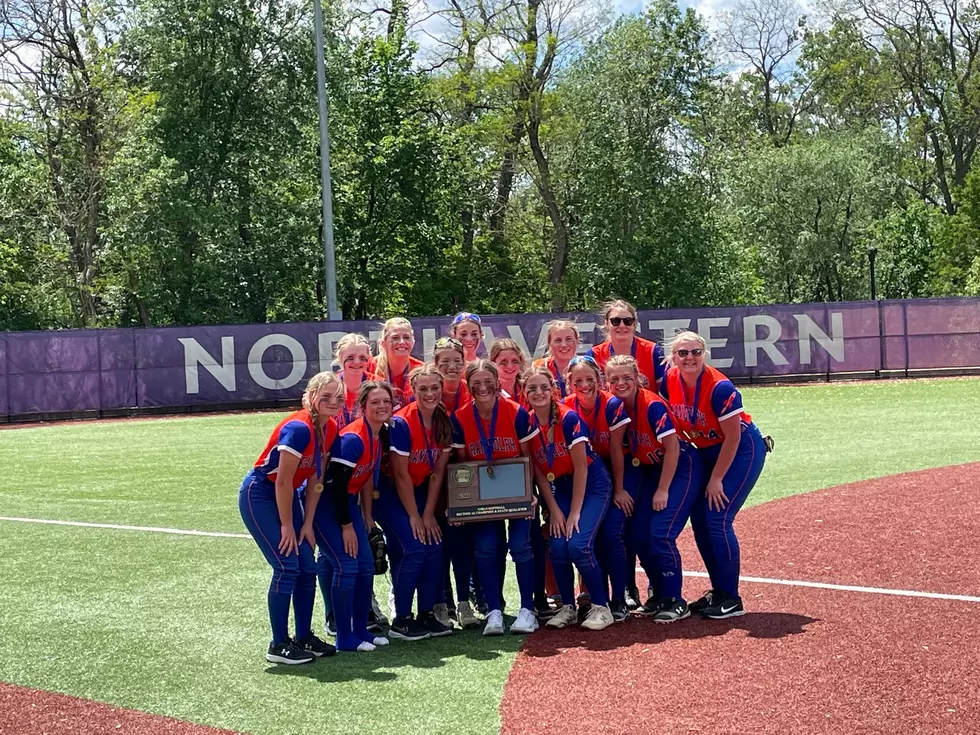 Randolph Sofball Wins Battle of Unbeatens
Randolph Rockets 2022 Section 4A Softball Champions. Photo by Gordy Kosfeld
The Faribault Bethlehem Academy Cardinals traveled to Randolph Thursday for a showdown of undefeated fastpitch softball teams. The Rockets won 6-0.
When the game ended Randolph pitcher Carter Raymond, sophomore, earned a victory by allowing 3 hits to a very good hitting Cardinals team.
Morgan Wilson, junior, pitched well for Bethlehem Academy also, with 6 hits allowed.  Wilson struck out 10 Rockets batters and Raymond had 14 strikeouts.  Both pitchers had one walk.
Raymond has 3 shutouts in five games pitched with a 0.276 ERA.  Opponents are hitting .112 with 10 hits in 25 1/3 innings.
The three hits BA got were the most given up by Raymond in a game.
Sarah Tobin, 8th grade, had 2 of them, Caitlin Bothun, freshman, the other.
Randolph has a team batting average of .426 following their win over the Cardinals.
Tessa Banks, senior, hammered a two-run home run in the 5th inning.  Her second homer of the season.
Randolph scored 4 runs in the bottom of the second inning.  With one out back-to-back singles were struck by Chloe Vought, sophomore, and Anna Olsen, senior. During a strikeout for the second out Olsen stole third base.
A walk loaded the bases.  Kenna Gergen, sophomore, executed a bunt that scored a run.  A bases loaded hit by pitch suffered by Carly Kimmes, junior, brought in another run.
A single from Kylee Cary, sophomore, scored two runs.
Kimmes stroked a double to start the 5th inning.  Following two outs, Banks crushed a home run to center field for Randolph.
The Rockets are 5-0, Bethlehem Academy fell to 7-1.
Here are some softball scores from Friday:
Simley   15       Pine Island     14
Farmington   10    Apple Valley     0
J-W-P     12   Nicollet     8
Lewiston-Altura    12    Kenyon-Wanamingo    2
Rochester Lourdes     13     GMLOK    7
Houston     13   Spring Grove    1
Byron    19   lake City    2
Stewartville    6    Caledonia    4
Stewartville   18   Goodhue    0
Rosemount at Shakopee   Postponed
Maple River at Sibley East   Postponed
Kasson-Mantorville at St. Anthony    Cancelled
Triton at P-E-M    Postponed
Thursday softball scores in southern Minnesota:
Winona   11    Faribault     1
Mankato East    12    New Ulm    3
Mankato West    3    Owatonna    1
Red Wing   9   Lake City    1
Rochester Mayo    15    John Marshall   0
Tri-City United   9    Lester Prairie   8,      TCU  10   LP   1
Cannon Falls   5   Pine Island    4
USC  3    Triton    2
Hayfield   15    Medford   3
Kenyon-Wanamingo   8   W-E-M    4
Maple River   7    J-W-P     4
NRHEG   11    Blooming Prairie    1
Goodhue   4   Rochester Lourdes    3
Rochester Century   1    Northfield    0
Houston   18   Schaeffer Academy   12
St. Charles   12    Fillmore Central/Lanesboro   0
Fairmont   11    Waseca   0,    Fairmont   8   Waseca   2
Hopkins   6   Lakeville South    2
Rosemount   11   Lakeville North    1
Holy Family Catholic    10   Jordan 4,   HFC   6   Jordan   4
Shakopee   9   Burnsville   8.   Shak   7   Burns.     1
Mayer Lutheran   5   Sibley East     3
Caledonia   6   Wabasha-Kellogg   4
Eden Prairie   9   Eastview    1
Albert Lea   11   Austin    9
Prior Lakev   7   Belle Plaine    2
Southland   14   Glenville-Emmons/Alden-Conger     0
Southland   17    G-E/A-C   5
Byron   8   Stewartville    1
Cotter   3   Chatfield    2
Top 9 Spring Cleaning Tips For Homeowners
It's officially Spring and time for a little
deep cleaning
in your home. Getting rid of dust and cobwebs, reorganizing drawers, and scrubbing those grimy corners can be just what your home needs for a fresh start!
Here is a checklist to make sure you don't miss a spot when cleaning: