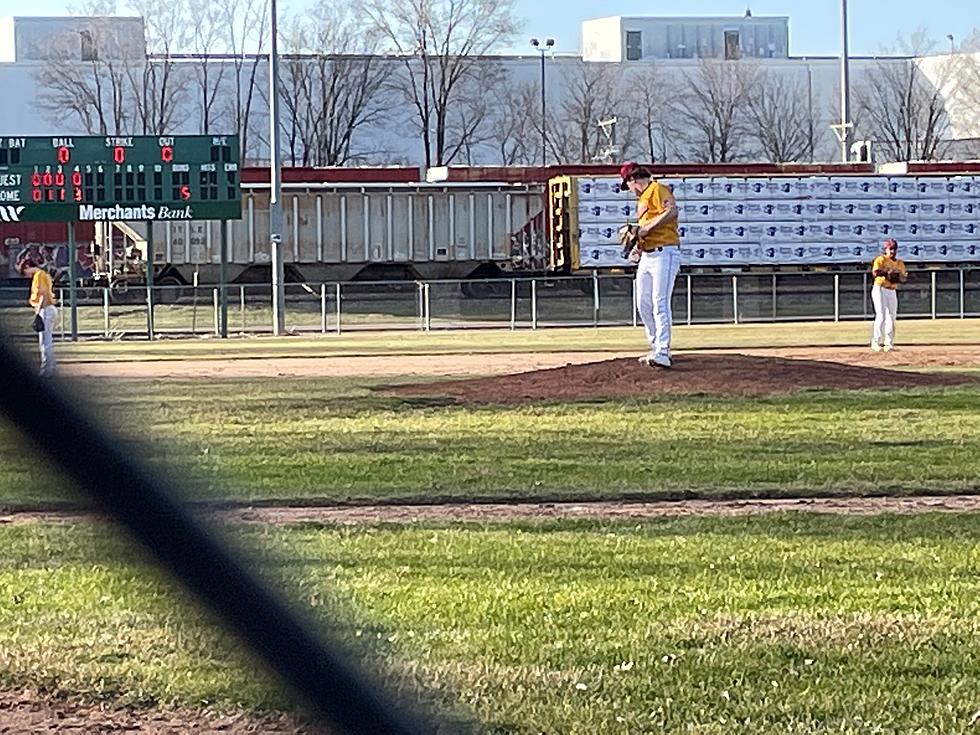 Northfield Baseball Loses to Rochester Century
Nolan Stepka on Mound for Northfield vs Faribault. Photo by Gordy Kosfeld
The Northfield Raiders suffered a 8-2 defeat to Rochester Century in Northfield Thursday.
The Panthers pounced on the Raiders scoring all their runs in the first three innings.  Nolan Thompson started the game for Northfield and lasted 2 2/3 innings.  He allowed 7 hits, 8 runs, 2 earned, struck out 2 and walked 2 batters.
Tyler Hughes went to the hill in relief going 4 1/3 innings.  He shut out Century while throwing 53 pitches, 38 strikes with 4 strikeoouts 0 walks and allowing 3 hits.
Thompson threw 74 pitches, 44 strikes.
Northfield scored their runs in the bottom of the 7th inning when Ryan Peterson led the inning off with a single.  Following an out Alex Wiese pinch hit and hammered a triple.  Tate Journell followed with a double scoring Wiese before a ground out and fly out ended the game.
Coledon Rataj led the Raiders with two hits.
Century tallied 10 hits, Northfield 7 and each team committed 2 errors.
Michael Rand earned the win for Century while throwing 5 innings, he gave up 4 hits, 0 runs, struck out 5 and did not walk a batter.
Josh Fletcher finished the game on the hill and started the scoring for Century at the plate with a  double in the first inning.
Here are other reported baseball scores from the area:
Maple River 8  Kenyon-Wanamingo 2
Owatonna 8  Mankato West 1
Mankato East 6  New Prague 2
Medford 12  J-W-P  0
Lake City 4  Cannon Falls 1
United South Central 11  Waterville-Elysian-Morristown 4
Prior Lake 6  Lakeville South 3
Lakeville North 13  Apple Valley 3
Farmington 14 Eastview 5
Eagan 2  Rosemount 1
Shakopee 7  Burnsville 4
Tri-City United 11  Lester Prairie 5
Jordan 6  Holy Family 1
Caledonia 14  St. Charles 4
Lewiston-Altura 7  GMLOK 3
La Crescent 12 Wabasha-Kellogg 4
LeSueur-Henderson 12 Mayer Lutheran 10
Fairmont 9  Waseca 2
Belle Plaine 16 Norwood-Young America 2  NYA 11 BPlaine 1
Randolph 13  Blooming Prairie
Could you pick out some of these?
LOOK: TV Locations in Every State
.