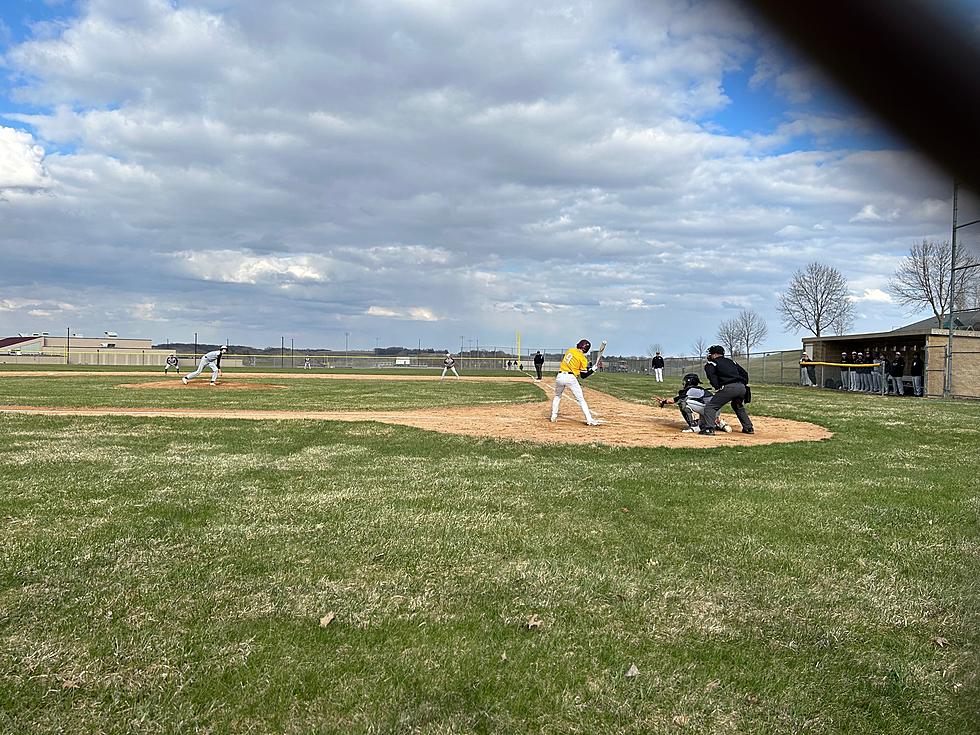 Medford Baseball Defeats Blooming Prairie
Blooming Prairie at Medford. Photo by Gordy Kosfeld
The Medford Tigers and Awesome Blossoms of Blooming Prairie battled in Medford Monday with the tigers clawing out a 6-3 win.
Both teams got good pitching performances and both teams experienced some adventures on balls hit to the outfield.
Josh Bluhm, senior, took the mound for Medford allowing 4 hits while striking out 6 Awesome Blossoms and walking one batter. Two of the hits were wind aided or sun aided.
Bluhm retired the last 11 batters he faced while throwing 88 pitches in 7 innings, 66 strikes.
Zachary Hein, junior, pitched for Blooming Prairie fanning 8, walking 2 and allowing 7 hits.  A couple of the Tigers hits were also baseballs lost in the sun.
Bluhm was the beneficiary of a ball lost in the sun in right field that allowed him to score before the relay came home in the bottom of the 6th inning.  The right fielder immediately threw his arms up in the air indicating he did not see it.  The ball landed near the fence down the right field line and by the time the center fielder went over and found the ball Bluhm was well on his way around the bases.
Medford opened the scoring with two runs in the bottom of the first inning.  Following a ground out a ball was dropped by the right fielder allowing Connor Jones, senior to gain the bases.
Tate Hermes, senior, stroked a single placing runners at the corners.  Bluhm flied out to shallow right field.
Justin Voegel, senior, smacked a two-run single and was thrown out trying to reach second base on the play.
Blooming Prairie designated hitter, Lucas Schammel. senior, opened the top of the second inning with a single.  Carter Bishop, sophomore, hit a ground ball resulting in Schammel being out at second base.
Sam Pirkl, senior, hammered a full count pitch down the left field line for a double, placing runners at second and third bases.    Brady Kittleson, sophomore, hit a fly ball to the outfield for a sacrifice fly RBI.
In the top of the third inning, #9 batter in the Awesome Blossoms order Luke Heimgartner, junior, coaxed a walk to start the inning.
Following a ground out to the pitcher that advanced Heimgartner to second base Carsten Ingvalson, freshman, was safe on an error.
Alex Lea, sophomore, hit a ground ball that scored Heimgartner to make it a 3-2 Tigers lead.
In the bottom of the third inning Medford's first two batters were struck out.  Connor Jones, senior hit a ball the right fielder lost in the sun.  He stole second base during a Tate Hermes, senior, at bat that ended in a walk.
Bluhm clubbed a RBI single scoring Jones and placing runners at the corner bases.
Voegel hit a ball to center the outfielder kept going back on and got turned around resulting in a 2-run single.
The Awesome Blossoms opened the fourth inning with a double off the bat of Bishop.
Following a strikeout Kittleson hammered an RBI double.  He would end up being the last Awesome Blossoms player on the bases.
Our Cashwise Foods and Pharmacy Deliverer of the game peformances for Medford went to Bluhm and Voegel.
In addition to excellent pitching Bluhm had 2 hits and 2 RBI.  Voegel was 3 for 3 with a double, two singles, 4 RBI.
The Cashwise Foods deliverer for Blooming Prairie was Hein who pitched well enough to win the game.
Medford is 1-2 in Gopher Conference action, 1-3 overall.
Blooming Prarie dropped to 0-5 overall, 0-4 in league play.
The Tigers host LeSueur-Henderson Tuesday, April 25, 2023 at 5:00 p.m.
The Awesome Blossoms will have New Richland-Hartland-Ellendale-Geneva come to Blooming Prairie Tuesday, April 25, 2023 at 5:00 p.m.
Here are other baseball results from Monday in the area:
Cannon Falls    6    Kasson-Mantorville    0
Zumbrota-Mazeppa   6   Pine Island     2
Kenyon-Wanamingo   11    J-W-P    6
Southland    10    Goodhue     0
Triton   6     Loyola    5
United South Central   11    Randolph    4
Hayfield    9    Houston    3
W-E-M   8    Cleveland    3
Waseca   10    Maple River     5
Byron    9   Lourdes    3
NRHEG  3    ML/GHEC/Truman   2
Eastview   13    Apple Valley   3
Farmington   7    Eagan    2
Roemount    3    Lakeville North    1
Lakeville South   7   Burnsville     6
New Prague   11    St. Louis Park    0
Belle Plaine   1   LeSueur-Henderson    0
Fillmore Central/Lanesboro   16   Mabel-Canton   3
Shakopee    5    Prior Lake     1
John Marshall   3    Albert Lea     0
LaCrescent    9   Lewiston-Altura   3
Lester Prairie   8   Tri-City United     7
Mayo   14   Red Wing   1
Rushford-Peterson at Spring Grove   Cancelled
LOOK: 50 images of winning moments from sports history
Sometimes images are the best way to honor the figures we've lost. When tragedy swiftly reminds us that sports are far from the most consequential thing in life, we can still look back on an athlete's winning moment that felt larger than life, remaining grateful for their sacrifice on the court and bringing joy to millions.
Read on to explore the full collection of 50 images Stacker compiled showcasing various iconic winning moments in sports history. Covering achievements from a multitude of sports, these images represent stunning personal achievements, team championships, and athletic perseverance.