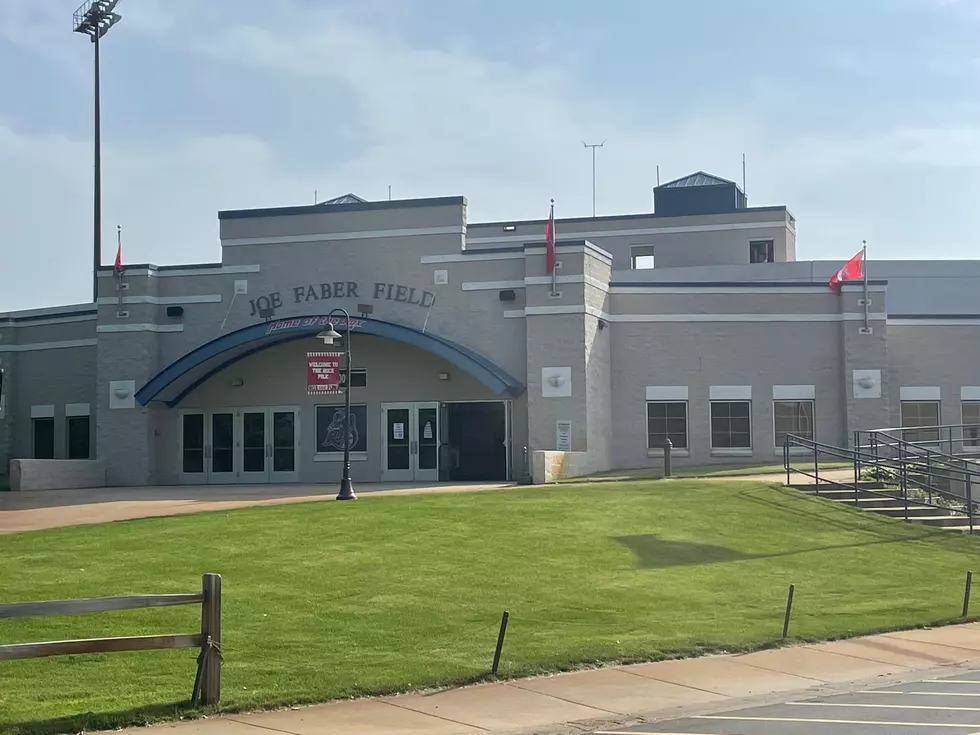 Hayfield and Randolph One Game From Championship Collision
Joe Faber Field St. Cloud. Photo by Gordy Kosfeld
The Hayfield Vikings and Randolph Rockets both jumped on their opponents early Tuesday to advance to the MSHSL Class A State Baseball Tournament Semifinals.
The Rockets scored 8 runs in the first inning of their 10-5 five inning win.
The Vikings saw the tying run at third and go-ahead run at second base in the final inning when their game ended with a 5-4 victory over New Ulm Cathedral.  I witnessed something I've never seen in the 40 years plus of broadcasting or playing baseball.
Hayfield Head Coach Kasey Krekling intentionally walked a batter with the bases loaded and put the tying run at third base loading the bases again.
Krekling told KDHL before the game the young man he intentionally walked was the best hitter in the Grayhounds lineup.  Krekling said they were going to try not to have shortstop, senior 6'6 Sam Knowles beat them.  The young man had no hits until that bases loaded walk in the top of the 7th inning but he did hit the ball hard in his three previous at bats.
The Rockets dominated MACCRAY 10-0 in five innings.  So both teams limited their starting pitcher's number of pitches so they can be available for Friday if they get there.
Defending State Champions Hayfield (22-2) played the first game of the day at Joe Faber Field in St. Cloud.  The #1 seed without a doubt had the toughest draw of the first round.
New Ulm Cathedral (22-3) has a potent lineup that averages over 8 runs a game.
Until Hayfield experienced some control problems their pitching held down the Grayhounds superbly.  In fact New Ulm Cathedral could only get 3 hits off the three pitchers the Vikings used in the contest.
Hayfield scored two runs in the bottom of the first inning when the first two batters were hit by pitches to open the game.  Easton Fritcher with a full count, Nolan Klocke on a 2-0 count.
After a pop out senior Isaac Watson hit a single, sophmore Aiden Nelson stroked a RBI single and Ethan Pack reached on a fielder's choice that resulted in a run scoring.
Meanwhile Hayfield starting pitcher Klocke struck out 6 of the first 12 batters he faced.
In the bottom of the second inning the Vikings opened again with the first two batters getting on base.  Designated Hitter freshman Eric Bermea was hit by a pitch with a 1-2 count.  #9 hitter senior Kobe Foster smacked a 0-2 count pitch for a single to right center.
Fritcher hammered a 3-1 count pitch to the fence in left center resulting in a two run triple,  Klocke was then hit by a pitch again so the Vikings had runners at first and third, nobody out and the heart of their order coming to the plate.
Klocke's courtesy runner stole second placing runners at second and third but the Vikings could not even get a fly ball to the outfield to score another run.
The #3, #4 and #5 hitters all struck out against Grayhounds pitcher junior Carter Haala.
In the bottom of the third inning Hayfield would score their final run of the game when junior Ethan Pack opened the inning hitting a grounder that resulted in a error. Pack then stole second base.  Sophmore Zander Jacobson hit a 1-2 count single .
Bermea hit into a double play but Pack scored.  Foster doubled then stole third base.  Fritcher was intentionally walked  before a strikeout ended the inning.
In the top of the 4th inning following a groundout by Knowles that was not routine by any means.  Foster got infront of the ball and knocked the hard smash down with his chest.  Klocke walked the cleanup batter.
The senior right handed pitcher then threw wild pitches on back to back throws allowing sophmore Levi Franta to gain third base.  Senior Justin Berg clubbed a RBI double and the Grayhounds were on the scoreboard.
Pitcher Carter Haala hit a single, the coach held Berg up at third base.   Haala's courtesy runner was thrown out trying to steal and Berg stayed anchored at third.
Klocke then struck out a batter to end the threat.
Klocke was lifted after 74 pitches  with one out in the top of the 6th inning.  The Vikings appeared to be in control up by a 5 to 1 score.
Senior Karver Heydt came in to pitch and got a pop out and strikeout to end the inning.
Heydt retired the first batter in the top of the 7th inning before Haala hit a single to right field.  There was a week pop out to Heydt for the second out when things got interesting.
Junior Tom Finstad was walked on four pitches.  #9 batter, junior Kyle Seidlwas hit by a pitch to load the bases.  Senior Isaiah Rieser hit a ground ball resulting in a errant throw to first base that allowed two runs to score. Freshman Jake Finstad had a 3-0 count when Coach Krekling brought in senior lefty Easton Fritcher.
Fritcher walked Finstad to load the bases.
With the bases full, two outs and Sam Knowles strolling to the plate Coach Krekling told the umpire they were walking hime to make the score 5-4.
The 9th man to come to the plate in the inning was cleanup hitter Levi Franta.  Fritcher struck him out looking to end the game.
Our Cashwise Foods and Pharmacy of Owatonna Deliveries of the Game were  awarded to Fritcher for his two run triple and hammering down the game on the mound in the end.
Karver Heydt, when he was catching for throwing out a runner trying to steal in the 4th inning when things were getting interesting.  He picked off the same runner at first base in the second inning.
Klocke also received a Cashwise Foods and Pharmacy Delivery of the Game after going 5 and 1/3 innings. He allowed 2 hits, struck out 7 of 20 batters faced. Klocke also hit a batter and walked three while throwing 74 pitches, staying under the 75 pitch count so he is available Friday if the Vikings are in that game.
#4 seed Sacred Heart (22-3) bested South RIdge (17-8) of Culver, Mn. 10-4 to set up their matchup with Hayfield at 11:00 a.m. on KDHL Radio, 920 AM, 97.9 FM, free KDHL app.
Randolph started their game with 8 hits in the first inning while sending 12 batters to the plate against the MACCRAY Wolverines (15-7) .
Senior Drew Jenkins opened the game with a 1-2 coount single, senior Jacob Weckop hit a 0-1 count single.  Starting pitcher Nathan Weckop cracked a 2 run single.  Mason Lorenzen hammered a run scoring double.
Senior Will Baldus hit a single.  Senior catcher Jacob Weckop came in to pitch the fourth inning and senior Will Baldus 8 pitches in the fifth inning.
Randolph (23-1) will face New York Mills (23-3) in a rematch of last year's Semifinals game that set a record for it's length.  15 innings in the hear last year before the New York Mills Eagles advanced and Randolph had to turn around and play in the Third Place game.
The Eagles defeated the Raiders of Bertha Hewitt/Verndale (11-15) 10-1 in their opener Tuesday.
The Randolph vs New York Mills Semifinal will also be broadcast on KDHL Radio 920 AM, 97.9 FM, and on FREE KDHL app.  A 1:30 p.m. first pitch is scheduled.
In the three other State Tournaments Tuesday.
Class 2A was played at Dick Putz Field right across the parking lot from Joe Faber in St. Cloud.
Top seed Fairmont (25-3) defeated Sibley East (17-6) 8-3.
#5 seed Rochester Lourdes (19-4) downed Wadena-Deer Creek (24-4) 7-3.
St Agnes 22-4) beat #2 seed Watertown-Mayer (20-6) 8-4.
Roseau (18-6) got by Marshall School of Duluth (17-6) 13-2.
Class 3A played at Chaska Athletic Park
Top seed Mankato West 24-1 escaped with a 1-0 win over St. Francis (13-12).
#5 seed Alexandria Area (20-6) won 4-2 over #4 seed St. Thomas Academy (19-8).
#2 seed Benilde- St. Margaret's (22-3) won 4-1 over Winona (14-11) ending hopes of an all Big Nine final.
#3 seed Mahtomedi (18-5) was upset 2-0 by Grand Rapids (17-6).
Class 4A at CHS Field in St. Paul
Top seed Farmington (22-3) eked by Park High School of Cottage Grove (18-8) 3-2.
#4 seed Maple Grove (20-4) won 5-2 over #5 seed St. Louis Park (18-8).
#2 seed Stillwater (21-4) won 6-5 over Sartell (14-11).
Chanhassen (17-9) stormed past #3 seed Andover (20-5) 14-0.
NEXT UP: Which is Your Favorite MN Sports Venue?