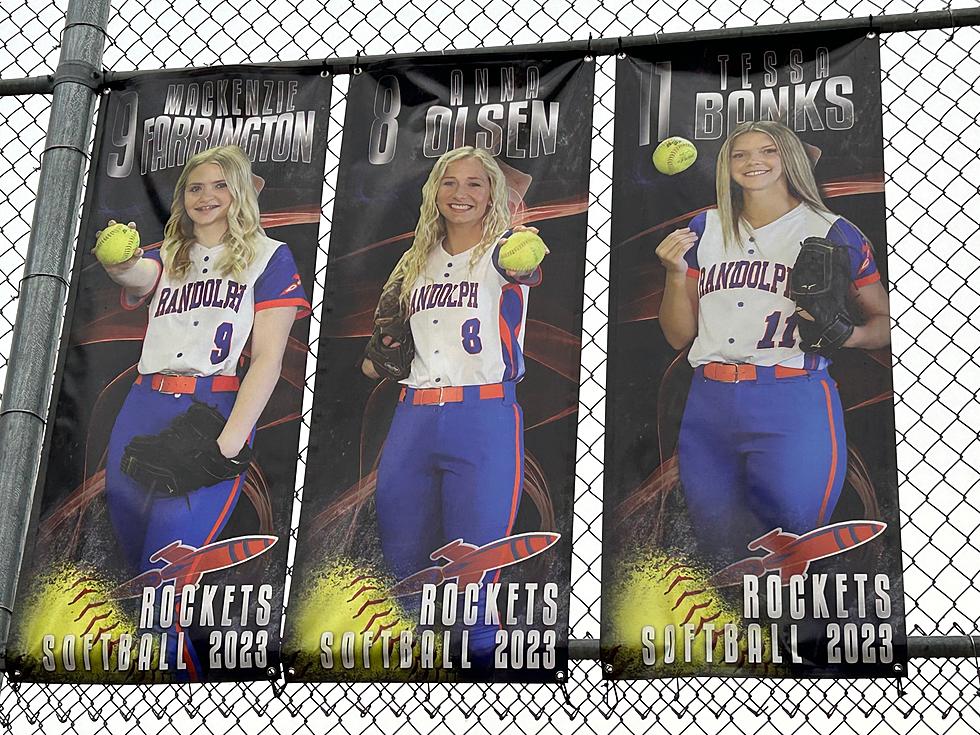 Faribault Softball Wins Two in Twin Cities
Randolph Senior Posters 2023. Photo b y Gordy Kosfeld
The Faribault Falcons fastpitch softball team played three games Saturday in a tournament at Central Park in Roseville.
Head Coach Shane Gunderson told KDHL his team was looking forward to seeing more teams outside the powerhouse Big Nine Conference to enforce his belief the young team is getting better.
Mission accomplished.
The Falcons lost to South St. Paul 9-0 then recorded a 9-3 win over Concordia Academy and defeated Litchfield 8-6.
Unfortunately, no statistics were provided.
The Falcons are scheduled to play at Austin Monday.
Randolph defeated Visitation and Cannon Falls during a triangular event at Randolph Saturday.
Scores were 15-3 over Visitation and 7-1 over Cannon Falls.
The Rockets are now 16-1.
Carter Raymond, sophomore, pitcher for Randolph has the same record of 16-1.  In 96 innings pitched Raymond has allowed 57 hits, 20 runs, 14 earned.  She has issued 7 walks with 159 strikeouts, 41 looking.  Raymond has hit 2 batters and has an ERA of 1.021 and WHIP of 0.667.
Opponents are hitting .160 off the right-handed pitcher.
Raymond is also leading the team with a .509 batting average and .552 on base percentage.  She has 29 hits including 8 doubles and 5 triples with a team leading 32 RBI.
Carly Kimmes, junior, is hitting .492 with a .544 on base percentage.  She has a team most 30 hits with 10 doubles, 3 triples and leads the team with 3 home runs.  Kimmes has 27 RBI and leads the Rockets with 35 runs scored.
Kimmes has struck out one time all season, Raymond 3 times.
Kimmes is 9 for 10 in stolen bases.  She has already announced her intentions to attend Minnesota State University Mankato and play for the Mavericks after she graduates next year.
Randolph has a team batting average of .391 with an on base percentage of .464.
In 17 games the rockets have compiled 188 hits, with 39 doubles, 15 triples and 7 home runs.
With 188 runs scored compared to 20 allowed.
Randolph is 58 of 61 in stolen bases, have committed 20 errors and turned 3 double plays.
The latest ranking still have the Rockets #1 in Class A.  Faribault Bethlehem Academy dropped to #7 with their only loss coming against Randolph.
St. Charles still sits atop the Class 2A rankings.  LeSueur-Henderson is #3, Chatfield #5.  Belle Plaine, Zumbrota-Mazeppa, Cotter all received votes.
In Class 3A Mankato East, Winona and Mankato West still comprise the top three spots with East and Winona changing positions from the previous rankings.  New Prague is #8, Byron #10.  Kasson-Mantorville received votes.
Class 4A, Rosemount is still on top.  Shakopee is #8.  Farmington received votes.
Other softball scores from Saturday:
Rushford-Peterson   20   Spring Grove   10
Spring Grove    7    Rushford-Peterson    6
Goodhue   10   Fillmore Central/Lanesboro   9
Maple River at Blooming Prairie   Postponed
Cannon Falls   10   Visitation   3
Wabashas-Kellogg   16   Triton   6
New Prague   3    New Ulm   2
Mankato East   4   Farmington   2
Goodhue   13   Lake City 7    at Fillmore Central
New Ulm   4   Farmington   1
Mankato East   8   New Prague   1    at Farmington
Hill-Murray   11   Litchfield   2   at Central Park Roseville
Aitkin   23   St. Paul Como Park    0    Central Park Roseville
Hill-Murray   12   Aitkin    0      Central Park Roseville
Litchfield   21    St. Paul Como Park   6    Central Park Roseville
South St. Paul   10   Hawley   0      Central Park Roseville
Hill-Murray   12   South St. Paul  4   Central Park Roseville
Concordia Academy   14    St. Paul Como Park   13   Central Park Roseville
Aitkin   6   Hawley   3   Central Park Roseville
The Most Popular Baby Names In Minnesota (2023)