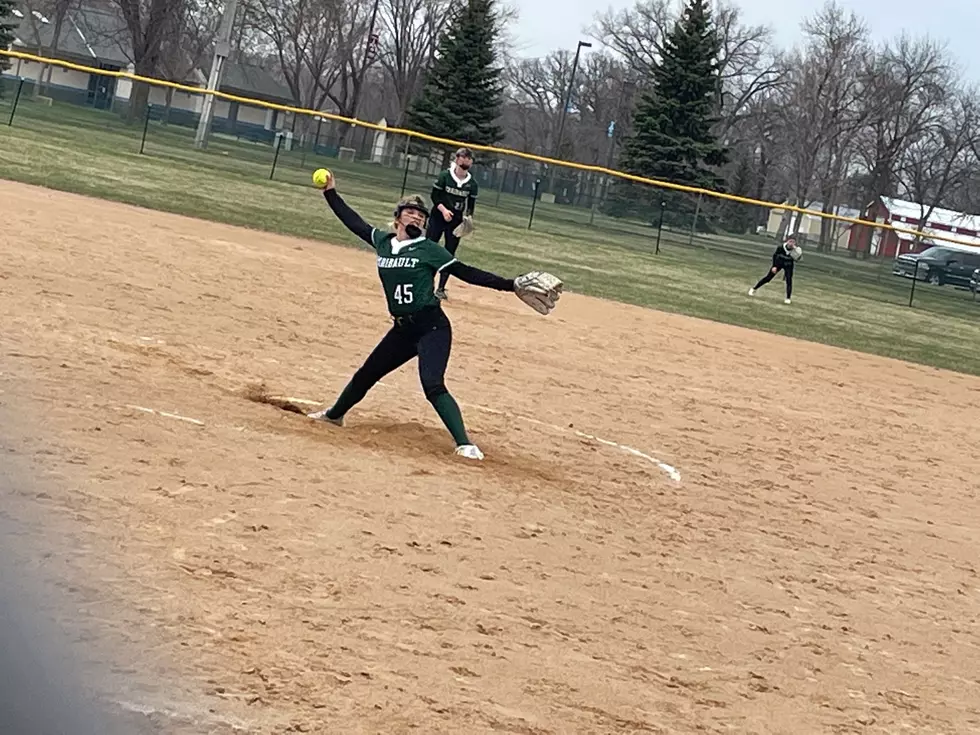 Faribault Softball Competes With Elite Winona
Ally Cook Falcons 7th grade student pitches against Winona. Photo by Gordy Kosfeld
The Winona Winhawks cruised to a 10-0 five inning victory tonight over the Faribault Falcons at Alexander Park.
The Winhawks were ranked #1 in the preseason poll in Class 3A.  Two pitchers combined for a 2 hitter against the Falcons.
Unfortunately the positions were not written in for Winona in the scorebook I got information from for the game and I could not find a roster with positions listed on the Winhawks or MSHSL websites.
Sophmore Rylee Sietsema started in the pitcher's circle for Faribault against last year's state runner-up and the top ranked team in this year's Class 3A  preseason poll.
Ten Winona batters came to the plate in the first inning as they scored 6 runs to take the commanding lead.
With one out junior Macy McNally hit a bunt single followed by senior Grace Fricke with a double.  Junior Ava Hamsund also doubled followed by a single by sophmore Lauren Kreckow, sophmore Olivia Poulin followed with a double then sophmore Avery Engbrecht hit a grounder resulting in a error.
Senior Alma Johnson clubbed a double before the Falcons got out of the inning.  There were 6 hits to go along with an error for the 6 Winona runs.
The two hits for Faribault were scattered throughout the game.  Sophmore Olivia Smith hit a single to start the second inning and stole second base.  The next three Falcons batters would all strike out looking.
Amira Williams started the fourth inning with a single and was thrown out trying to steal second base.  The only other baserunner for Faribault would be Emma Peroutka who was safe on a error, stole second base and would be stranded at third to end the game in the bottom of the 5th inning.
Fricke would hammer a no doubt solo home run in the second inning and added another double in the 4th inning.  Fricke had two home runs against Owatonna in Winona's win against the Huskies earlier this week.
Poulin had a line drive 2 run home run in the three run second inning also.
Faribault 7th grade student Aly Cook entered the game following that homer and got the third out of the inning.  Winona scored one run off Cook following back-to-back hits to start the fourth inning.
Cook faced 13 batters with 3 hits, 3 strikeouts and a walk allowed.
Final line totals for the game were:  Winona 10 runs 11 hits  1 error
Faribault    0 runs   2 hits   1 error
Here are other area reported softball scores:
Bethlehem Academy 6  Triton 3
Kenyon-Wanamingo 10 Maple River 0
Randolph 12 Blooming Prairie 2
Waterville-Elysian-Morristown at United South Central postponed
Kasson-Mantorville 8  Cannon Falls 2
Byron 3  Zumbrota-Mazeppa 0
Pine Island 10 Stewartville 3
Chatfield 4  Cotter 0
Fairmont 13  Waseca 3
Rushford-Peterson 13 Plainview-Elgin-Millville 4
Mankato West 14  Owatonna 5
Northfield 5  Rochester Century 3
Shakopee 12 Burnsville 2
Prior Lake 4  Lakeville South 3
Lakeville North 16 Apple Valley 3
Rosemount 5  Eagan 2
Norwood-Young America 13  Tri-City United 7    NYA 21  TCU 3
Caledonia/Spring Grove 5  St. Charles 3
New Prague 10 Orono 4
This is interesting.
LOOK: Milestones in women's history from the year you were born
Women have left marks on everything from entertainment and music to space exploration, athletics, and technology. Each passing year and new milestone makes it clear both how recent this history-making is in relation to the rest of the country, as well as how far we still need to go. The resulting timeline shows that women are constantly making history worthy of best-selling biographies and classroom textbooks; someone just needs to write about them.
Scroll through to find out when women in the U.S. and around the world won rights, the names of women who shattered the glass ceiling, and which country's women banded together to end a civil war.