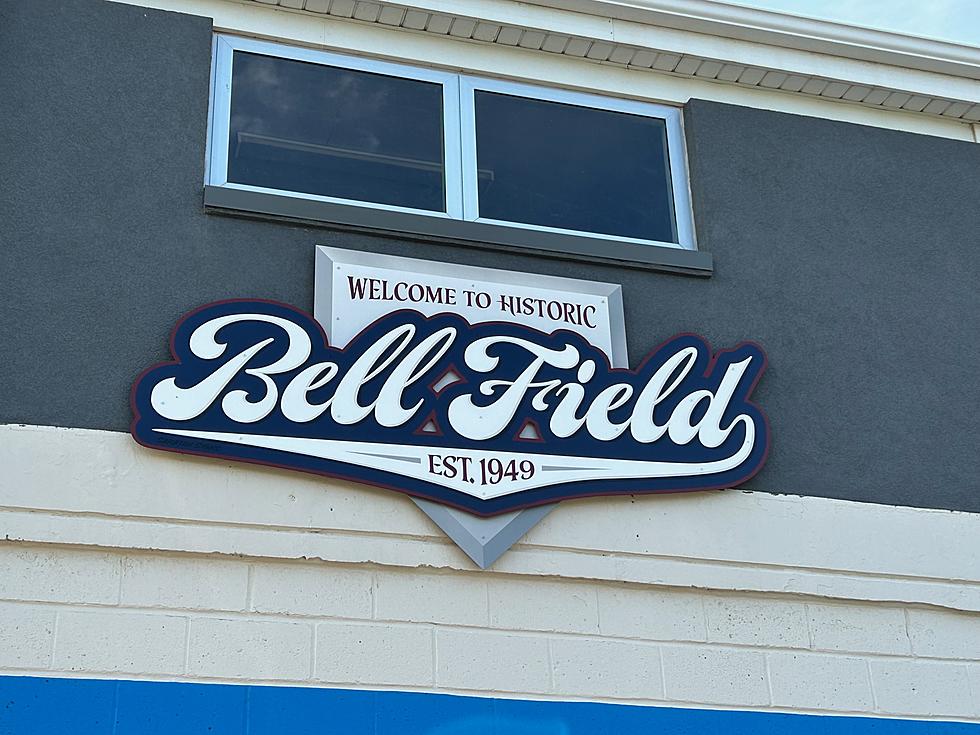 Faribault Lakers Host Lonsdale Friday
Bell Field Sign. Photo by Gordy Kosfeld
The Faribault Lakers open their Dakota-Rice-Scott League schedule at Bell Field Friday when the Lonsdale Aces come to town.
Faribault will have some new faces replacing veterans who decided to hang up the cleats. Carbone's Pizzeria will once again provide a variety of concessions for people to enjoy while watching the games.
First pitch is 7:30 p.m. for Lonsdale game Friday.  Sunday Faribault is at Shakopee at 2:00 p.m.
The Faribault Falcons baseball team was suppsed to play a doubleheader Thursday with Austin.  The Packers asked to reschedule the doubleheader Friday with first pitch for first game scheduled for 4:00 p.m.
The Northfield Raiders swept Owatonna at Dartts Park Thursday by scores of 4-3 and 10-1.
The Raiders won in extra innings after the Huskies scired 3 runs in the bottom of the 7th to tie the game,
Charlie Monaghan collected the game winning hit for Northfield.
The Raiders smacked 11 hits while the Huskies had 5 hits.  Owatonna committed two errors, Northfield 1 error.
Nate Thompson started the game on the mound for Northfield goimng 6 1/3 innings allowing 6 hits, 3 runs, 1 earned with 2 walks and 7 strikeouts.
Tegan Mellgren earned the win going 1 2/3 innings with no hits allowed, 1 walk,  2 strikeouts.
Thompson threw 106 pitches, 61 strikes.  Mellgren 27 pitches, 16 strikes.
Jake Geiger had 2 hits, 1 RBI.  Austin Koep 2 hits including a double, 1 RBI.  Monaghan and Geiger each stole a base for Northfield.
Carson Olson, junior, took the loss for Owatonna while going the final 3 1/3 innings with 3 walks, 1 strikeout, 2 hits allowed.
Collin Vick, senior, had 2 hits.  Mitchell Seykora, junior, two hits.  Aydan Walter, senior, hammered a double for Owatonna.
In the 10-1 win Kam Kaiser, junior, finished the game with 3 hits, a triple and two doubles for 5 RBI.
Spencer Mellgren was the winning pitcher going the distance with 6 hits allowed, 1 run. 8 strikeots and no walks.  he threw 86 pitches, 62 strikes.
Teagun Ahrens was the losing pitcher.  He hit a solo home run in the game for the Huskies.  They used three pitchers in the game.
The Raiders clubbed 12 hits to Owatonna's 6 hits.
The Huskies had 4 errors in the game while Northfield played error-free ball.
Jake Geiger had 3 hits, Spencer Mellgren 3 hits, Austin Koep 2 hits for Northfield.
The Raiders are now 11-4.  Owatonna dropped to 6-7 with the doubleheader loss.
The Huskies go to Red Wing Wednesday, May 17, 2023 for a 5:00 p.m. game.
Northfield hosts perennial baseball power New Ulm at 4:30 p.m. Monday, May 15, 2023.
Here are other baseball scores from Thursday:
Faribault at Austin Moved to Friday, May 12, 2023  Doubleheader 4pm first game
Albert lea 10   Red Wing   2
Norwood-Young America   9   LeSueur-Henderson   1
N-Y-A   9   L-H   1
Tri-City United   2   Sibley East   1
Tri-City United   10   Sibley East   0
Chatfield   16   Wabasha-Kellogg  2
Farmington   6   Apple Valley   3
Lakeville North   7   Eagan   0
Maple River at Medford  Postponed
Cannon Falls 15   Lake City   1
Byron   6   Goodhue   2
Rosemount   7   Shakopee   3
Shakopee   3   Rosemount   0
Lakerville South   2    Eastview    0
United South Central   5   Blooming Prairie   4
Randolph   7   J-W-P   5
P-E-M   11   St. Charles   1
LaCrescent   6   Rushford-Peterson   2
Kasson-Mantorville   6   Winona   1
Waseca  25   W-E-M    0
Caledonia   7   Fillmore Central/Lanesboro   4
Hutchinson  5   Jordan   2
Prior Lake   11   Burnsville   3
Kenyon-Wanamingo at NRHEG Postponed
Country Stars Step Out on the Red Carpet at the 2023 ACM Awards
See Dolly Parton, Jelly Roll, Ashley McBryde and more stars walk the red carpet ahead of the 2023 ACM Awards.