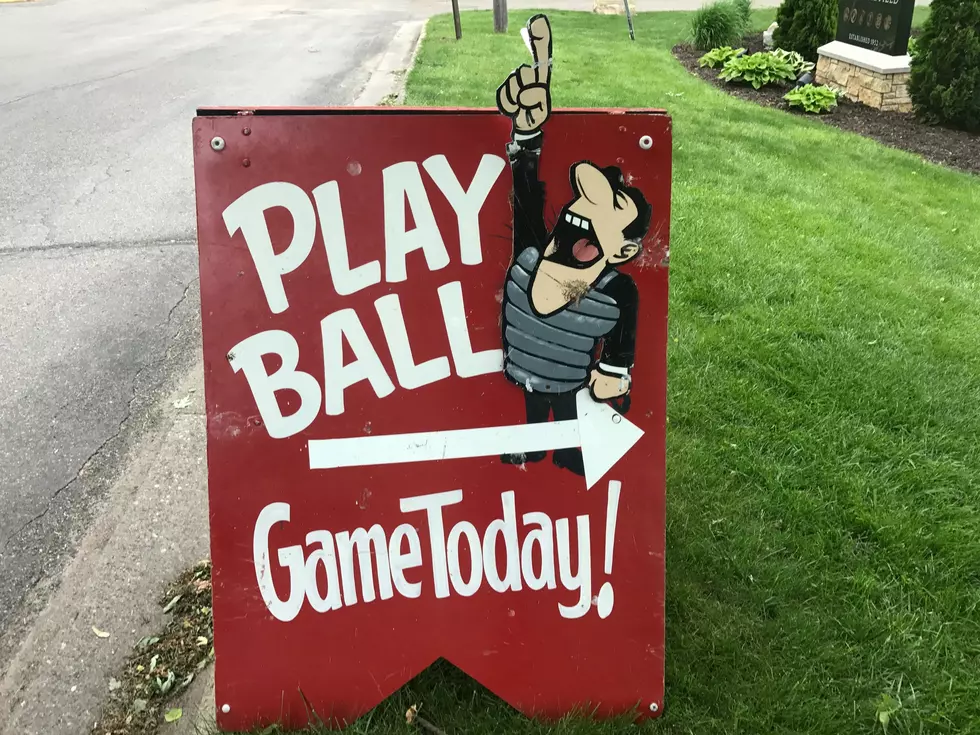 Faribault Baseball Defeats Rochester John Marshall
Wanamingo Baseball Sign- photo by Gordy Kosfeld
The Faribault Falcons got a terrific pitching performance and timely hitting tonight on the road in a 5-1 win over Rochester John Marshall.
Junior pitcher Ayden Qualey scattered 5 hits while going the distance for the Falcons.  Qualey struck out 6, walked 2.  Qualey threw 106 pitches, 65 strikes.
The Rockets only run came in the bottom of the 7th inning with two outs.  Qualey coaxed two pop outs to start the inning before Jake Schmidt cracked a double to right field.  Jayden Guillette smacked a single scoring Schmidt.
Xavier Flatt stroked a double placing runners at second and third base before a pop out ended the game.
Faribault scored 2 runs in the second inning and 3 runs in the fourth.
In the second frame,senior Aiden Tobin tripled with two outs after senior Jack Knutson was hit by a pitch. Senior Hunter Nelson hit a single scoring Tobin.  Nelson then stole second base before the final out was recorded on a fly out to center field.
In the 4th inning Tobin singled to start the inning and was picked off first during a Nelson at bat that ended in a walk.  Sophmore Michael Crone singled followed by a senior Brad Sartor walk to load the bases.
Qualey was then walked.  During the at bat Nelson scored on a wild pitch that advanced the other runners on the base paths. Following a strikeout senior Henry Schoolmeesters  was walked scoring Crone.
Sophmore Ben Stoessel also drew a bases loaded walk for a RBI before the inning ended with a strikeout..
John Marshall made a pitching change to Craig Wojtkiewicz who walked the first batter he faced to load the bases.
Nolan Satre started the game pitching for the Rockets going the first 3 and 1/3 innings allowing 5 hits, 4 runs, all earned, walked 6, struck out 5.
Wojtkiewicz went 3 and 2/3 innings with 1 hit allowed, 1 run that was earned , walked 6 and struck out 4 Faribault batters.
Satre threw 78 pitches, 42 strikes.  Wojtkiewicz 71 pitches, 30 strikes.
Faribault had stolen bases in the game by Nelson, Tobin and Qualey.
Rochester John Marshall collected three doubles.  Each team had 2 errors.
The Falcons are 5-11, Rockets 4-12 on the season.
In other reported high school baseball scores from the region:
Kenyon-Wanamingo 6  Tri-City United 5
Red Wing 13  Northfield 5
Stewartville 12  Pine Island 4
Triton 6  Janesville-Waldorf-Pemberton  4
LaCrescent 6  Plainview-Elgin-Millville 4
Cotter 13  Wabasha-Kellogg 3
Farmington 15 Burnsville 4
Jordan 5  Holy Family 1
Orono 4  New Prague 1
Southland 13  Houston 1
Mayer Lutheran 6 Trinity 5
Cleveland 14 Heron Lake-Okabena 1
Randolph 11  Goodhue 0
Dover-Eyota 12 Lewiston-Altura 3
Norwood-Young America 10 Lester Prairie 0
Mankato East 6  Rochester Mayo 2
Mankato West 13  Winona 0
Some awesome photos here.
LOOK: Stunning vintage photos capture the beauty of America's national parks
Today these parks are located throughout the country in 25 states and the U.S. Virgin Islands. The land encompassing them was either purchased or donated, though much of it had been inhabited by native people for thousands of years before the founding of the United States. These areas are protected and revered as educational resources about the natural world, and as spaces for exploration.
Keep scrolling for 50 vintage photos that show the beauty of America's national parks.