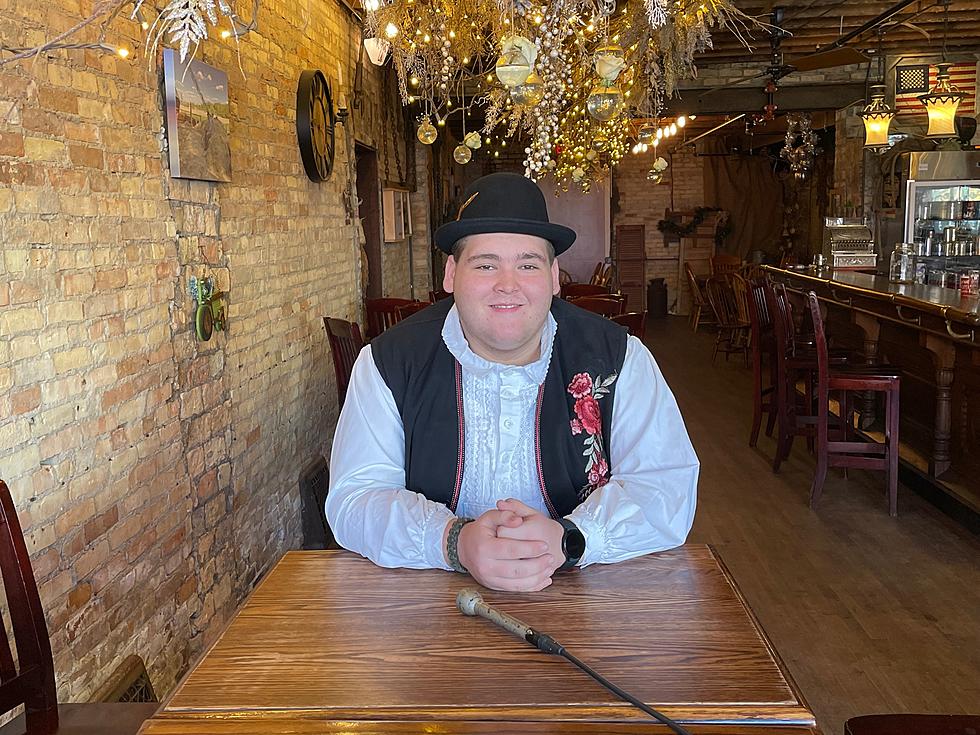 Enjoy Masopust in Montgomery Today
Korey Mach, 2021 Masopust Montgomery King. Photo by Gordy Kosfeld
The 22nd Annual Masopust, The Czech Mardi Gras is today in Montgomery, Mn. at Revival On Main, 213 1st Street South.
Friday our AM Minnesota program originated from The Rustic Farmer which is a bar next door to Revival On Main and owned by the same people.
The idea is to enjoy a final eating of meat for the upcoming Easter Lenten season.
Delicious Czech food will be available from 11:30 a.m. to 4:15 p.m. or until it's all gone including Pork and Dumplings.
The program begins Noon.  You are encouraged to wear a costume with prizes awarded in a contest.  The event ends at 5:00 p.m.
A Masopust King will be crowned with music by George's Concertina Band.
The event also features the St. Paul Czech and Slovak Folk Dancers.
A silent Auction takes place from 12:30 p.m. until 4:15 p.m.
Organizers told us Friday there are fewer items this year but bigger items.  The proceeds help fund next year's Masopust.
When you go to Revival On Main and The Rustic Farmer it is like stepping into the Czech Republic.
The Rustic Farmer building is the oldest in Montgomery.  Built in the 1880's owners Julie Bifano and Scott Stasney purchased it and the next door building in 2017.
They renovated the space to bring back it's 1880's charm.  The work has been masterful.  Revival on Main provides rentable event space.
They have hosted some weddings and even wrestling events which have been very popular in Montgomery drawing people from throughout the region.
The next Montgomery Mayhem Wrestling event is scheduled for Saturday, March 5, 2022.  Doors open 5:30 p.m. with first bell 7:00 p.m.
There was no Masopust last year so this year organizers hope people will take the opportunity to also celebrate the apparent near ending of the COVID pandemic.
Check out the KDHL AM Minnesota Program below.
https://serve.castfire.com/audio/3928075/3928075_2022-02-25-110815.128.mp3
Swing by and enjoy!
They have booze from the Czech Republic at The Rustic Farmer.  Check this out.
TASTY: 10 Incredible Minnesota Craft Beer IPA's You Need To Try