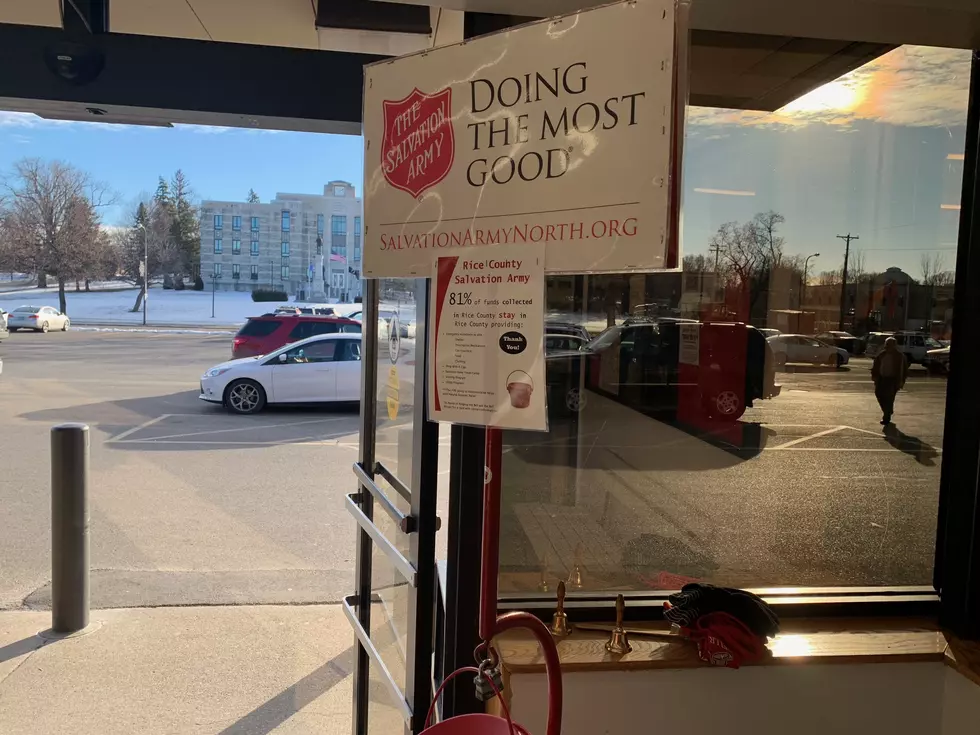 Rice County Salvation Army Thankful for Donations
Rice County Salvation Army Kettle at Fareway Foods in Faribault. Photo by Gordy Kosfeld
Rice County Salvation Army Unit Board members Jim Dale and Randy Twiehoff were guests on Friday's KDHL AM Minnesota program.
The final totals from the holiday Red Kettle Campaign were just completed within the last couple weeks and they wanted to let the public know how it went and thank those who either donated their time ringing or funds to the local effort.
They admitted the goal was a lofty one at $100,000 but felt it was warranted due to an increase in need throughout Rice County.
Dale says they raised approximately $84,000.  An 18 percent increase over 2022.
He provided a spreadsheet breakdown of the totals from each location.
They don't add up to the total because donations from corporations like Kwik Trip were received in the last few months.
In Lonsdale the one location raised approximately $4,229 up from approximately $2,354 in 2021
Family Fare in Northfield had approximately $15,319 raised compared to $12,598 the previous year.
Cub Foods in Northfield location brought in approximately $17,216  Up from $13,615 in 2021.
There are four locations for bell ringers in Faribault.
The two men speculated the Walmart locations didn't have as much participation because ringers are required to be outdoors.
Last holiday season there were some brutally cold days and storms during the bell ringing period.
In Faribault the Fareway location brought in approximately $21,878 compared to $14,465 the previous year.
Hy-Vee had $15,705 approximate dollars raised.  In 2021 it was $9,709.
Walmart Pharmacy location saw $391 in 2022 and $4,038 the previous campaign.
Walmart Grocery brought in approximately $1,417 compared to $1,147 in 2021.
Twiehoff told AM Minnesota listeners he was a charter member of the board in 2003 with the goal set at $50,000 and $40,000 was raised the first year.
Dale says in 2022 approximately $50,000 was used to assist people with rental assistance being the top need.
Both said the $100,000 would be achieved if more people would volunteer to ring bells.
They are 2 hour shifts and the Fareway and Hy-Vee locations do allow ringers to be in the entryway of the stores out of the wind, rain or snow.
Hours covered ranged from 18 and 10 at the two Walmart locations to 158 at Fareway in Faribault.
Lonsdale had 110 hours of bell ringing.
Northfield totaled 187 hours at Family Fare and 178 hours at Cub Foods.
You can hear a podcast of the program by clicking below.
The Best Places to Go Camping this Summer in Colorado
Camping in Colorado could mean an RV, a camper, a car, or a tent. Some people sleep right out under the stars. It's time to pack up our gear and start planning for another great season outdoors with a look at the best places to camp in the Centennial State.