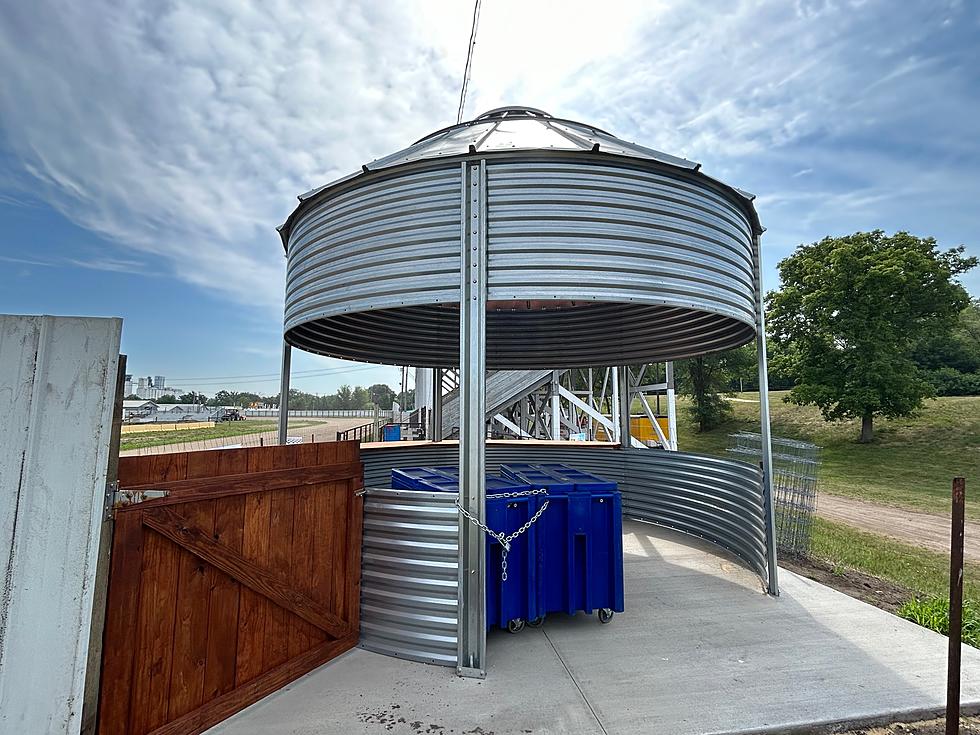 Cannon Valley Fair Fun is Here
Grain Bin Bar at Vannon Valley Fair Cannon Falls. Photo by Gordy Kosfeld
The 108th Cannon Valley Fair in Cannon Falls runs Saturday, July 1, 2023 through Tuesday, July 4, 2023.
The Cannon Valley Fairgrounds will be bustling with activities for everyone in the family.  From toddler to great grandparents.
All ages will enjoy the FFA Kiddie Barnyard which will be open each day.
There are some great opportunities for youth to practice showing their animals at one of the few remaining community fairs in the upper Midwest.
You can get the schedule for each day here.
Admission at the gate is $5.00 each day or a season pass is $12.00,
Parking is free and so is the terrific musical entertainment.
On the free act stage Saturday night, it's The Sheetrockers.  Sunday enjoy Chicken Ranch Duo, Monday it's The Chubs all 8:30 p.m. to Midnight.
Two acts perform on Tuesday.  From 2:00 p.m. to 4:00 p.m. Flipside Band followed by Bryan Anderson 7:00 p.m. to 11:00 p.m.
Brad Schroder of Schroder Concessions Faribault told KDHL AM Minnesota listeners Friday ever since there has been Schroder Concessions they have been at the Cannon Valley Fair.
Brad said his father purchased the business from Mr. Mealey (Mealey's Truck Plaza) in 1962.
Gold Star Amusements is there every day from 1:00 p.m. to 11:00 p.m. and has a number of rides sure to please toddlers and teens.
The Cannon Falls Lions Club serves steak sandwiches and other items by the Grandstand with proceeds going toward local projects.
The Grandstand shows are:
Saturday, July 1, 2023   Championship Pulling Series Truck Pull   4:00 p.m.
Sumnday, July 2, 2023   Auto Cross  3:00 p.m.
Monday, July 3, 2023     Demolition Derby   5:00 p.m.
Tickets are same for all three, Adults $15, Children 12 and under $5, Pit Pass is $25.
Tuesday, July 4, 2023    Harness Horse Racing   2:00 p.m.
Free for everyone.
Fair organizers told us the grounds are free for anyone on July 4th even though some of the publicity says grounds admission is free for Veterans and Senior Citizens only that day.
The Cannon Valley Fair puts on the Grande Day Parade in Cannon Falls beginning 11:00 a.m. on July 4th.
Many of the units also go to Wanamingo for their 2:30 p.m. parade.
Monday is Kid's Day at the Cannon Valley Fair with Dazzling Dave Yo-Yo Master on the Free Stage at 1:00 p.m. and 3:00 p.m.
15 Important Fireworks Safety Tips
Don't become the story. To make sure your 4th of July celebration goes as smoothly and safe as possible, here are 15 fireworks safety tips from the National Safety Council. Look out for yourself and your friends and family this Fourth!