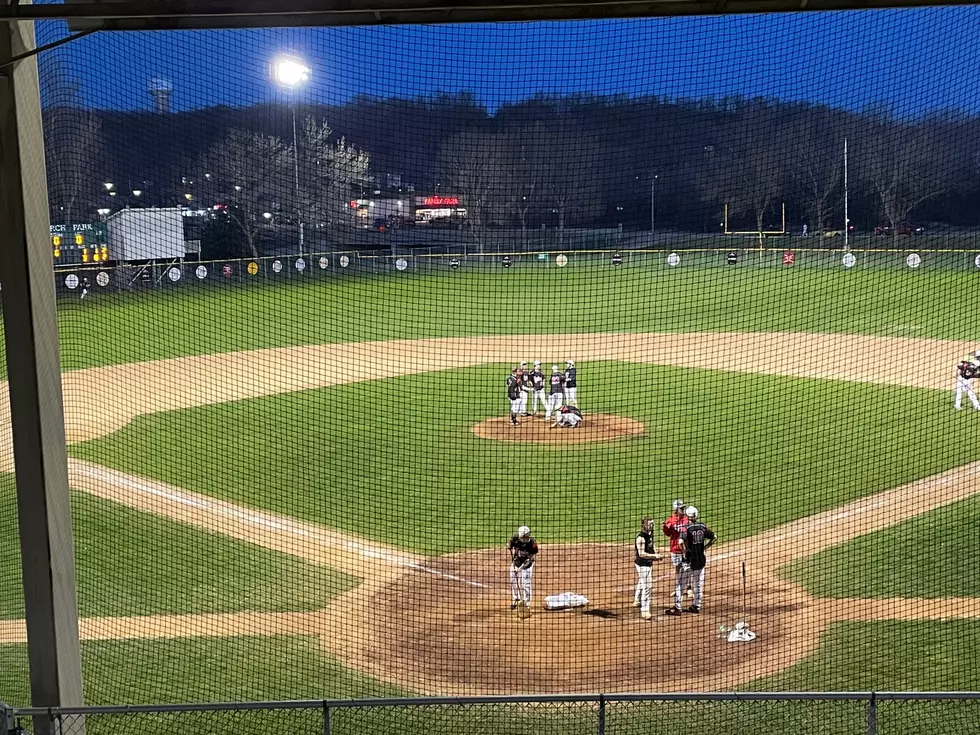 Cannon Falls Baseball Wins Close Game with Kasson-Mantorville
Cannon Falls Players Work on Field. Photo by Gordy Kosfeld
The Cannon Falls Bombers broke a 1-1 tie in the bottom of the 5th, added a insurance run in the 6th inning to defeat Kasson-Mantorville 3-1 Friday under the lights at John Burch Park in Cannon Falls.
Senior right-handed pitcher Jonny Monson allowed two hits in the game while going the distance for the Bombers.  He threw 100 pitches, 62 for strikes with 5 strikeouts, 3 walks, 2 hit batters.
The KoMets scored a run in the first inning without the benefit of a hit thanks to some aggressive running by sophmore shortstop Kyle Nelson.
Kasson-Mantorville started sophmore Spencer Anderson on the mound.  KoMets Head Coach Matt Franke told KDHL before the broadcast of the game Anderson had been the team's most consistent pitcher.
He certainly kept K-M in the game allowing 8 hits, striking out 3 batters, walked 1, hit a batter while throwing 82 pitches, 64 strikes.
Cannon Falls tied the game in the third inning when #9 batter, right fielder, sophmore Aaron Melhouse stroked the first pitch he saw into right field to start the bottom of the third inning.
Catcher junior Elliott Nelson also got a hit to right field then shortstop junior Ari Wells cracked a RBI single.
The Bombers second run was also scored by Melhouse who opened the 5th inning with a 1-2 count single.  He would score on a error on a ball hit by Beau Zimmerman.
Cannon Falls got back-to-back singles to open the 6th before left fielder, senior Will Johnson executed a great bunt the first baseman had to field and retired him at the bag. Meanwhile Monson's courtesy runner sophmore Sam Shepersky scored on the play from second base.
The Bombers are 6-6 overall, 6-5 in the Hiawatha Valley League while Kasson-Mantorville fell to 1-9 overall and in league play.
In other area games Friday
The Randolph Rockets blasted out to a 6-0 lead after two innings in Waterville Friday night then cruised to a 11-0 five inning victory over the Waterville-Elysian-Morristown Buccaneers.
Nathan Weckop threw 50 pitches the first 3 innings, 34 strikes and Drew Jenkins added 30 pitches over 2 innings with 22 strikes to combine for the five inning no-hitter.
Weckop struck out 6 batters, walked 1 and Jenkins fanned 5 batters with no walks.
Randolph had 4 doubles in the game, finishing with 11 hits.  For the second straight game only one Rockets batter struck out.
Nathan Weckop smacked 2 dooubles for 5 RBI, Will Baldus had an RBI double, Mason Lorenzen collected 3 hits including a double with 3 RBI.
Jacob Weckop joined the hit parade with 2 including a RBI.  Evan Bennerotte stole 2 bases, Brayden Olsen swiped a pair also in the lopsided affair.
KDHL will have the Rockets Monday game at home against Kenyon-Wanamingo on the airwaves at 920 AM, 97.9 FM and worldwide on the FREE KDHL app.  Coverage begins 4:45 p.m.
The Northfield Raiders and Mankato East Cougars engaged in a competitive game in
Mankato with the Cougars winning 6-5.
Northfield scratched out a run in the first inning.  Mankato East answered with 3 runs in the bottom of the inning.  The Raiders tied the game with a pair of runs in the second frame.
Mankato East scored 3 runs in the 4th after Northfield had taken a 4-3 lead by scoring in the top of that inning.  The Raiders scored a run in the top of the 7th inning when courtesy runner Zach Morelan crossed home plate on a single by Spencer Mellgren.
Mellgren had 2 hits, 2 RBI, Nate Stepka 2 hits 1 RBI, Tom Hughes 2 hits to lead the 8 hit Northfield attack.
Mankato East had 10 hits in the Big Nine Conference game.  There were no errors in the contest.
Nate Thompson went the first 4 innings for the Raiders with 7 hits allowed, 6 runs, 2 strikeouts and 3 walks.  Thompson threw 92 pitches, 54 strikes.  Mellgren threw the final 2 innings allowing 3 hits with 3 strikeouts on 25 pitches, 20 strikes.
Jacob Eggert was the winning pitcher for Mankato East going the first 4 innings scattering 6 hits with 4 runs, 2 strikeouts.  Nathan Werk earned a save while throwing the final 3 innings with 2 hits allowed, 1 run, 4 strikeouts, 2 walks.
Eggert threw 73 pitches, 44 strikes.  Werk tallied 38 pitches, 23 strikes.
Mankato East (7-3) is scheduled to host Faribault Monday at 4:00 p.m.
Northfield (4-8) has New Prague coming to Northfield for a 4:30 p.m. start.
Other reported scores from Friday:
Pine Island swept a doubleheader from Goodhue 21-0 and 19-6.
Byron 6  Zumbrota-Mazeppa 3
Hayfield 5  Medford  0     Easton Fritcher went 3 for 3 in the game.
Triton 15  St. Clair 12
Dover-Eyota  4  St. Charles 3
New Prague 5  Orono 4
Mankato East 6   Northfield 5
Owatonna 9  St. Cloud Apollo 8
Rosemount 15 Apple Valley 2
Lakeville South 16  Champlin Park 11
Rushford-Peterson 6  Lewiston-Altura 5
LeSueur-Henderson 1  Norwood-Young America 0
Saturday reported scores were:
Byron 19  Faribault 6
Stillwater 11  Rochester Mayo 6
Mankato West 13   Marshall 3
Chaska 6  Lakeville North 2
Prior Lake 8  Eastview 1
Eastview 7  Eagan 3
Rochester Lourdes 6  Plainview-Elgin-Millville 4
Hayfield 5  Triton 0
Zumbrota-Mazeppa 14  Kasson-Mantorville 4,  K-M 6 Z-M 3
Maple Grove 12  Owatonna 2
Waseca 10 Waterville-Elysian-Morristsown 0
River Falls, Wi. 13  Northfield 2
LaCrosse Aquinas 10  LaCrescent 1
Fillmore Central 16  Southland 9
This is a fascinating read.
CHECK IT OUT: 100 sports records and the stories behind them