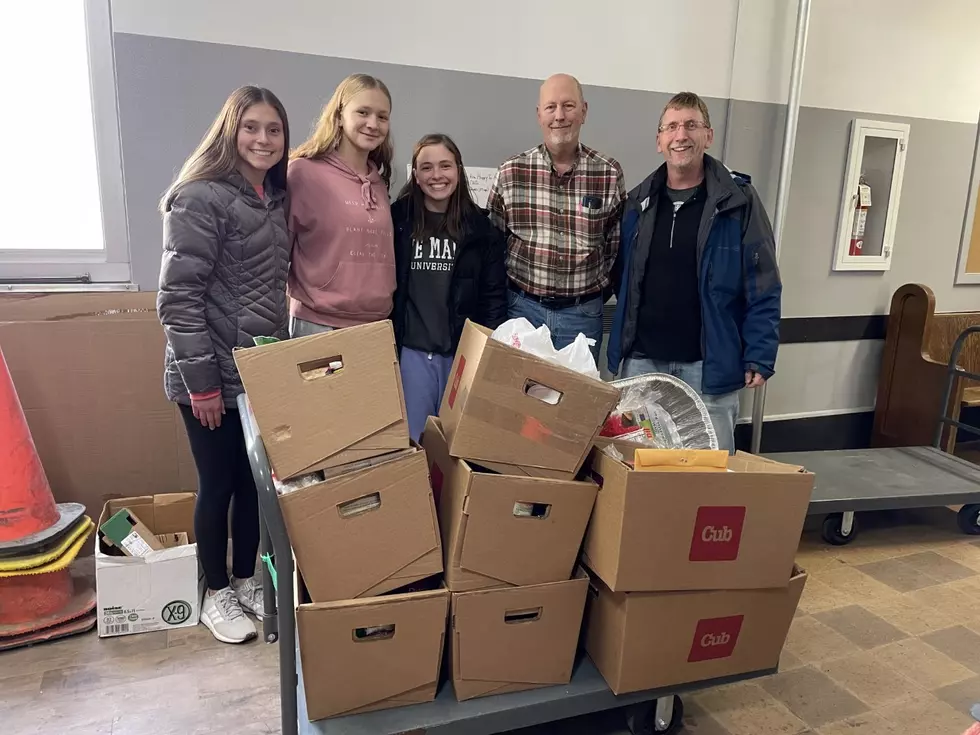 Bethlehem Academy Students Make Donations to St. Vincent de Paul
BA Peer Ministry officers (l to r) Lindsay Rauenhorst, Bennett Wray-Raabolle, Ameilia Pemrick deliver Thanksgiving boxes to Larry Muehlenbein at St. Vincent de Paul. Also pictured Peer Ministry Advisor Mark Nuehring (far right). Photo provided by BA
Student groups from Bethlehem Academy in Faribault today donated nearly 400 pairs of socks, ten Thanksgiving meal baskets and almost $700 in donations to the St. Vincent de Paul Society in Faribault.
During the month of October Bethlehem Academy High School SADD (Students Against Destructive Decisions) chapter hosted Socktober.
It was a month-long sock donation drive.  Students and staff contributed 377 pairs of warm, clean socks during the month.  The group also hosted a dollar dress down day fundraiser, and the senior class donated proceeds from the Homecoming dance resulting in additional donations of $682 to support outreach efforts of St. Vincent de Paul.
In addition, Bethlehem Academy's student-led Peer Ministry group spearheaded a Thanksgiving basket food drive, asking all students to donate at least one item toward a Thanksgiving Day basket.  Today, the group dropped off ten Thanksgiving meal boxes to St. Vincent de Paul for distribution to area families in need.
Next week, Bethlehem Academy's National Honor Society will deliver five full Thanksgiving meals to families in need also in partnership with St. Vincent de Paul.
Kris Sauer from Bethlehem Academy provided the details included here and BA also provided the pictures.
LOOK: Here Are the 25 Best Thanksgiving movies of all time