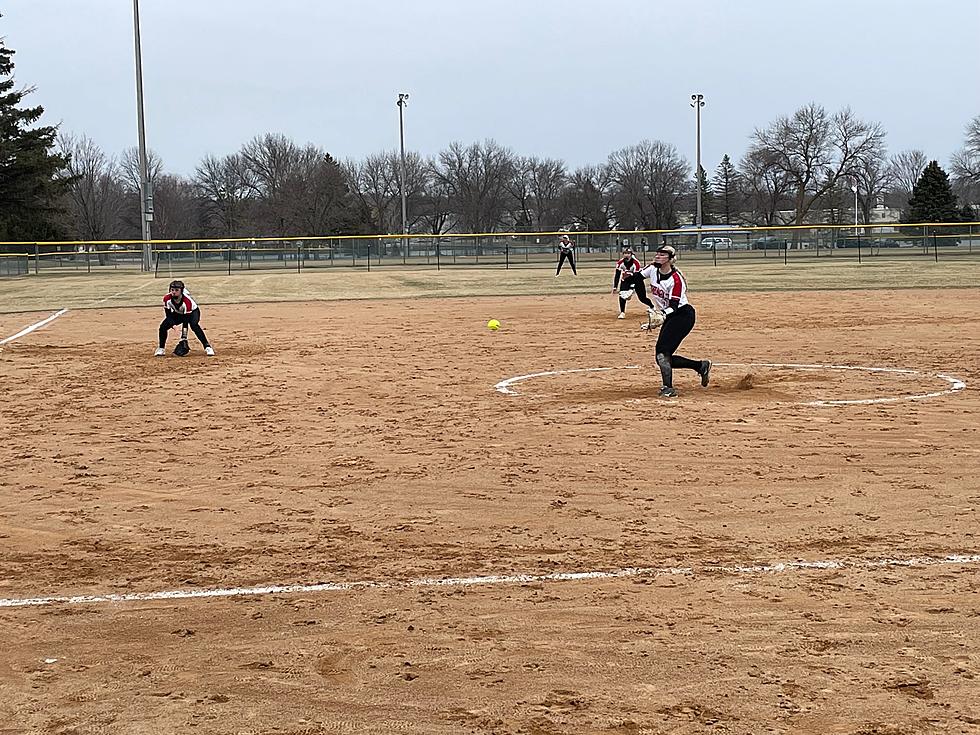 Bethlehem Academy Softball Wins, Falcons Lose in 5 Innings
Bethlehem Academy Pitcher Morgan Wilson delivers pitch to Goodhue. Photo by Gordy
Faribault Bethlehem Academy scored in all but one frame in their 13-1 five inning victory over Goodhue Tuesday evening.  At the same time the Owatonna Huskies pounced on the Faribault Falcons for 9 runs in the first inning on their way to a 16-0 Big Nine Conference win.
The Cardinals improved to 2-0 while the Falcons dropped to 0-3 this season.  It was Goodhue's first game of the season, Owatonna continues to roll.  The Huskies scored double digits in their 4th straight conference game while improving to 5-0 this season.
Bethlehem Academy set the tone in the bottom of the first with back to back bunts by Anna Cohen and Reagan Kangas to start the inning.  Anna Tobin smacked a single scoring Cohen and the Cardinals never looked back.
Kate Trump hit a towering fly ball that scored Kangas before freshman pitcher Morgan Wilson clubbed a single to score Tobin.
Designated player Sarah Tobin got a hit placing runners at first and third with one out.  Tobin took second base on the first pitch to Mercedes Huerta.
Goodhue pitcher Emily Doerhoefer struck out the last two batters to hold the score to 3-0.
The second inning started like the first for the Cardinals with Lindsay Hanson achieving a bunt hit.  Following a strike out looking Kangas was safe on a fielder's choice when the Wildcats threw out Hanson on the bases.
Tobin hammered a double to the gap scoring Kangas.  Trump collected a hustle triple scoring Tobin.  Wilson hit a RBI single.   BA was up 6-0.
Goodhue scored their only run in the top of the second inning.  With one out second baseman Alina Hinsch had a single.  With two outs  right fielderTharli Vieths stroked an RBI single.
The Wildcats had their chances with more than one runner on the basepaths in every inning the rest of the game but Wilson did a great job of getting fly balls that were caught in the outfield to end innings 3 and 5 and a ground ball to end inning 4.
Following a scoreless third inning Bethlehem Academy erupted for 7 runs in the bottom of the 4th at Alexander Park.
Kangas started the 4th with a bunt attempt but was thrown out at first base before the hit parade.  Tobin hit a triple, Trump had a RBI single, Wilson an RBI single, Sarah Tobin was safe on a error, Huerta walked after trying to lay down a bunt.
First baseman Josie Rose was safe on a error that scored a run.  Hanson hit a run scoring single.  With two outs Kangas was hit by a pitch.  Anna Tobin crushed a two RBI double to finish the scoring.
Anna Tobin finished the day with a 4 for 4, four RBI performance.  Trump had 2 hits, 3 RBI.  Wilson was 3 for 3 with 3 RBI.  Those are the numbers 3, 4 and 5 hitters in the lineup.  Number 9 hitter Hanson had 2 hits and a RBI.
Wilson had 6 strikeouts, no walks and hit a batter while giving up 7 hits.
The Wildcats were led at the plate by Alina HInsch with two hits, Vieths with the RBI and Doerhoefer was on base all three times she came to the plate.
BA travels to New Richland-Hartland-Ellendale-Geneva for a 4:30 p.m. contest Thursday while Goodhue is back in the Hiawatha Valley League with a 5:00 p.m. game at Kasson-Mantorville.
Eight of nine batters scored in the first inning for Owatonna with 8 hits and two walks in the inning.  The Huskies scored in every inning led by lead-off hitter junior Katelyn Bentz.with 3 hits including a double  and two runs scored.
Sophmore Elizabeth Radel had 3 hits, a double, 3 runs scored.  Senior Paris Hovden a pair of hits, Sophmore Zoie Roush was on the bases all four times she stepped to the plate.
Junior Paiton Glynn had a pair of hits, scored twice.
Faribault hosts Mankato East Wednesday at 5:00 p.m. while Owatonna travels to Red Wing Thursday at 5:00 p.m.
In other area softball contests Tuesday:
Tric-City United swept Lester Prarie by scores of 16-1 and 18-3.  Senior Elaina Novak had 2 doubles, 4 RBI in first game and 3 hits, including a homer, 6RBI second game
Randolph 13 Medford 2  Kylee Carey has 4 hits, 3RBI for Rockets.Kosfeld
Cotter 11 Zumbrota-Mazeppa 0
Mayer Lutheran 5  Sibley East 1, Sibley East 13  Mayer Lutheran 12
LeSueur-Henderson 7  Belle Plaine 2, L-H 10 Belle Plaine 7
Cannon Falls 11 Rochester Lourdes 1
Joradan 12 SW Christian 8
New Prague 4  Bloomington Jefferson 3
Prior Lake 12 Lakeville North 10
Northfield 13  Albert Lea 4
Rochester Mayo 14 Austin 8
Winona 8  Rochester Century 0
Mankato West 6  Mankato East 2
Red Wing 13 Rochester John Marshall 3
Blue Earth Area 15 Waseca 2
Wabasha-Kellogg 14  Fillmore Central/Lanesboro 2
St. Charles 15 Rushford-Peterson 0
Chatfield 11 Lewiston-Altura 1 5 innings
Plainview-Elgin-Millville 5  Caledonia/Spring Grove 4
Have you ever wondered about this?
Goosebumps and other bodily reactions, explained