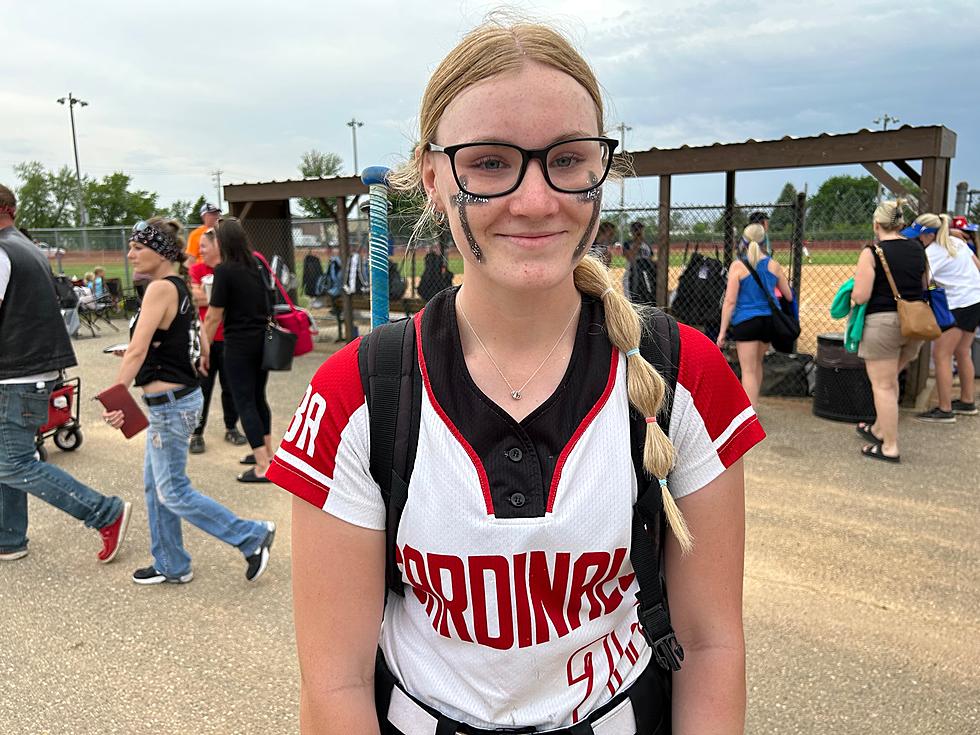 Bethlehem Academy Softball One Win From State
Morgan Wilson Bethlehem Academy. Photo by Gordy Kosfeld
The Bethlehem Academy Cardinals kept their fans on the edge of their seats tonight in a 1-0 win over Wabasha-Kellogg in Section 1A Semifinals action at Todd Park in Austin.
Morgan Wilson. sophomore, received the Malecha's Auto Body of Faribault Crunch Time Player of the game by throwing a one-hitter and getting the game winning hit in the top of the final inning.
The Cardinals had bases loaded three times in the game and did not score. They hit into a triple play when there were runners at first and second base.
From the beginning Wilson looked locked into the game amassing 17 strikeouts, 4 looking, with one walk.
The only Falcons hit was a one out triple by #3 hitter Lexi Metcalf, freshman.
Bethlehem Academy loaded the bases in the first inning following a one out Reagan Kangas, senior, single and two walks but Sarah Tobin grounded out to end the inning.
The Cardinals loaded the bases again in the third inning after Anna Cohen opened the inning with a 3-0 count single.  After a pop up and fly out Kate Trump, senior, hit a single.  Morgan Wilson was walked to load the bases.  A ground out ended that inning.
In the top of the sixth inning after the first two batters were retired on a ground out and a pop out BA loaded the bases again with back-to-back-to-back walks.  A ground out ended that threat.
Top of the 5th, Anna Tobin began the inning with a single.  Trump walked.  Wilson hit a sinking line drive caught by the second baseman that resulted in a triple play to end the threat.
The top of the seventh inning Anna Tobin started with a single, was sacrificed to second base by Trump who nearly beat the throw to first base.  Wilson then stroked a single scoring Tobin,
Jocelyn Simones, sophomore, was courtesy runner for Wilson.
Following a pop out, Josie Rose hit a ground ball resulting in an error.  Brylie Becker came in to run for Rose.  Two outs, runners at first and second base.
The inning ended with another pop out.
Wabasha-Kellogg does not have a senior on their team, only two juniors.
Falcons starting pitcher, Eve Pavelka, 8th grade, had no strikeouts, 8 walks, a hit batter, allowing 7 hits.
Hayfield ended Wabasha-Kellogg's season with a 13-4 win in the next game.
The Vikings need to sweep BA Thursday to advance to state.  The Cardinals need one win and Head Coach Scott Trump told me, "The plan is not to play a second game on Thursday."
Bethlehem Academy (19-1) will play Hayfield (12-10) at 5:00 p.m. Thursday on KDHL. If Hayfield wins a second game would follow.  That game would also be on the Mighty 920.
In other Section Softball Tuesday:
Section 1AA:
St. Charles 8   Dover-Eyota 1    Semifinals
LaCrescent   5   Zumbrota-Mazeppa   4
Dover-Eyota   5   LaCrescent   3
St. Charles one win from state.
Section 1AAA:
Byron   5   Stewartville   1
Stewartville   9   Kasson-Mantorville 4
Winona 5   Byron   3   Semifinals
Winona one win from state.
Section 1AAAA
Lakeville North   4   Owatonna   3    Semifinals
Farmington   4   Northfield   2
Farmington  5   Owatonna  2
Lakeville North one win from state.
Section 2AAAA
Shakopee   6   Bloomington Jefferson   1   Semifinals
Eden Prairie  3   Prior Lake  1
Eden Prairie  4  Bloomington Jefferson  3
Shakopee one win from state.
Section 2AAA
New Prague   11   Mankato West  0
Mankato East one win from state
Section 4A:
West Lutheran   1   PACT Charter   0
Randolph one win from state
Section 3AAAA
Rosemount   2   Park of Cottage Grove   1   Semifinals
East Ridge 1   Eagan    0
East Ridge plays Park 5/31/23 at 4:30 p.m.
Winner must defeat Rosemount 2x to go to state.
$35 Million Estate is Most Expensive Home For Sale in Wisconsin
This historic Lake Geneva, Wisconsin estate just hit the market, making it the most expensive listing in the state. Take a look at what $35 million will get you.