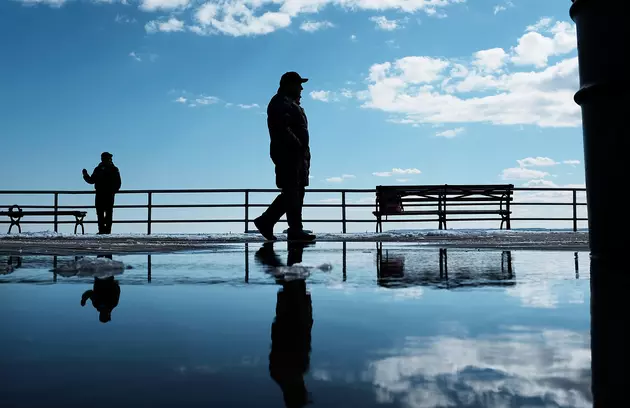 Southern Minnesota Bracing For Temps In The 50s (& 40s) After Seeing 70+ Yesterday
Getty Images
Like a cruel magic trick, it's back to reality here in Southern Minnesota. After seeing temps reaching into the 70s yesterday, the National Weather Service in the Twin Cities is reminding Minnesotans that we are heading back below normal for the foreseeable future with temps not expected to exceed the upper 50s for the next few days.
Hello, good people of Minnesota and Wisconsin. Hopefully, you were able to enjoy the 70s we had yesterday, cuz it's 40s and 50s for highs the rest of the week, and chances for rain next weekend.
The good news going forward? After today we are 1 more day closer to our next 70-degree day. Date TBD
The Weather Channel is in agreement with the temps expected from the National Weather Service.
The Weather Channel's extended forecast shows the calendar turning to May, and the temps remaining below normal. Granted anything further out than 3 days seems to be a gamble with weather prediction, especially storms, the general consensus we are seeing is that we won't be breaking out the flip-flops and shorts through Cinco de Mayo.
One positive that is coming with these below-average temps is that there isn't any precipitation predicted until next weekend, so expect to see a little bit of a dry-out in the days ahead, welcome news for those producers in our area who are looking to get out and prepare to plant.
Wisconsin Home for Sale Sticks Out Like a Sore Thumb
A home for sale in Hartford, WI was custom built to look like a castle. The funny thing is that the rest of the houses in the neighborhood are all normal suburban homes.
If You Can't Beat City Hall, Buy It for less Than $50,000!
Property description!
Just when you wondered if properties like this even exist anymore, then one pops on the market! An old town hall, its years of grandeur have long since slipped away with the years.
If you are the kind of person that likes to take something from the ashes and turn it into something beautiful, then this will be the project for you.
If you aren't...well just keep on looking because this project isn't for the faint of heart.
As an added bonus, you can have a nice view of the water from your backyard, but yep you guessed it, you will need to trim and prune the trees first!
So grab your friends and get to work on your restoration project! Age of the property is unknown (James here, the listing says 1900).