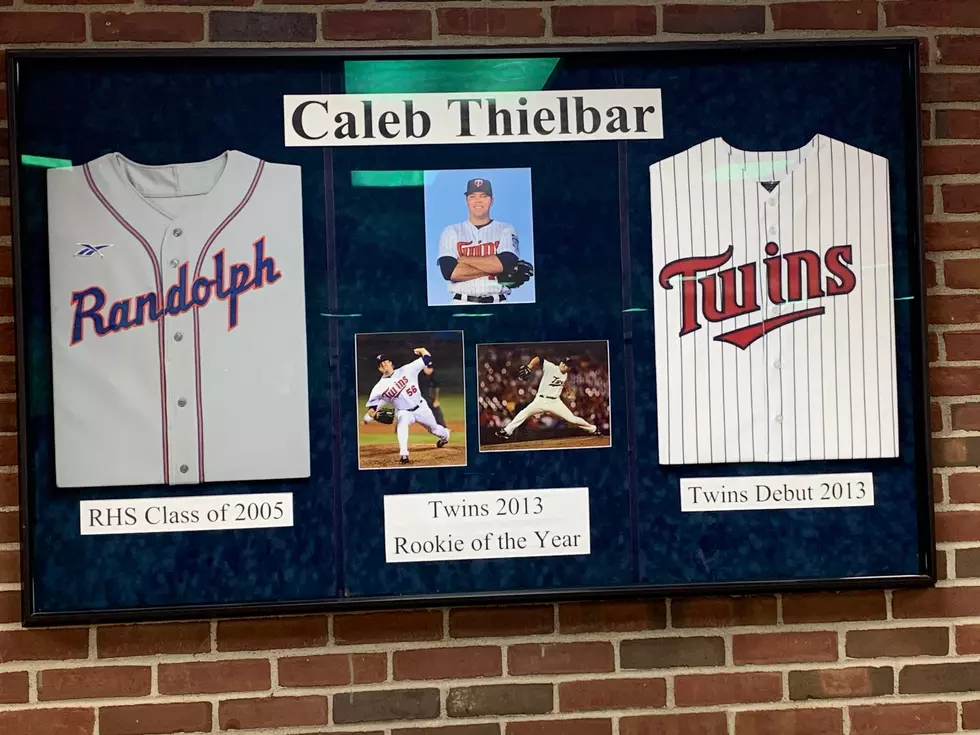 Randolph Graduate Is Twins Hero
Caleb Thielbar Display at Randolph High School. Photo by Gordy Kosfeld
Caleb Thielbar, less than a week after his alma mater Randolph won the MSHSL Class A State Baseball Tournament got a save today in a much needed win for the Minnesota Twins.
According to Baseball Reference.com it was Thielbar's first career Major League Save. Evidently the statistics were not updated when I checked them out after the game but the official box score did list a save for Thielbar.
The victory avoided a sweep by the Cleveland Guardians and pulled Minnesota back into a tie for first place in the American League Central Division.
A Randolph jersey inside a large glassed frame is located in the hallway near the cafeteria leading into the gym at Randolph High School touting arguably their most famous graduate.  He graduated from Randolph in 2005.
Thielbar went on to have an impressive baseball career at South Dakota State University.  When his career there was over he was the All-Time leader in starts with 44.  Innings pitched with 274 and was second in strikeouts with 196.
In 2009 Thielbar became the first player in South Dakota State history to make it to the Majors.  He was drafted by the Milwaukee Brewers in the 18th round of the Major League Baseball Draft.
His degree is in Wildlife and Fisheries Management.  Caleb is an avid outdoorsman.
I had the privilege of calling a game on the Gophers internet service when his Jackrabbits came to the Hubert H. Humphrey Metrodome to play the University of Minnesota when he was the starting pitcher of the game.
It was an awesome experience to say the least because I broadcast a few of his high school and Legion baseball games as well as some basketball contests.
Caleb and his parents were always great people to visit with whenever I got the chance.
Caleb provided me with an autographed South Dakota State hat which I have displayed in my garage but I never wear.  I don't remember if I got the hat at the dome that day or later.
As you can see the writing inside the bill of the cap is fading.
Thielbar was an outstanding basketball player at Randolph.  A 1,000 points scorer in addition to his baseball talents.
In 2013 he received the Twins Rookie of the Year award from the team.  That year Thielbar had some impressive statistics.
Started MLB career with 19.2 consecutive scoreless innings May 20-July 6, setting a Twins record tying him for sixth with the Mets' Joe Smith (April 1-May 5, 2007) for longest streak in baseball history to begin a career...allowed just five hits during the streak and struck out 17. Retired 31 consecutive batters faced without allowing a hit; according to Elias it tied Joe Nathan (2006) for the fifth longest in club history; had streak snapped by a Ben Zobrist home run July 8 at Tampa Bay...the streak was the second longest in club history for a rookie, short of Jerry Arrigo's 33 straight in 1964. Earned first major league win June 1 vs. Seattle, tossing 1.0 scoreless inning of relief. Allowed just two earned runs in first 28 appearances (28.2 IP), posting a 0.63 ERA in that span (until August 5). 41 of 49 appearances were scoreless, including 32 of first 36 May 20-August 25. Posted a .154 opponent batting average, the lowest in Twins history and second lowest in Twins/Senators franchise history (since 1901) behind Johnny Niggeling's 1943 average of .153. Posted a 1.76 ERA (46.0 IP, 9 ER), the sixth lowest in Twins history...his 49 games tied for eighth most for a rookie in Twins history. Ranked sixth in AL in ERA (minimum 40.0 IP), second among rookies...tied for fifth among AL rookies in appearances. Was given the Bill Boni Award as Twins Most Outstanding Rookie, voted on by the Twin Cities Chapter of the BBWAA.
I know he was excited to learn of his Rockets team winning a state title at Target Field in a 2-1 pitcher's duel with the 2021 State Champions Hayfield Vikings.
Thielbar had a very good 2021 season which led to a doubling of his salary to 1.3 million dollars this year.
Wife Carissa is an Assistant Coach with the South Dakota State Women's Basketball team which won the WNIT Championship. They have a young son (Joshua).
As long as we are featuring Major League Baseball.
LOOK: MLB history from the year you were born
Stacker
compiled key moments from Major League Baseball's history over the past 100 years. Using a variety of sources from Major League Baseball (MLB) record books, the Baseball Hall of Fame, and audio and video from events, we've listed the iconic moments that shaped a sport and a nation. Read through to find out what happened in MLB history the year you were born.