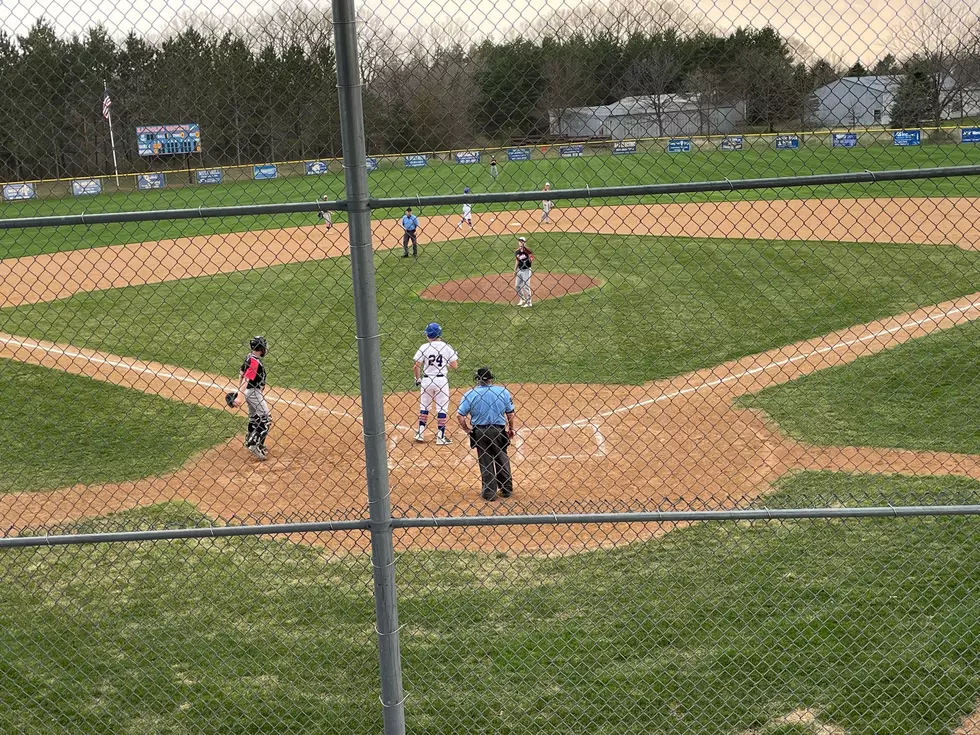 Randolph Baseball Wins on Walk-Off Error
Reuben Kriesel at Plate for Rockets against Trevor Steberg in bottom of 2nd inning. Photo by Gordy Kosfeld
The undefeated Randolph Rockets avoided a loss tonight thanks to 3 errors by Kenyon-Wanamingo in the bottom of the 7th inning of their 2-1 game at Murray Field in Randolph.
With severe weather all around Randolph including a tornado warning as close as Hampton (which also had baseball sized hail reported) the entertaining game was never stopped.
Some light rain fell briefly during the game a couple of times.
Both pitchers threw very well.  Senior Trevor Steberg for Kenyon-Wanamingo and senior Will Baldus for Randolph.
Baldus allowed 4 hits, struck out 12 walked no batters while throwing 92 pitches, 70 for strikes.  He had 17 of 25 first pitch strikes  The only run allowed came in the third inning and was not earned.
Baldus started the game retiring the first 7 guys he faced, striking out 6 of them.
Sophmore Colton Steberg got the first hit with one out in the top of the third inning.
#9 batter in the order for K-W Cal Luebke executed a bunt down the third baseline with Steberg on the move and the throw to first base ended up careming off landscape wall down the right field line allowing Steberg to score.
The run held up until the bottom of the 5th inning when Randolph's #8 hitter Evan Bennerotte clubbed a one out single.
The junior left fielder stole second base before #9 hitter freshman Brayden Olsen was hit by a 0-2 count pitch,
Following a fly out catcher, senior Jacob Weckop hit a grounder to short but the shortstop juggled the ball allowing a run to score and Weckop to gain first base.
Steberg recorded his second strikeout of the game when he fanned #3 hitter senior Nathan Weckop to end the inning.
Knights senior Gavin Sommer got a one out single in the top of the 6th inning but was caught leaning and was retired in a rundown between first and second base.
Steberg struck out 2 of 3 batters faced in the 6th inning and appeared to be getting stronger with strikeouts of 3 of 4 Randolph batters in the 5th and 6th innings.
Kenyon-Wanamingo was retired in order on ground outs in the top of the 7th before the Rockets rallied for the walk-off win.
A ground out started the bottom of the 7th before Bennerotte gained first base on a error.  He stole second base during the Olsen at bat which ended with a fly ball caught in right field.  Bennerotte advanced to third on a tag up.
Randolph was at the top of the order when senior Drew Jenkins hit a ball to second base resulting in a error when the throw to 6'9 first baseman Paul Kortsch was high enough he had to jump to catch it pulling his foot off the bag.
Steberg had 2 strikes on Jenkins before he hit the grounder and had two strikes on Jacob Weckop  when he hit a towering fly ball that the Knights shortstop was unable to catch ending the game.
Steberg deserved a better fate allowing 3 hits with 2 walks, a hit batter, 4 strikeouts, no earned runs.  He threw 87 pitches, 59 strikes with 14 of 28 first pitch strikes.  The righty kept Randolph off balance with a very good breaking ball they had trouble barrelling up.
The Rockets had 3 ground ball outs in the game with both runs coming off errors.
Randolph is now 12-0 and hosts Medford 500 p.m. Tuesday night in another Gopher Conference game.  The Rockets travel to Maple River 5:00 p.m. Thursday before a scheduled game Saturday 7:00 p.m. under the lights against Cannon Falls at John Burch Park on KDHL Radio, 920 AM, 97.9 FM and on FREE KDHL app.
Kenyon-Wanamingo is now 3-7 and goes to Blooming Prairie Tuesday for a makeup game with the Awesome Blossoms.  First pitch is scheduled for 3:30 p.m. due to a spring music concert for K-W.
In other Monday night games in the area:
The Faribault Falcons outslugged Mankato East earning a 11-7 win at Wolverton Field in Mankato.
The Cougars lived up to their name with 12 stolen bases on the game.
Both teams scored a run in the first inning.  Mankato East put 4 runs on the board in the 4th inning and 2 more in the 5th inning,
The Falcons scored 3 runs in the 5th before exploding for a 7 run 6th inning.
The Cougars had 5 errors, Faribault 2 errors in the game with the Falcons connecting for 9 hits, Mankato East 6 hits.
Designated hitter Andy Donahue had 2 hits including a triple and 2 RBI and senior Brad Sartor had 2 hits including a double for Faribault.
Michael Crone also stroked a RBI double for the winning team.  Faribault now has a 2-9 record.  Mankato east dropped to 7-4 on the season.  The Cougars host Albert Lea 5:00 p.m. Tuesday before Red Wing comes to town Thursday for a doubleheader beginning at 4:00 p.m.  Sautday Mankato East is scheduled for a Noon game in Marshall
The Falcons are at Red Wing Tuesday at 5:00 p.m. then have a doubleheader with Austin beginning 4:00 p.m. Thursday before they travel to Stewartville for a 11:00 a.m. game Saturday.
Here are other reported baseball scores:
New Prague 12 Northfield 3
Blooming Prairie 11 Schaeffer Academy 2
Medford 23  Waterville-Elysian-Morristown 1
Triton 2  Cotter 0
LeSueur-Henderson 13  Tri-City United 3
Fairmont 12 Waseca 3
Rushford-Peterson 8  Houston 2
Rosemount 3  Lakeville North 0
Prior Lake 10 Apple Valley 4
Shakopee 15  Eastview 7
Lakeville South 14  Eagan 7
Caledonia 6  Dover-Eyota 5
Belle Plaine 2  Sibley East 1  B.Plaine 8  SE 2
Some helpful advice.
TIPS: Here's how you can prepare for power outages