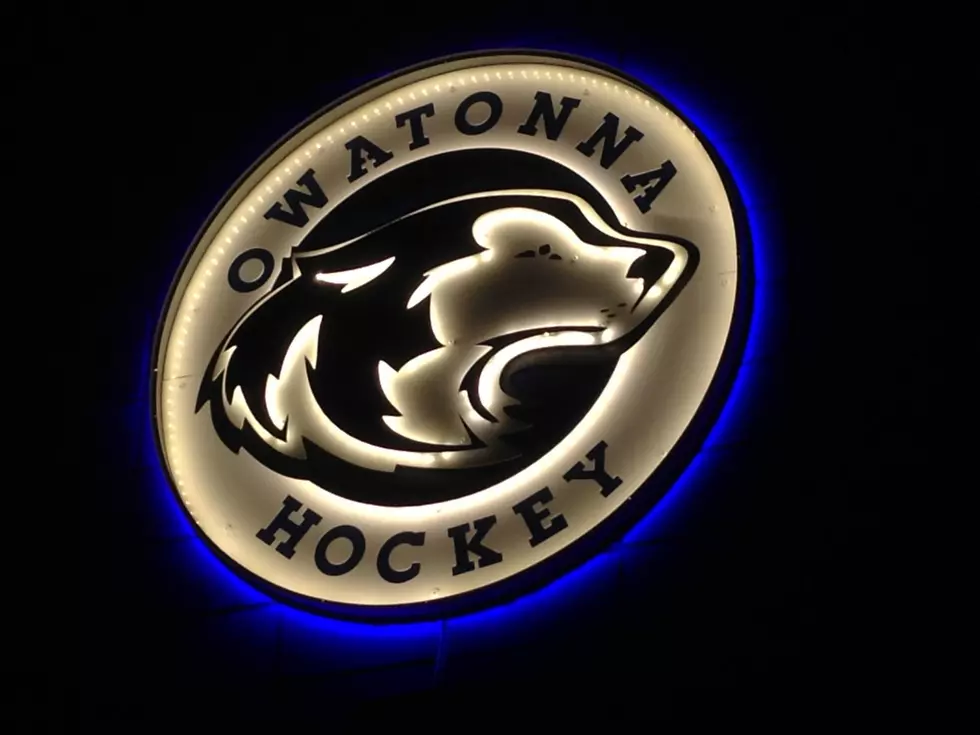 Owatonna Boys and Girls Hockey Win, Northfield Girls Victorious
Townsquare Media
The holiday break for some high school hockey teams means bus rides to tournaments.
In boys hockey Thursday Owatonna boys defeated Anoka 3-1 in Duluth.
In girls hockey the Huskies the Huskies skated past New Prague 5-2 in Farmington.
The Northfield girls hockey team defeated Farmington 2-0 in Farmington.
Raiders goalie Macy Mueller had 33 saves while Northfield took 31 shots on goal against the Tigers Addison Moudry.
Neither team was able to score on the power play.  Farmington was 0 for 3 and Northfield 0 for 2.
The Raiders were outshot 11-10 in the first period, had 17 shots compared to Farmington's 13 in the second period.  The Tigers outshot Northfield in the final period 9-4.
The Raiders scored  4:40 into the second period on a Emma Peroutka goal with assists to Emerson Garlie and Ayla Puppe.
Northfield added a insurance goal 1:28 into the final period when Tove Sorenson scored with an assist to Isabelle Stephes.
Neither Owatonna or New Prague scored a power play goal either.  The Trojans were 0 for 5, Huskies 0 for 4.
Owatonna outshot New Prague 45 to 12.
Following a scoreless first period each team scored 2 goals in the second period.  New Prague at 2:14 to go up 1-0.  The lead was short lived with the Huskies adding a Ezra Oien goal at 5:29 assisted by Ava Stanchina.
12:26 Owatonna's Sarah Snitker scored assisted by Kendra Bogen before the Trojans scored at 13:49.
The Huskies added three goals in the final period while outshooting New Prague 12-5.
At 1:18 Samantha Bogen scored assisted by Averi Vetsch.  6:03 Mary Stanton collected a goal with help from Anna Mollenhauer and at 8:08 Molly Achterkirch added insurance with assists by Oien and Snitker.
Owatonna goalie Mikayla Wilker stopped 10 shots for the win.
Other girls hockey scores from around the area:
Apple Valley 10 Visitation 1
Lakeville South 7  Anoka 3
Rosemount 7 Hastings 2
Hill-Murray 6  Shakopee 1
Owatona boys hockey was 1 for 3 on the power play while Anoka was 0 for 5 at the Duluth Heritage Sports Center.
Owatonna had 35 shots, Anoka 30 shots on goal.  The Huskies used two goalies.  Brennan Sletten played 34 minutes halting 23 of 24 shots.  Porter Kuchenbecker was in net 17 minutes with all 6 shots stopped.
Benjamin Bangs got Owatonna on the scoreboard :20 into the first period with a unassisted goal.
The Huskies added two more goals in the second period.  At :33 seconds Andrew Mitchel scored a power play goal assist to Bangs.  6:53 Mitchel scored again with the assist going to Bangs.
The Tornadoes scored their lone goal with :44 seconds to go in the game.
Lakeville North boys lost 3-1 to Prior Lake at The Tradition Holiday Invitational in Dakota Ice Center.
The Panthers had 25 shots.  Prior Lake 24 shots.
Lakeville North was 0 for 4 on the power play.  Prior Lake 0 for 1.
Each team scored in the first period.  2:02 to go Griffin Kranz scored for the Panthers with assists by Caden St. John and Hayden Konik.  Prior Lake's goal happened at 9:54 mark.
Following a scoreless second period the Lakers scored twice.  At 6:47 and a empty net goal with :30 left in the game.
Van Eigner was in net for Lakeville North had 21 saves.  Ben Mickett stopped 24 shots for Prior Lake.
Other boys hockey scores Thursday.
Alexandria 4  Mankato East/Loyola 2  in Roseau Holiday Classic
Superior 2  New Prague 1  at a Proctor Tournament
Duluth Denfeld 3  Apple Valley/Burnsville 2 in Duluth
Irondale 2  Mankato West 1 in Duluth
Albert Lea 5  Windom 3   Rochester Kiwanis Tournament
Farmington 6  Hopkins 5  in South St. Paul
East Ridge 3  Rochester Century 2  Rochester Kiwanis Tournament
Andover 6  Rosemount 0
Dodge County 5  Luverne 1 at Rochester Kiwanis Tournament
Rochester Mayo 4  Fargo South/Shanley 3    Rochester Kiwanis
Baldwin-Woodville, Wi. 6  Red Wing 0
Benilde-St. Margaret's 7  Lakeville South 1  St. Louis Park event
Rochester Lourdes 2  Bloomington Kennedy 0  Rochester Kiwanis event
Private 1960 Hilltop Rochester Minnesota Home Has Hidden Pool
Designed by Ellerbe and Company in 1959, this home isn't "a step back in time", but it is a step into the image you have about 1950's/60's homes from TV shows and movies.
Plus, its super private, just up the hill from Bamber Valley Elementary. Most of the homes in that area are a marvel to see (take a walk up there sometimes, I think you'd really like it. Lots of trees and homes set way back).
Enjoy this home at 2410 Hillside Lane SW in Rochester. It could be yours for just under $900,000.