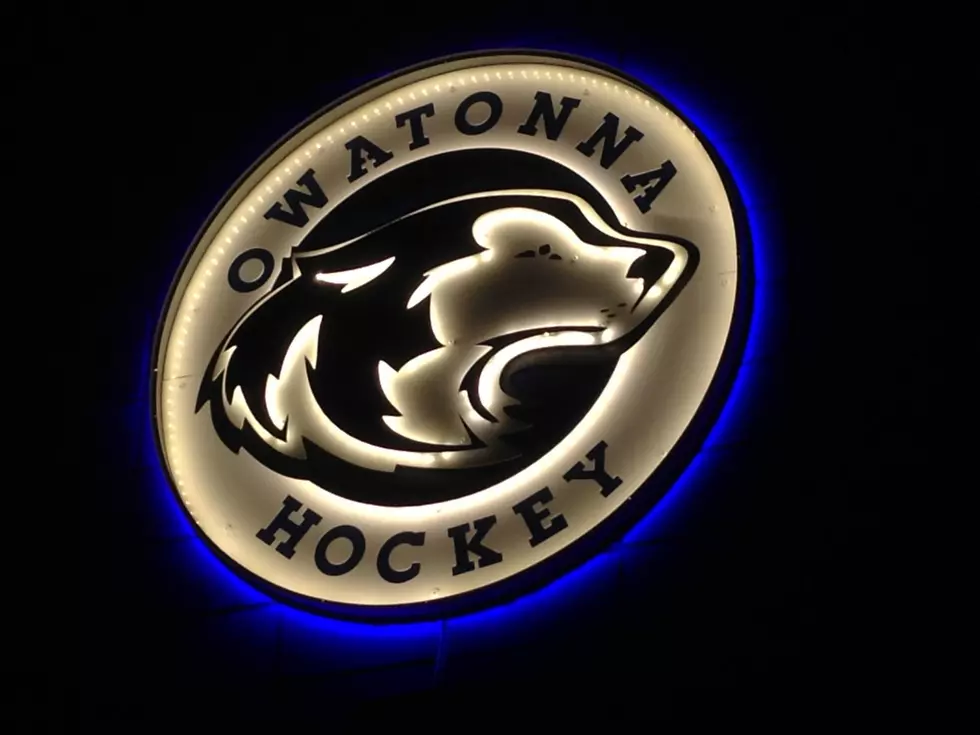 Owatonna Big Nine Girls Hockey Champions
Roy Koenig/Townsquare Media
The Owatonna Huskies defeated the Northfield Raiders 4-2 today (February 4, 2023)   in Northfield.
The win earned the Huskies the Big Nine Conference girls hockey title.
Both teams scored a power play goal,
The first period ended 1-1 with the Huskies striking first on a power play goal by Abby Vetsch (7), senior, assists to Samantha Bogen (24), junior and Ava Stanchina (24), senior, 59 seconds into the game.
Northfield responded at 14:54 when Keira Hauskins (1), sophmore, scored unassisted.
Owatonna added two goals in the third period.  At 3:20 Stanchina (22) scored unassisted and at 6:14 Vetsch (8) connected on a penalty shot.
4:52 into the third period Samantha Bogen (20) got an insurance goal with an assist awarded to Izzy Radel (19), junior.
7:05 Isabelle Stephes (6), junior, pulled the Raiders closer with a power play goal assisted by Mia Miller (19), freshman.
Northfield had 31 shots on goal, Owatonna 24.
Mikayla Wilker, junior was in net for the Huskies while Macy Mueller, sophmore went between the pipes for the Raiders.
Owatonna ends their regular season with a 12-1 conference record, 18-6 overall.  Northfield is 9-2 in Big Nine play, 18-7 overall.
Section 1AA action begins Wednesday, February 8, 2023 with teams playing at the high seed, semifinals are Saturday, February 11, 2023 also at high seed.
The championship game is scheduled for 5:00 p.m.Thursday, February 16, 2023 at Four Seasons Arena in Owatonna.
The Section 1A title game will also be played at 7:00 p.m.
The seeds are not completed yet but my guess is Lakeville South and Lakeville North will be the top two seeds with Owatonna next and Northfield slotted in the #4 spot..
In other girls hockey action Saturday, February 4, 2023 Lakeville North edged Prior Lake 1-0 in overtime at Ames Arena in Lakeville.
The goal was scored 1:19 into overtime by Greta Smith (8), senior with assists to Makayla Lee (10) 8th grade and Isabella Mayer (11), senior.
The Lakers were 0 for 3, Panthers 0 for 1 on the power play.
Lakeville North had 24 shots on goal, Prior Lake 13.
Addison Oettinger, junior got the shutout in goal while Olivia Hansen, junior in net for the Lakers.
Lakeville North ended their regular season with a 18-7 record, 15-3 in South Suburban games while Prior Lake finishes 13-11-1 overall and 7-10-1 in league play.
Lakeville South captured the South Suburban title with a 2-0 win over Shakopee at Hasse Arena in Lakeville.
The Cougars are 16-2 in conference play and 21-4 overall. Shakopee is 11-7 in South Suburban and 14-10 overall.
Claire Bronson, junior, recorded her 8th shutout of the season for Lakeville South.  Sabres goalie Molly Morrow, senior, stopped 34 shots but suffered the tough loss.
Theresa Soltys (14), senior scored a goal and an assist (15).  Brynn O'Neill (11), junior, recorded the other goal and Gabby Bouman (4), senior. had two assists.
Metro South which includes some Faribault and BA players along with Burnsville, DeLaSalle, St. Agnes and St. Paul Academy and Summit School concluded their regular season with a 5-1 win over Eastview at Apple Valley Sports Arena.
The Phoenix scored three goals in the second period and two in the third while the Lightning connected once in the second period.
6:51 of second period Metro-South player Madisyn Krumholz, senior, connected following assists by Lily Keefe, senior and Charlotte Goings (14(, junior.
Eastview tied the game at 12:11 of the period on a Lauren Speegle power play goal assists to Jessica Wilhelm and Brynn Dihel.
58 seconds later Ella Bond (14), freshman, scored unassisted followed by a Olivia Tilbury goal (1), senior, at 15:35 with assists to Heidi Deuel (5), senior, and Bond.
Metro-South added two goals in the final period.  At 5:44 Krumholz scored, assists to Bond (13) and Keefe (10).
50 seconds to go Krumholz (24) recorded her hat trick with an even strength tally unassisted.
Dodge County skated by Robbinsdale Armstrong/Cooper 6-2 in Kasson peppering the net with 39 shots on goal compared to 23 total.
2:22 into the game Maysie Koch, 8th grade, scored for Dodge County with assist to Abby Simons, junior.  Armstrong/Cooper answered at 13:45.
15 seconds later Nora Carstensen (25), sophmore, achieved a power play goal assists to Maysie Koch and Zoe Heimer (8), freshman.
The Wildcats got three more goals in the second period to pull away.
At 9:25 Heimer (5) scored assisted by Kylie Meyer (7), freshman,  10:23  Maysie Koch scored unassisted.  At 13:10 Maysie Koch got a short handed goal with an assist to Mollie Koch (18), sophmore .
Robbinsdale Armstrong scored 4:48 into the final period.
The final Dodge County goal was a power play tally by Simons (9), assists to Maysie Koch (28) and Carstensen (16).
Ida Huber stopped 21 shots for the Wildcats while Emma Kahl had 33 saves in the Armstrong/Cooper loss.
The Wildcats are 15-8-2 heading into the playoffs and Robbinsdale Armstrong/Cooper is 7-18.
24 Outstanding Places To Grab Dessert In The Twin Ports Area
Whether you're looking to celebrate a special occasion or just want to treat yourself to a special treat, here are some incredible places to go out for dessert in the Duluth - Superior area.
For this list, we look at places with on-location seating to enjoy your treat. We also decided to not include exclusive ice cream and frozen yogurt places. While ice cream and fro-yo are delicious, most people know where to find great ice cream in the area.