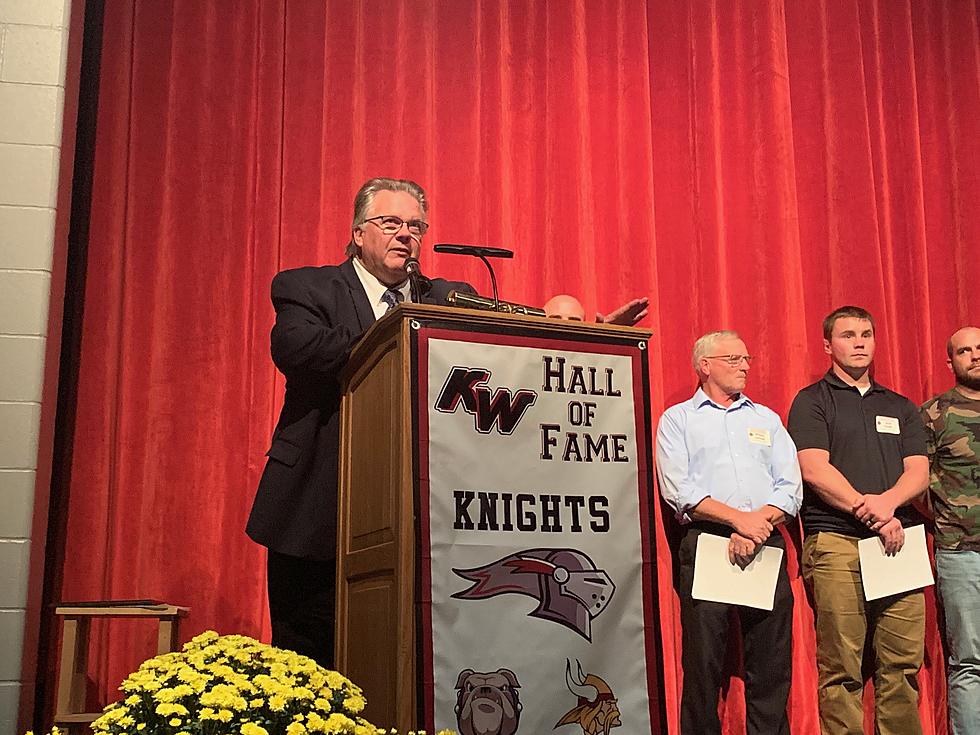 Hockinson Named to Minnesota Baseball Coaches Hall of Fame
K-W High School Activities Director Randy Hockinson at K-W HOF Ceremony. Photo by Gordy Kosfeld
The Minnesota Baseball Coaches Association announced this week their Hall of Fame Class for 2022.
Randy Hockinson of Kenyon-Wanamingo is one of the six individuals scheduled for induction January 2023.
"Hock" as many affectionately call him coached for 29 seasons at Kenyon-Wanamingo.  His record was 318-315.  The 318 wins ranks 76th on the All-time list according to MSBCHA records.
All of this year's HOF inductees have over 300 wins in their careers.  Four of them are still active.
Other inductees at the banquet scheduled for January 14, 2023 include:
Tom Schleper    Shakopee
Al Amdahl          Albany
Paul Schumm    St. Michael-Albertville
Troy Urdahl        St. Anthony Village
Mike Wenninger  Luverne
Tracy Wensloff    Roseau
Schleper is still active with a record of 308-296 in 27 years which ranks 85th all-time.
Amdahl is still active with a record of 399-238 in 28 years, 29th on the wins list.
Urdahl is active with a record of 317-144 in 19 years, 77th on all-time wins list.
Schumm is still coaching with a record of 426-187 in 25 years, 15th all-time in wins.
Wenninger coached 24 years before retiring with a 377-187 mark.  36th all-time.
Wensloff retired after 26 years with a record of 339-205.  62nd on Minnesota high school coaches wins list.
Add the class records together and it's impressive 2,484 wins, 1,572 losses and a combined 178 years of coaching.
Ticket and location information will be announced closer to the date of the banquet which will be held during the annual MSHBCA coaches clinic.
Hockinson is currently the Activities Director for Kenyon-Wanamingo High School and is in charge of the school theatre department.
Baseball fans will probably enjoy this.
LOOK: MLB history from the year you were born
Stacker
compiled key moments from Major League Baseball's history over the past 100 years. Using a variety of sources from Major League Baseball (MLB) record books, the Baseball Hall of Fame, and audio and video from events, we've listed the iconic moments that shaped a sport and a nation. Read through to find out what happened in MLB history the year you were born.