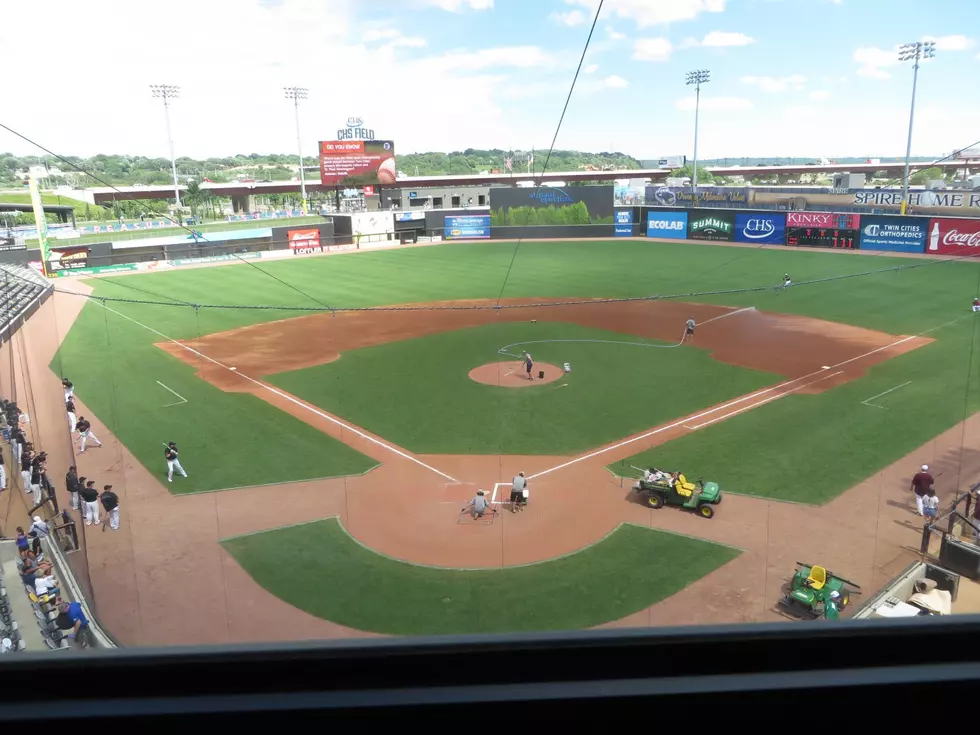 Fosston, Esko State Class A and AA Baseball Champions
CHS Field St. Paul. File Photo by Gordy Kosfeld
The MSHSL State Baseball Class A and Class AA Championships were held at CHS Field in St. Paul today,
Fosston was the #5 seed when the Class A competition began at Joe Faber Field in St. Cloud Tuesday and Lyle-Pacelli the #3 seed.
The Greyhounds edged the Athletics 3-2 in a game where Lyle-Pacelli left 9 runners on base, 6 in scoring position while Fosston stranded 4 on the bases, 3 in scoring position.
Hudson Boushee, junior, went the first 6 innings to earn the win on the mound and Carson Boushee, senior, achieved a save by pitching the 7th inning.
Hudson threw 114 pitches, 69 strikes, struck out 6, walked 3 batters, allowed 4 hits and 1 run.  Carson had 28 pitches, 16 strikes, 2 strikeouts, 2 walks, 2 hits, 1 run.
Mac Nelson went the distance for Lyle-Pacelli with 92 pitches, 60 strikes, through 6 innings.  He gave up 5 hits, struck out 3, walked 2, giving up 3 runs, 2 earned.
Each team had 1 error.
Fosston scored a run in the second inning when Brecken Levin, senior, hit a one out single on the first pitch.  Aaron Norland, senior, followed with a 1-0 count single.
Zach Theis, senior,  reached on a fielding error that allowed Levin to score.
The Greyhounds added a run in the fourth inning when Levin doubled to left on a 1-0 count.  He gained third base on a sacrifice bunt by Aaron Norland.  Theis followed with a sacrifice fly scoring Levin.
Lyle-Pacelli scored in the top of the 6th inning when Hunter Vadeer, sophomore, singled on a 0-1 count pitch to start the inning.  Jakob Truckenmiller hit a 1-2 count pitch for a single.  Isaac Nelson, junior, hit the first pitch for a sacrifice fly RBI.
Fosston answered in the bottom of the 6th when Carson Boushee walked with one out.  Ryne Duppong pinch ran.  Levin flied out.  Duppong stole second base.  Aaron Norland doubled to right center on a 0-2 count pitch plating Duppong,
The Athletics opened the final inning with Jack Klingfus, junior, getting an infield hit,  Trey Anderson, senior, walked.  Landon Meyer, sophomore, singled to left center on a 1-0 count pitch to load the bases.
Following a strikeout VaDeer was walked scoring a run.  A strike out and ground out ended the threat with the bags juiced.
The Athletics had other chances in the game leaving the bases loaded in the 4th inning.
In the first inning Landon Meyer, sophomore, reached second base to start the game on an error by the centerfielder.  He would be stranded at third base.
It was Fosston's first Class A MSHSL State Baseball Championship.  The Greyhounds  were 4th in the tournament in 2017.  They finish the season with a 24-4 record.
It was their 4th trip to state, all since 2010.
Lyle-Pacelli ended their year 24-2.  Austin Pacelli participated in the 1983 baseball tournament when there were two classes.
The state baseball tournament started in 1947 ith one class until 1976 when it was expanded to two classes.
In 2000 three classes began until 2016 when they expanded to the present four classes.
The Class 2A title game saw Esko prove their top seeding with an explosive 5-run 5th inning to pull away from the Perham Yellowjackets, a random draw team.
The Eskomos finished the year 27-1 after achieving 6 total hits in the previous two games they unleashed a 12 hit attack at CHS Field in St. Paul while Dylan Marciulionis, junior, threw a two-hitter.
Marciulionis threw 98 pitches, 66 strikes, striking out 9 and walking 1 batter.
Perham had a one-out single in the second inning and a two-out single in the fifth inning.  They finished their season 24-4,
Esko scored in the top of the second inning after the first two batters were retired.  Bobby Thornton, sophomore, reached second base on a fielding error.
Connor Pearce, sophomore, singled to score Thornton.
In the fifth inning the Eskomos Marciulionis hit a 1-2 count single to start the inning.  Owen Wilson, senior, was courtesy runner for the pitcher.  Wilson stole second.
Sam Haugen, sophomore, singled to left scoring Wilson and advanced to second on the throw home.  Following a Ty Christensen, senior, walk.  Cale Haugen, senior, smacked a two run triple.  Bryce Hipp, junior, lifted a 2-2 count pitch for a sacrifice fly RBI.
Finn Furcht, junior, singled on a 2-2 count pitch.  Furcht stole second base.  Thornton singled to right on a 2-2 count for a RBI.  Perham made a pitching change.
Thornton stole second base and was stranded there.
Esko added two runs in the sixth inning when Cal Berglund, senior walked to open the inning.  He advanced to second on a throwing error during a pickoff attempt.  Sam Haugen walked.
Following a pitching change a balk was called.  A run scored on a ground out by Cale Haugen.  Isaak Sertich, junior, clubbed a RBI double.
Furcht hammered a 1-1 count pitch over the fence in left field to add another run for the State Champion Esko Eskomos.
Esko's only other state baseball trip was in 2000.
Perham participated in their 10th state baseball event,
The Yellowjackets were consolation champs in 1998.  Placed third in 2003 and 2004 and were runnersup to Kasson-Mantorville in 2013.
The KoMets won the title game 8-1 on KDHL that year.
Adam Sandler Sports Movies: Ranked