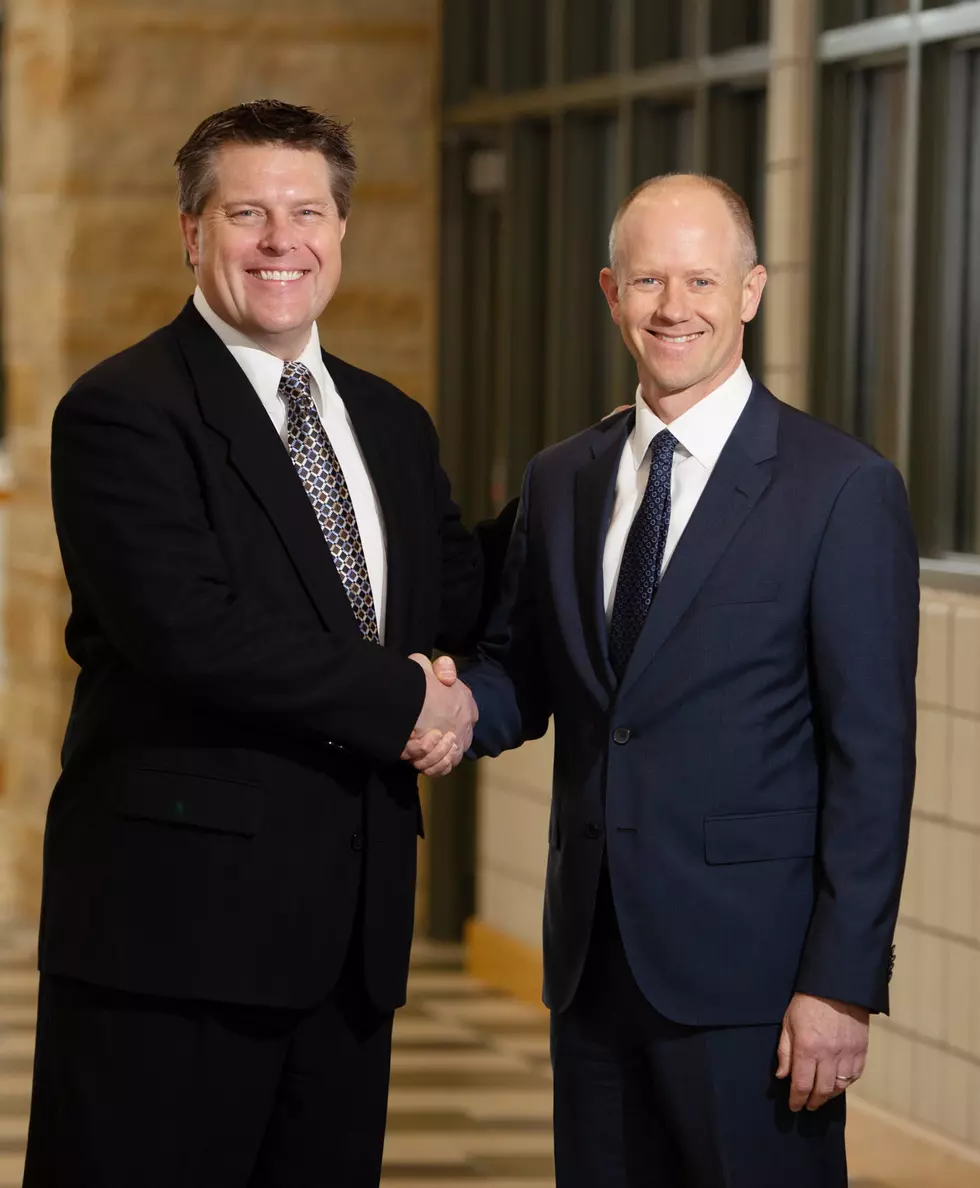 Dakota Electric Names New CEO
Dakota Electric Board Chair Paul Bakken (L) shakes hands with new CEO Ryan Hentges. Photo provided by Dakota Electric
The Dakota Electric Association's Board of Directors named Ryan Hentges as the next president and CEO of the member-owned electric distribution cooperative based in Farmington.
Current President and CEO Greg Miller will retire in early April and has led the cooperative since 2001.  The board of directors conducted a rigorous search process and considered many qualified candidates they stated in a news release announcing the hiring.
Hentges has served in management at Minnesota Valley Electric Cooperative, Jordan, since 2005.  The past seven years in the CEO capacity.
Hentges will assume responsibilities at Dakota Electric on March 6, 2023, "providing overlap of leadership and sufficient time for a smooth transition."
Board Chair Paul Bakken is quoted in the news release, "We had many excellent candidates apply.  We believe Ryan has the proven track record and leadership qualities necessary to ensure Dakota Electric continues providing our members with exceptional and reliable service."
Hentges is quoted, "Dakota Electric has a strong reputation in the community, excellent reliability numbers and a team of employees who provide top-tier member services.  I look forward to leading this outstanding team."
Hentges earned a Juris Doctor from the University of St. Thomas School of Law, an MBA from the University of Nebraska Omaha, and undergraduate degree from St. Cloud State University.
The news release concludes:
Dakota Electric is a member-owned, not-for-profit utility in existence since 1937.  They provide electricity to more than 112,000 members throughout Dakota County and portions of Goodhue, Rice and Scott Counties.
Dakota Electric, a Touchstone Energy Cooperative, serves it's members/owners with integrity, accountability, innovation and commitment to community.
Dome House for sale in Minnesota features indoor slide!
If you are in the market for a new house and are looking for something unique, the perfect house just went on the market in Eden Prairie. For just under $3 million, you can own a dome home that not only has an indoor slide, but also features an indoor putting green, amazing landscaping throughout the 1.8 acres, and 8,000+ square footage of contemporary design inside the domes. All the details about this amazing property listed by REALTOR Jason Zoellner of Edina Realty, Inc. - Lakeville can be found
here.