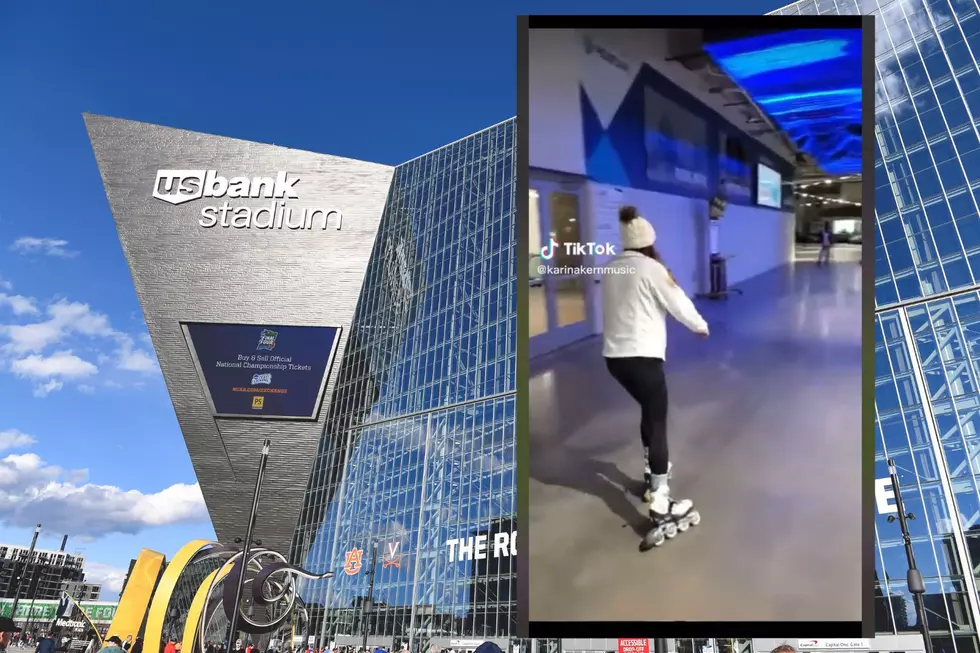 New Life Goal: Rollerblade Through US Bank Stadium [WATCH]
Getty Images/ karinakernmusic on TikTok
I know I spend too much of my time on TikTok, but it's because of cool videos like this. I was scrolling my "For You" page yesterday and came across someone rollerblading around US Bank Stadium in Minneapolis:
Are you kidding me? The glide of the wheels on that ultra-smooth concrete? I've never wanted to participate so badly in my whole life.
Immediately I went to the comments to see what this was all about. Was it an employee who gets from one end to the other on non-event days? Was it a content creator who scored some sort of exclusive access? I needed to know, and I needed to find a way in.
Turns out ANYONE can do this.
It's called Winter Warm-up and for $15 you too can rollerblade inside the home of the Minnesota Vikings:
Winter Warm-Up, a recreational program featuring inline skating and indoor running, returns to U.S. Bank Stadium this November. Eighteen Winter Warm-Up sessions will be offered this season beginning on Tuesday, November 29 and ending on Thursday, January 26. Winter Warm-Up is open to all ages and will take place on the stadium's main and upper concourses from 5 – 9 pm on Tuesday and Thursday nights.
US Bank did include in their web post that skaters will need to bring their own equipment to participate, as skate rental will not be available. All participants on the skating concourse must have skates on, no street shoes are allowed, and skaters are required to bring their own safety gear, including helmets.
Tickets for this are only available online, so if you're interested in participating before the event ends later this month, get your tickets here. 
11 Things in Your Minnesota Home That Probably Need to Be Cleaned
Minnesota Movies: Fun Facts About Drop Dead Gorgeous