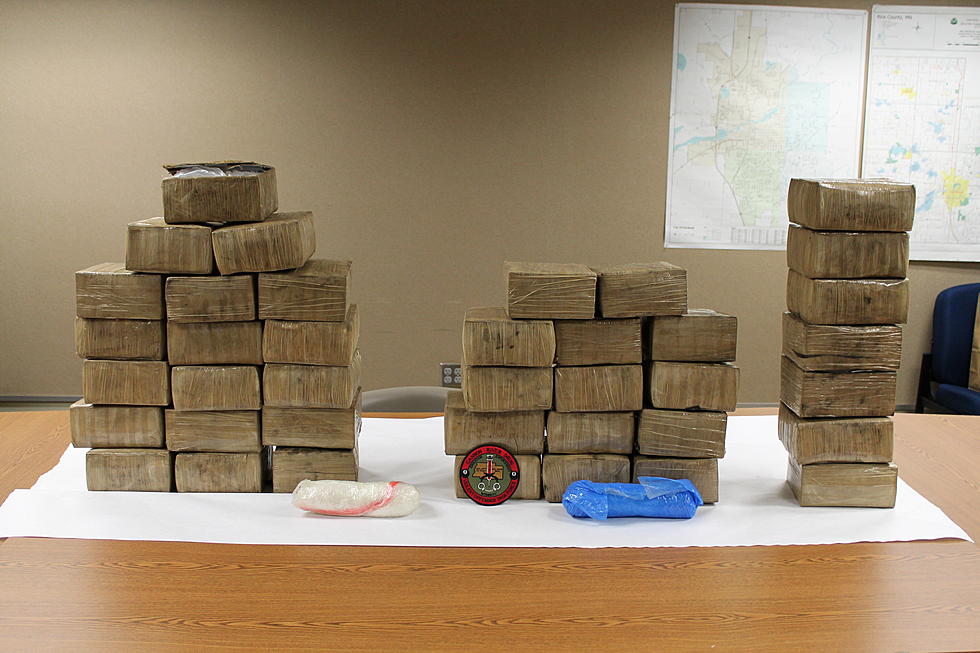 Cannon River Drug Task Force Siezes 3 Pounds of Meth
Meth Seized in Minneapolis by Cannon River Drug and Violent Offender Task Force September 2018. Photo from Rice County Sheriff's Office
The Cannon River Drug and Violent Offender Task Force (CRDVOTF) issued a news release today giving details about a search warrant executed in St. Peter, Mn. where they allegedly found approximately 3 pounds of methamphetamine.  The task force obtained a search warrant for the person of Senif Joel Garza, 23, his residence in St. Peter and his vehicle.  The search warrant was obtained as part of an ongoing narcotics investigation involving Garza.
On April 23rd, 2019 at approximately 3:38 p.m. a St. Peter police officer stopped Garza's vehicle after learning his driving status had been revoked.  The search warrant was then executed by CRDVOTF agents on the vehicle and on Garza's person.  During the search of the vehicle, agents located a plastic zip bag containing white powdery substance consistent with methamphetamine.  An additional small plastic baggie with white crystalline substance consistent with methamphetamine was also located inside the vehicle.
The news release specifies, "A short time after the traffic stop, agents executed the search warrant at Garza's residence.  Agents located several items of men's clothing and items belonging to Garza in an east bedroom.  Agents also located a Tommy Hilfiger duffel bag in the east bedroom containing 3 large zip-loc bags which each contained a large amount of suspected methamphetamine.  These bags were later weighed with packaging and contained a total of approximately 3 pounds of suspected methamphetamine.  Agents also located multiple digital scales, smaller zip baggies, scoop spoons, $1,070 dollars in US currency, a loaded .45 caliber handgun magazine, 9 mm ammunition and numerous documents in the name of Garza in the bedroom.  Many of the items found were indicative of distribution and sales of extremely large amounts of methamphetamine."
The task force news release states, "Further information received by agents was that Garza is affiliated with a known drug gang.  It is believed that Garza sold and possessed the methamphetamine for the benefit of the gang.  A review of Garza's criminal history showed that he was convicted of a drive-by shooting in LeSueur County District Court on April 19, 2016."
"Garza is facing numerous charges in Nicollet County stemming from this case investigation including two counts of Aggravated 1st Degree Controlled Substance Crime, two counts of 1st Degree Controlled Substance Possession, one count of 2nd Degreee Controlled Substance Sales, one count of 2nd Degree Controlled Substance Possession and two counts of Possession of Ammunition by a convicted felon."
CRDVOTF Commander Paul LaRoche commented, "This seizure of nearly 3 pounds of methamphetamine undoubtedly impacts distribution in the area.  The continued efforts by our agents and other agencies involved show how we can help make our communities safer by targeting violent offenders and those dealing drugs."
Commander LaRoche added his agents were assisted by the Minnesota River Valley Drug Task Force, St. Peter Police Department and LeSueur County Sheriff's Office.