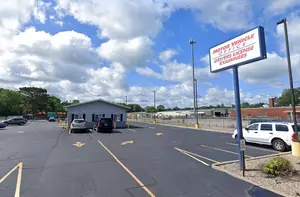 When is Faribault's DMV Open & What Day Can You Take A Road Test?
Image Credit: Google Maps
The chore of renewing your license, or getting license plate tabs is probably a top-5 annoying thing you have to do as an adult. We all need one if we want to drive to where we are going, but finding out the where, when, and what of a local DMV in terms of when it opens, how long they are open, what can you do at the local DMV in terms of drivers license tests and road tests, can be awfully confusing. So here is what you need to know about when the Faribault DMV is open, what you can accomplish when you go there, and what days they are conducting road tests for various driver's licenses.
Where is the DMV in Faribault?
The DMV in Faribault is located at 1105 Division St W, right down the road from the Mobil station off Lyndale.
What day and times is the Faribault DMV open?
The DMV in Faribault is open Monday through Friday 8:30am to 4:30pm, with testing happening at various times throughout the week.
When can I take my Drivers License Exam in Faribault?
Road tests for A, B, or C licenses are available weekly Monday - Friday, 8am-4pm by appointment only, call 651-297-5029 to schedule.
Road tests for class D licenses are available weekly, Monday- Friday, 8am-4pm by appointment only schedule online drive.mn.gov or call 651-284-1000.
Class D knowledge tests happen less frequently than the road tests occurring Monday-Thursday 8:15am-3:15pm by appointment only.
What other things can the Faribault DMV do?
If you need tabs, a renewal of your license, REAL ID, Fishing Licenses, or title work the Faribault DMV can assist you, during working hours Monday - Friday.
How do I contact the Faribault DMV?
(507) 334-7200, email info@faribodmv.com or you can connect with them on social media, here.
You Know You're From the Midwest When...
We asked listeners to complete the sentence: "You know you're from the Midwest when..." and we got some very accurate responses! Here's a look at some of our favorites.
This Rural Southern Minnesota 'Oasis' Sits on 55+ Acres
A home just outside of Mankato is offering someone a private 'oasis' away from city living. Check out what you can get for $3.3 million at 105 Tami Court in Mankato, MN