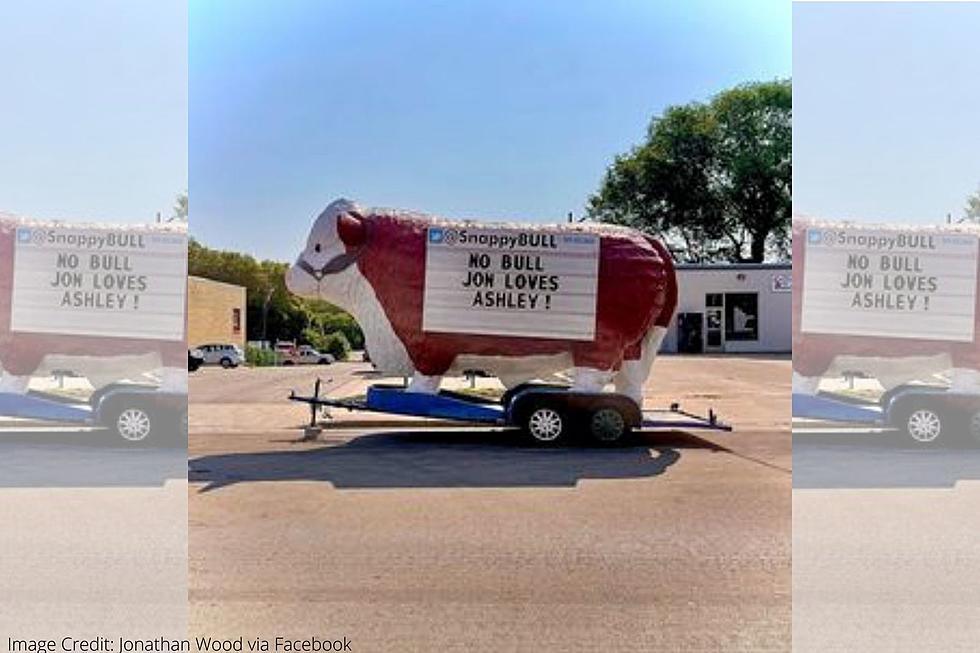 What's The Deal With That Giant Bull On Central Ave In Downtown Faribault?
Image Credit Jonathan Wood Via Facebook
If you've gone downtown anytime over the past 72 hours, you may have noticed a gigantic bull parked near the corner of 5th Street and Central Ave. The message on the big bull simply reads "NO BULL JON LOVES ASHLEY", but what is it doing downtown? We have the answer to that question, and exactly who that bull belongs to.
Councilman Jonathan Wood is the man behind the bovine. Wood brought 'Snappy the Bull' to Faribault as a way to share the news that he is recently engaged. Councilman Wood shared with us that;
"I proposed a few weeks ago ... I thought the cow would be a fun picture to share / story. The Snappy Bull is normally at home in Rochester but this is his second trip to Faribault this summer. Ashley and I follow him on FB and the couple that rent him out are super friendly and very accommodating."
So who is the couple that owns Snappy? A company out of Rochester that offers up a bull, buffalo, clown, and chicken for different types of messaging needs.
Joining Jonathan in celebrating his recent proposal was Jason and Sunny LaVoi who recently moved from the Faribault area, and Jason and Jonathan know each other from the Faribault Masonic Lodge. Wood commented that "Jason was a very active member in Faribault before he moved last year. He was very active with the Faribault Masonic Lodge and Faribault BMX."
social media
As for Johnathan and his Fiance Ashley, we wish them nothing but the best as they plan their wedding and the rest of their lives together.
Shocking Million-Dollar House in Minnesota is Full of Exotic Dead Animals
WARNING: If dead animals or walking through Cabela's makes you squeamish, don't look.
When you think of a million-dollar house, do you dream of being surrounded by a polar bear, giraffe, or huge fish? If so, there is a 4 bedroom, 5 bath house in Cold Springs, Minnesota that may be the perfect fit for you because there are dead animals everywhere. Scroll through the photos and you'll see what I'm talking about real fast.
According to Realtor.com, the property is listed by Chris Hauck at Coldwell Banker Realty - St. Cloud / Sartell for $1,299,000.
The Ultimate 2021 Summer-Fun Guide For Southeast Minnesota
After the bummer summer that was 2020, you and the family are sure to be searching for plenty of fun events that will get you outside and enjoying the Minnesota summer sun!
Below you will find The Ultimate 2021 Summer-Fun Guide for Southeast Minnesota! All of the biggest events that our area has to offer. If we missed one, let us know on
our app today!