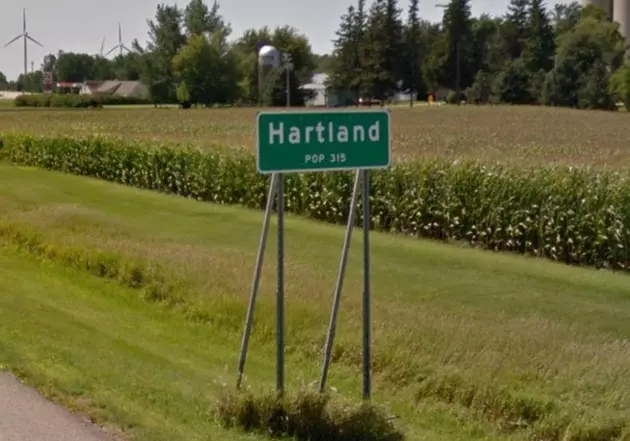 Southern Minnesota Bank Damaged By December Tornado To Be Torn Down
Image Credit: Google Maps
A bank building that has stood since 1912 is coming down. Hartland's Arcadian Bank building, which was damaged by the December tornados sustained too much damage in the storm that anything above the basement has to come down. According to the bank, Arcadian is already planning on building a new branch building once the current one has been torn down.
The post from Arcadian Bank's social media, announced this morning that the current building, which was built in 1912, must be razed due to the damage sustained by the unprecedented December tornados that swept through portions of Minnesota.
The bank did let customers know that they are committed to Hartland, and are already starting to design a new building that will feature new amenities for customers, which may include a drive-thru for customers to use.
Arcadian Bank was formerly known as Farmers State Bank of Hartland which constructed the original building in 1912.
The tornados on December 15 took aim at portions of Southern Minnesota with tornados being reported in multiple counties. The Minnesota DNR reports on climate happenings and had this to say about the historic tornado outbreak.
The thunderstorms produced 20 confirmed tornadoes (as of Wednesday, December 29) in Minnesota. The strongest hit the town of Hartland in Freeborn County and was rated EF-2, with winds estimated at 115 mph. The National Weather Service confirmed 13 additional EF-1 tornadoes, with winds of 90-110 mph, in Fillmore, Freeborn, Goodhue, Houston, Mower, Wabasha, and Winona counties. Six EF-0 tornadoes with 80-85 mph winds were confirmed in Fillmore, Freeborn, Steele, and Winona counties, including one that went through Preston.
The NOAA Storm Prediction Center tweeted that this event produced more wind gust reports of at least 75 mph than any other event at any time of year, anywhere in the US, back to 2004, when consistent modern record-keeping began.
Currently, bank customers in Hartland needing services have to travel to Freeborn or Albert Lea.
These Are the 20 Safest Cities in Minnesota in 2021
SCARY: 10 of The Most Haunted Places In Minnesota
Minnesota may not be the most frightening place on earth, BUT there are some scary places that you may want to visit if you are ever looking for that "haunted" experience. Check out the list of some of the most haunted places in Minnesota below!