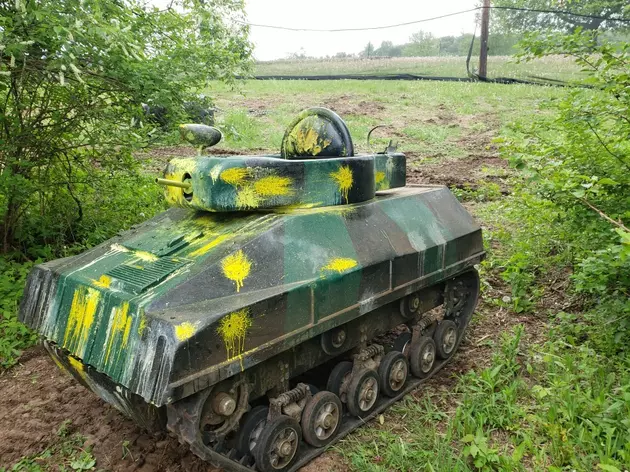 Size Matters: Have You Ever Used A Tank To Play Paintball?
Image Credit: Paul Shea/TSM
It was a busy weekend for us as a 3-person family unit. After engaging in a water balloon fight Saturday during a 5-year-olds birthday party we took to the road again on Sunday to try out those paintball tanks I wrote about earlier this year. I wasn't disappointed.
Splat Tag in Hudson, WI offers up both traditional and non-traditional paintball options for those looking to escape Minnesota for a few hours and shoot some paint. We decided to give the tank driving/shooting a try and the 4 of us who made it Sunday had a really good time shooting each other and driving around the course.
The tanks were about the size of a zero-turn lawn mower and operated the same way. You used two levels to go forward, backward, left, and right. They went 3-4mph, maybe 5mph if you were going downhill, so not very fast, but they were pretty nimble handling.
The course had older drain tiling and pipes, metal barrels, and a few of those old spinning strawberries that you'd see out at a county fair.
The 4 of us ended up peppering each other for about 30 minutes, I forgot that it hurts a little to be shot in the hand by paintballs. The other option for the tanks is a paintball gunless excursion along some trails that would have been a pretty good time too.
Get more details on the tanks, it would be a pretty fun Memorial Day or summer activity for the family or friends to do, here. 
10 Facts You Probably Didn't Know About Minnesota