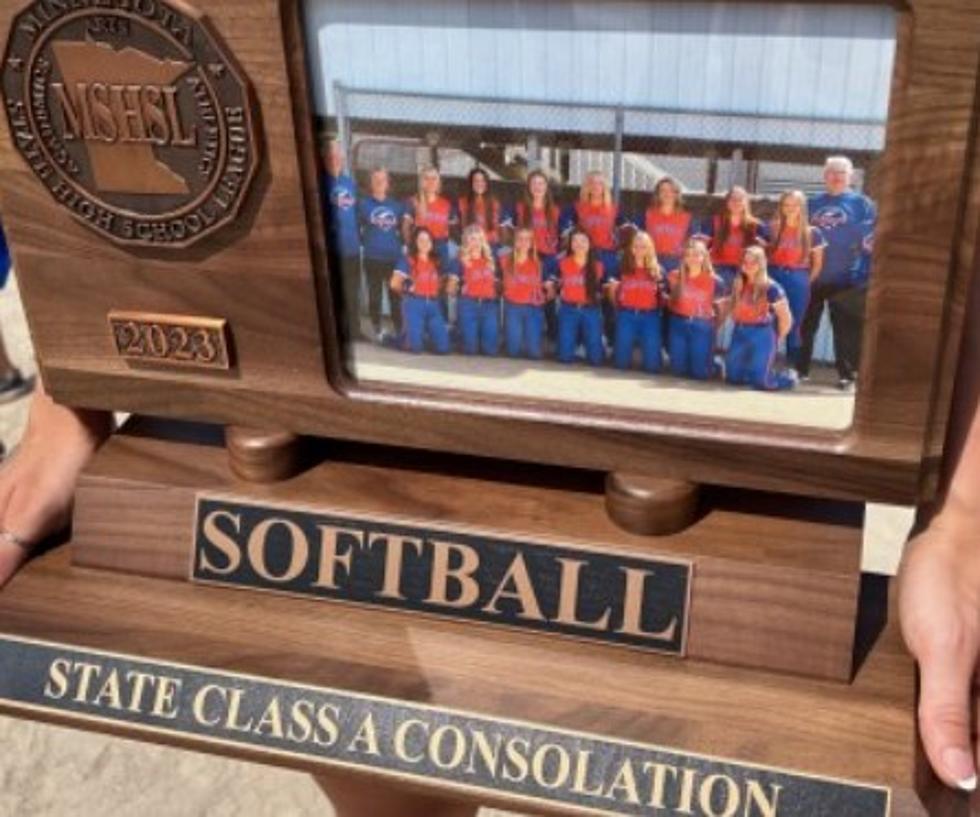 Randolph Wins Final Class A Game at State
Randolph 2023 Softball Trophy. Photo by Gordy Kosfeld
The Randolph Rockets will move to Class 2A next season.  In their final Class A game, they dominated New Ulm Cathedral 8-0 to capture the Consolation Championship at the MSHSL State Class A Softball Tournament.
Carter Raymond allowed no earned runs in the tournament and the Rockets team allowed just one run total, but it was their inability to score in the opening game that cost them a shot at the title.
Randolph left ten runners on base in that game including bases loaded twice.  Coach Trom said a couple of hard-hit balls were hammered right to a fielder.
Randolph Head Coach Dennis Trom told KDHL his team was "Devastated" when they lost, and he was "Proud of their ability to show their true character in playing Rockets ball."
Randolph scored the only runs they would need in the second inning after smacking two hits in the first inning and not scoring.
Carly Kimmes, junior, shortstop, worked the count full and hit a solid single to start the game.  Kylee Carey, sophomore, right fielder, bunted the ball and was throwj out at first base.
Kimmes never hesitated on the play and wheeled around second base heading for third but was thrown out.
In the second inning Allie Gillette, freshman, catcher, hammered the ball to left field but the line drive was hit right to the left fielder who had it hit her glove and pop out.  Gillette hustled into second base on the play.
Mackenzie Murray, 8th grade, centerfielder, stroked an RBI double and ended up being thrown out at third base.
Ella Banks, sophomore, left fielder, hit a 2-2 count single and went to second base on the throw home.  She would motor to third base and score on a Chloe Vought, sophomore, designated player, sacrifice fly to right field.
Raymond struck out 27 batters in 21 innings in state tournament competition.  Fifteen in their 1-0 opening loss to Upsala.  Six against fellow Gopher Conference member Bethlehem Academy and six in the Consolation final.
In 152 innings this season Raymond totaled 257 strikeouts and 8 walks with 78 total hits allowed.
Randolph chased Greyhounds starting pitcher Megan Haala, senior, out of the game by plating four runs in the third inning when ten batters went to the plate.
Kimmes opened the inning with a first pitch hit to right field.  Carey hit a ball that was fielded by the second baseman ranging to her left.  She wheeled and threw to second attempting to get Kimmes, but the shortstop was ruled off the bag placing runners at first and second bases with no outs.
Raymond hammered a double scoring one run for her team leading 43rd RBI of the season.  Following a strikeout, Gillette crushed a two-run double for her 22nd RBI.
Murray hit an RBI single followed by an Ella Banks infield hit and Haala's time in the pitching circle was apparently over.  Enter Madelyn Haala, sophomore, who was very effective ending the inning with no more runs scored.
New Ulm Cathedral's first hit of the game was off the bat of Jenna Hotovec, junior, centerfielder to start the fourth inning.  Hotovec jumped on the first pitch for a solid single up the middle.
She would have another single on a 2-1 count with one out in the 6th inning.
Madelyn Haala hit a first pitch two out single in the final inning for the Greyhounds who finished their season 18-8.
The 24-2 Rockets went up and down in order in the 4th and 5th innings and hit into a double play in the sixth before scoring twice in the top of the 7th inning.
Carey was retired on a rare 3-4-3 put out to start the inning.  Raymond hit her 7th triple of the year.  Tessa Banks was hit by a pitch placing runners at the corners.
Banks would steal second base (the 83rd team stolen base of the season in 89 attempts).
The runners would score on an error off the bat of Mackenzie Murray who eventually stole her 11th base of the season in 11 tries.
Murray played the entire playoffs in center for injured senior Anna Olsen (11 for 11 in stolen bases, 11 hits in 15 games played).
Our Cash Wise Foods and Pharmacy Delivery of the Game went to the three seniors who provided great leadership during the season.
Tessa Banks, Anna Olsen and McKenzie Farrington.
Raymond and Gillette were named to the All-Tournament team.
Edgerton, Southwest MN Christian is the Class A State Champions.
The #5 seeded team that won 3-1 over Bethlehem Academy in the quarterfinal round on Thursday.
The Flying Dutchmen defeated #2 seed Badger/Greenbush-Middle River 10-5.
Moose Lake/Willow River blanked Upsala (the team that beat Randolph 1-0 in the opener) 6-2 in the Third-Place game.
#5 seed Dilworth-Glyndon-Felton became the 2023 Class 2A Champions with a 3-1 win over Section 1 representative St. Charles.  The Saints marched into the tournament with a #2 seed.
LeSueur-Henderson the top seed won the Third-Place game by shutting out St. Agnes.
Consolation Champions Proctor Rails defeated the Pipestone Area Arrows 5-3.
The Big Nine Conference had another team win the Class 3A title when Mankato East dominated Chisago Lakes Area 11-0.
Cretin-Derham Hall downed Delano 4-0 for the Third-Place individual medals and trophy.
Winona got by Becker 4-1 for the Consolation title,
Class 4A Champions Rosemount ended Forest Lake hopes for a repeat title when the Irish won 6-1 over the Rangers.
Rosemount outscored their opponents 26-1 on their way to the Class 4A Championship.
It was their fourth state softball title (1979, 2006, 2021).
Maple Grove won Third Place 2-0 over White Bear Lake Area.
Consolation Champions Hopkins rolled 9-1 over Farminigton.
Dilworth-Glyndon-Felton won their first Class 2A championship.
Mankato East got their 5th Championship trophy.  First this century, (1986, 1988, 1989, 1991).
Since expanding to four classes in 2016 a Big Nine Conference team has won every year except 2021 when Becker broke through.
The most impressive thing about the Big Nine dominance is that five different teams have done it including Faribault in 2018 and Northfield in 2019.
See June 2023 New Music Releases