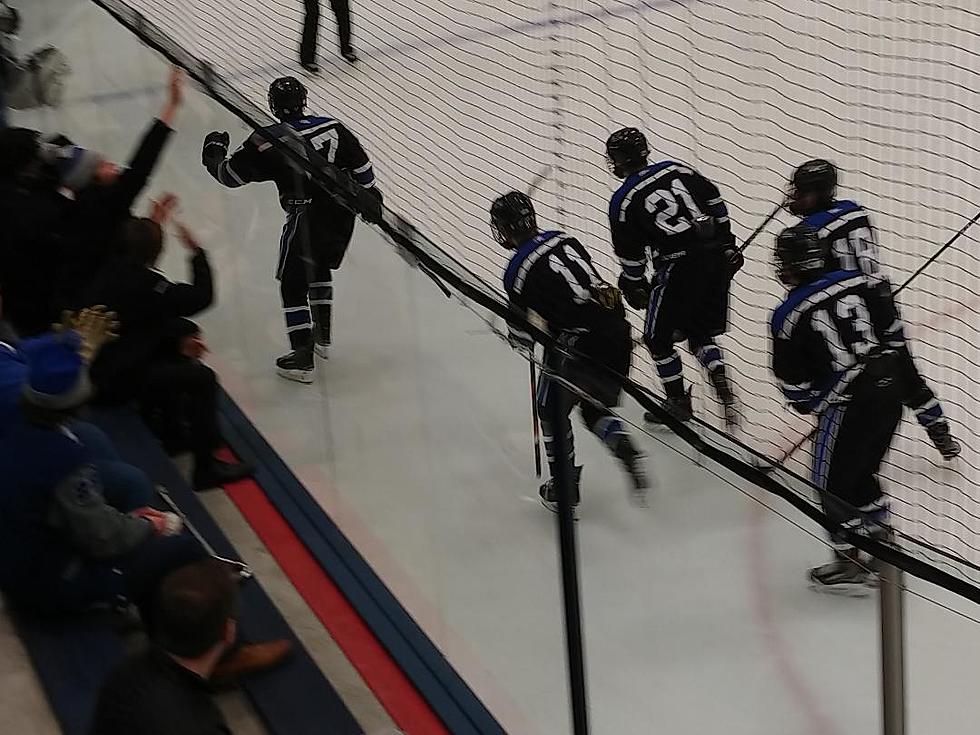 Pederson Hat Trick Lifts Owatonna to Fourth Straight Win
Roy Koenig/Townsquare Media
Owatonna senior Collin Pederson scored a natural hat trick in the Huskies 4-1 win over Chanhassen at Victoria Recreation Center Saturday afternoon. Pederson scored three consecutive goals in about a nine-minute span from late in the first period until early in the second. He started his run after the Huskies and Storm traded goals early in the game.
Line-mate and junior Dom Valento assisted on all three markers. Sophomore Taylor Bogen, the third member of the line, helped on two of them. Pederson scored at 11:57 and 15:28 of the opening period on point blank chances off feeds from behind the net. His third goal came at 4:15 of the second period with some great stick work. Pederson has six goals this season. Valento leads the team with ten assists and 12 points.
Junior Zach Kubicek opened the scoring 29 seconds into the game. It was his fifth goal of the season. Junior Zach Kirsh seemed to deliver the puck to Kubicek though he wasn't credited with an assist on the Hockey Hub website.
The Storm evened the game at 4:19 with Jack Hudnut going top shelf past senior Zach Wiese with the assist from Braedan Sanders. There were just two penalties in the game, one per team. Each squad went 0-for-1 on the power play.
Sophomore defense man Wyatt Oldenfendt continued his strong play on the blue line with his heavy-hitting, physical play. Tanner Stendel limped off the ice twice after being ridden hard into the boards, but returned to action both times.
Owatonna had lost to Chanhassen each of the last four seasons.
The Huskies (4-1) out shot the Storm (3-4) 28-19. Owatonna returns to play Tuesday, December 17 at Northfield. The teams enter that game both unbeaten in league games. The Raiders move into Section 1AA this season, adding extra intrigue to the game. Radio coverage will be heard on Kat Kountry 105 FM and on the free, downloadable Kat Kountry 105 app.
The Owatonna junior varsity lost a 2-1 decision. Preston Meier played a solid game in goal with the Storm having a significant advantage of shots on goal.