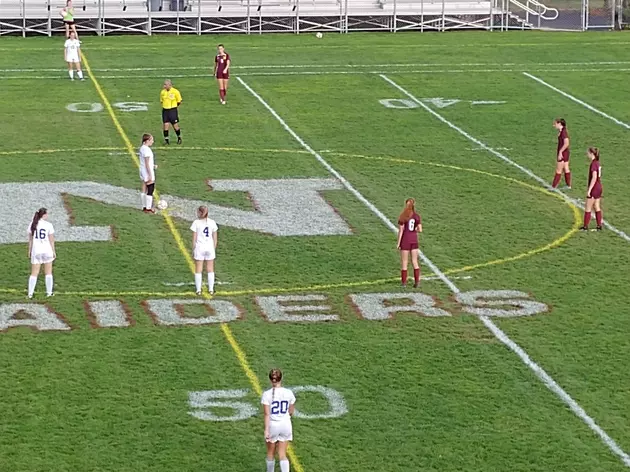 Owatonna Strikes Quickly to Get Crucial Win
Roy Koenig/Townsquare Media
After taking the opening kickoff, Owatonna hustled down the field and scored 16 seconds into their match at Northfield Monday. That was the only goal in the Huskies 1-0 win which keeps the Huskies in the hunt for the Big Nine title. The victory also should lock up a home match in the playoffs which begin October 8.
"I kicked the ball to Asia (Buryska)," said junior Grace Wolfe. "We went back to Abby Vetsch on the outside, back to Ezra (Oien) in the middle and I did a streaming run through the back end and they got it to me and I kicked it around the goalie and it went." That was her tenth goal of the season. Oien notched her sixth assist.
Owatonna had several other shots that sailed just wide of the net. Northfield had a couple of breakaways late in the first half. On one occasion, Owatonna goalkeeper Samantha Fredin made a save and Kaia Elstad blocked the rebound chance and trapped the ball to prevent another shot.
Owatonna (9-5, 8-1 Big Nine) travels to Winona Tuesday and wraps up the regular season Thursday hosting Rochester John Marshall at Lincoln Complex. Northfield (7-6-1, 5-3-1) plays at Austin Tuesday and hosts Faribault Thursday.
In the Big Nine Owatonna, Mankato West and Rochester Century each have one conference loss. The victory was just the second against Section 1AA teams for the Huskies who have losses against Lakeville South, Farmington, and Rochester Century.
Buryska feels the team can contend with all of their section opponents, "I think as long as we as a team and play our own game we can keep up with the bigger teams like Lakeville." Buryska recently committed to Division II Bemidji State University to play soccer.