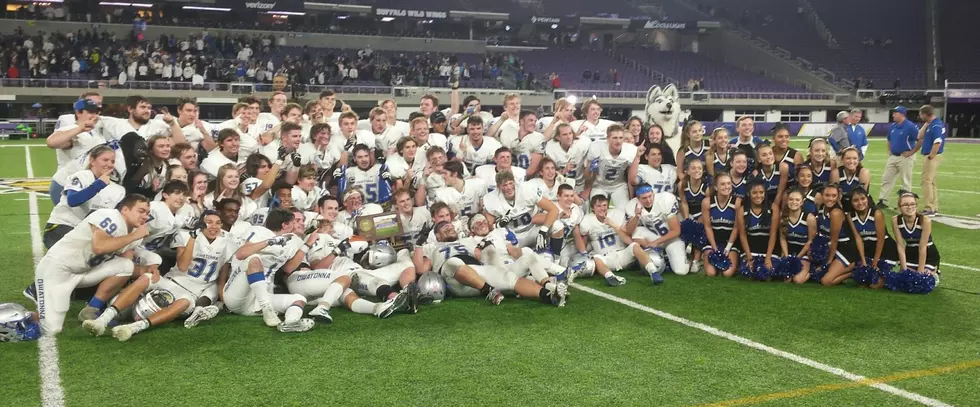 Owatonna Football Named One of the Top Programs in MN
Rich Will/Townsquare Media
Two straight state football championships and three titles in the last six years says a lot on its own. The Owatonna High School football team has made the top ten list from Max Preps on the most dominant high school programs in Minnesota over the last decade.
The Huskies won the last two Class 5A championships, in 2017 and 2018. OHS also won the title in 2013 after finishing as state runner-up in 2012. Owatonna is No. 5 on the Max Preps countdown.
Teams received points for finishing first or second in the state tournament and for their ranking in the Associated Press poll. The Huskies were ranked in 2011, 2012, 2013, 2016, 2017 and 2018 over the last decade.
Fellow Big Southeast opponent Mankato West was ranked tenth. The Huskies will face the Scarlets October 4 in Owatonna, their first regular-season meeting since 2016. West has won the last three head-to-head meetings with Owatonna. The Huskies beat the Scarlets in 2012 in the state quarterfinals.
Practice begins Monday, August 12 for fall sports. Owatonna opens the football season Friday, August 30 against Rochester Century at the Owatonna football field.
Southern Minnesota teams appear repeatedly in the Max Preps top-ten teams of the last decade with Rochester Lourdes and Caledonia joining the Huskies and West.
Eden Prairie, five titles and three runner-up finishes over the last ten years
Caledonia, winners of four straight Prep Bowl titles
Totino-Grace, the team that beat Owatonna in the 2012 Prep Bowl
Lakeville North, top-ten ranked in nine of the last ten seasons
Owatonna, titles in 2013, 2017, and 2018 and runner-up in 2012
Rochester Lourdes, four titles since 2010
Wayzata
Minneota
Minnetonka
Mankato West, title in 2014