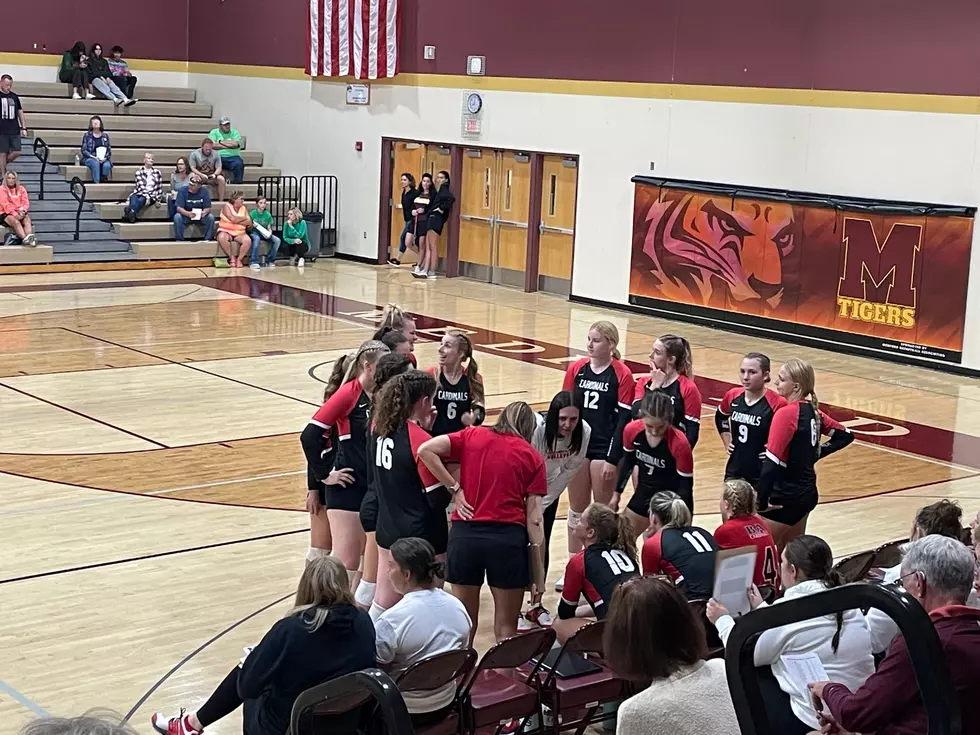 Northfield Still Tops Volleyball Big Schools Poll
Bethlehem Academy Huddles at Medford. Photo by Gordy Kosfeld
The Minnesota Volleyball Coaches Association still has Northfield ranked atop the Class 4A rankings.  Wayzata is #2 and both teams are scheduled to be at the Apple Valley Tournament this weekend.  Lakeville North is #3, Lakeville South #7, Rosemount #9 all from the South Suburban Conference while Rochester Mayo out of the same Big Nine Conference as Northfield received votes.
In smallest schools Class 1A Faribault Bethlehem Academy did not lose a match but moved from #3 to #4 in the rankings with Russell-Tyler-Ruthton now in the #3 spot.  Mayer Lutheran suffered their first lost of the season last week to Class 2A rated Southwest Christian in Mayer but stays in the #1 position.
Out of Section 1A Mabel-Canton is right behind BA at #5, Kenyon-Wanamingo improved from #7 to #6 after losing to Bethlehem Academy in a five set match last week in Faribault.  The Knights also had a 4 set victory over Blooming Prairie.  They will be at the Class A Showcase Tournament in Burnsville this weekend along with BA, Mayer Lutheran, R-T-R, Minneota, Mabel-Canton, and Spring Grove.
Spring Grove is #10 in the latest Minnesota Volleyball Coaches Association rankings.
In Class 2A Pequot Lakes is still on top with Nova Classical #2 and Sauk Centre #3.  Zumbrota-Mazeppa is still #4.  Cannon Falls defeated the Cougars in Zumbrota but are still rated #5, moving up from the #8 spot.  Caledonia is #9 losing to the Bombers last week in four sets at the Hangar in Cannon Falls.
In Class 3A Marshall is #1, Kasson-Mantorville #2, Stewartville #4.  Tuesday, September 20, 2022 The Tigers travel to KoMets gym for a showdown.  Byron is #6 moving down from #4 after losing to Stewartville and escaping a five set match with Goodhue with a win.  New Prague dropped out of the Top 10 to the Also receiving votes category.
Complete rankings are below.
Class 1A
1. Mayer Lutheran
2. Minneota
3. Russel-Tyler-Ruthton
4. Faribault Bethlehem Academy
5. Mabel-Canton
6 Kenyon-Wanamingo
7. BGMR
8. MACCRAY
9. Belgrade-Brooten-Elrosa
10.Spring Grove
Also Receiving Votes- Henning, BOLD.
Class 2A
1. Pequot Lakes
2. Nova Classical
3. Sauk Centre
4. Zumbrota-Mazeppa
5. Cannon Falls
6. Southwest Christian
7. Jackson County Central
8. Annandale
9. Watertown-Mayer
10. Caledonia
Also Receiving Votes:  Belle Plaine, Pipestone.
Class 3A
1. Marshall
2. Kasson-Mantorville
3. Willmar
4. Stewartville
5. Holy Angels Academy
6. Byron
7. Grand Rapids
8. Benilde-St. Margaret's
9. Alexandria
10.Delano
Also Receiving Votes:  Mahtomedi, New Prague.
Class 4A
1. Northfield
2. Wayzata
3. Lakeville North
4. East Ridge of Woodbury
5. Champlin Park
6. Chaska
7. Lakeville South
8. Rogers
9. Rosemount
10.Forest Lake
Also Recieving Votes:  St. Michael-Albertville, Rochester Mayo.
Do you enjoy dogs?  Here are some interesting facts.
Check out these 50 fascinating facts about dogs: